In a major Western edition
The Financial Times
A material has appeared whose authors are clearly determined to have the effect of an exploded information bomb. In the article
FT
It is said that the Western special services "managed to find out" about the appeal of Vladimir Putin to Bashar Assad with the proposal to resign. Allegedly, it was with a message from the President of the Russian Federation to Damascus that the head of the Main Intelligence Directorate of the General Staff of the Armed Forces of the Russian Federation, the deputy head of the General Staff of the Armed Forces of the Russian Federation Igor Sergun, was sent, who died suddenly.
FT journalists write that Igor Sergun allegedly received a response from the Syrian President, in which he "rejected Moscow's proposal", and said that he would bring the political settlement process in Syria to a logical conclusion. The publication at the same time refers to two unnamed representatives of Western intelligence, who are allegedly aware of the fact that "Putin asked Assad about his resignation from the presidency."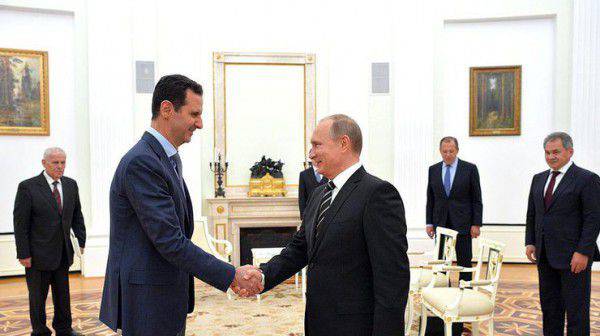 It is believed that the more successful the Syrian government forces will be supported by the Russian military
aviation
, and the more efficiently the RF Armed Forces carry out a humanitarian operation in Syria, the more often all kinds of stuffing will appear in the Western media for the sole purpose of at least trying to drive a wedge between Moscow and Damascus. It is also noteworthy that such a fling appeared a few days before the start of the Vienna meeting to resolve the Syrian conflict.