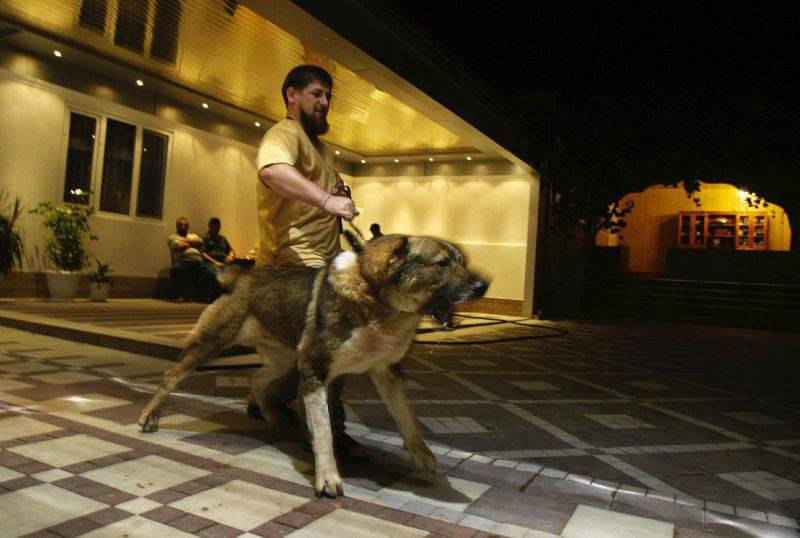 Perhaps, only the performance of the first person of the state causes us a more rapid response. I don't measure, but the fact that Ramzan Akhmatovich Kadyrov's recent statement caused a stir was a fact. So much commenting, giving so much advice to Putin what to do next with the head of Chechnya, sometimes even unpleasant, takes aback.
And, actually, what did Kadyrov say so?
Nothing new to 13 January sounded. Ramzan Akhmatovich was not surprised at anything other than, perhaps, epithets. Yes, some formulations were, let's say, somewhat inappropriate for the head of the republic and the official. But, in principle, everything is within the framework of literary rules, the rest, if desired, can be attributed to the Caucasian temperament.
And frank discoveries, except epithets and formulations were not. Does Kadyrov only criticize the "extra-systemic Russian opposition"? No, not only he. About the endless information war with Russia and, in particular, with the North Caucasus, from the media, both foreign and domestic liberal, also only Kadyrov speaks? Also not, the legion of opposing opponents of Russia is also great.
Kadyrov noted that this is done, in his opinion, in order to provoke unrest in the country and the region on interethnic as well as interreligious soil, to lead to destabilization and chaos. But forgive me, many others made the same statements. Zhirinovsky, for example.
Kadyrov called for a rebuff to Russia's frank enemies. Not the radicals, as it were more understandable, but those who are behind the radicals. About those who directs radicals and terrorists. He called them "figures fed up by Western intelligence agencies." Well, as the head of Chechnya noted, these figures dream of seeing Russia kneeling and exhausted.
What's new? Nothing.
"Who gave the right to a handful of vile liberals to call themselves the Russian intelligentsia? They claim to be the conscience of the nation, and at the same time gather around themselves haters of the entire Russian, reflecting on the West. According to the liberals, their ideas are indisputable and there can be no other convictions criticized, then attacked with threats and insults.

The country is not cast a shadow over those who protect and preserve its identity, its history, its sovereignty, and those who protect the rights of a very narrow circle of people. Part of the Russian human rights society forgets that their functions include the protection of the rights of ordinary Russians, and not a handful of traitors, they raised in the privileged class ".

"Morally fallen people who have sold their souls to Western devils, they freely behave not only in the West, but also in the country they despise, where they feel themselves unpunished and untouchable. And at any attempt to call to respond by law, they start crying out about oppression."
There is something to argue? Yes, like there is nothing. Everything is just like that.
But what started later, should already be considered more closely. For after the statement began the most interesting. I'm not talking about Senchenko, everything is clear with him. The deputy expressed his "authoritative opinion", reasonably believing that Krasnoyarsk is far from Grozny. However, in fact, it turned out that much closer. But the incident is resolved, apologies accepted, passed.
However, a statement appeared, signed by several dozens of different Russian "public figures" like Lev Ponomarev, Leonid Gozman, Andrei Piontkovsky, Vladimir Voinovich and the like.
In a statement, they expressed the opinion that Ramzan Kadyrov should immediately be removed from his post as head of the republic. They proceed from the fact that, in their opinion, accusing people of treason just because they participate in legitimate social and political activities can be regarded as a threat. But threats of this kind on the part of high-ranking state leaders in relation to the opposition are unacceptable neither in legal or moral context.
Went over a little, right? Nurdi Nukhazhiev, an authorized observer in Chechnya (I hate the word ombudsman), clearly replied that finding Kadyrov in power in the Chechen Republic or resigning was an internal matter of the Chechen people who had elected Kadyrov. Others expressed less restraint. But, again, judging by the eighth circle?
The funny thing is that Kadyrov himself decided to clarify the situation. Explaining the points, who and why he had in mind. Those who went to European capitals or to the USA and from there, in his opinion, slander Russia, suggesting what should be done to undermine the stability of the country.
He recalled the Crimea, which "threatened to return in thirty seconds." At the same time, the head of Chechnya also spoke on what the real, legitimate opposition is. This, in his opinion, those who raise economic problems, social problems, as well as housing and communal services and others.
But for some reason, where Ramzan Akhmatovich, in fact, turned his epithets and comparisons, everything is calm. And our oppositionists, that the systemic, that unsystematic, squealed no worse than a flock of banderlogov at the sight of the bang Kaa.
Fear. Apparently, not without purpose. The essence of the rising cry and moan is the same: who said. It is clear that when different people spoke about these issues, such as political scientists, journalists, some deputies, this is one situation. But when Kadyrov started talking about this is quite another matter. There is something to worry about.
As a result, even Alexander Brod, a member of the presidential Human Rights Council (HRC), spoke on the "hot" topic. He noted that threats against human rights defenders, against the opposition should not take place and that this is the wrong way, which can lead to serious opposition and social upheavals. This is already acquiring an unhealthy character, Brod pointed out and recalled that more than five thousand public figures have already signed a petition to resign Kadyrov.
This, by the way, is an indicator. An indicator of how many people in Russia are really worried about their neck, on which a heavy hand of the "presidential infantryman" may suddenly fall.
It is doubtful, of course, that this scribble will have some positive result for those who signed it. But there is a positive result of a different plan: those who became restless were "lit up". And massively and officially. You can take a list and draw conclusions or inputs. Well, or just have a future.
Of course, some of the terms that Kadyrov and his associates have used are somewhat intolerant. But, dear, how much can you lick this "systemic opposition"? How many more of these people, with Russian passports, living quite well on Russian rubles (not everything, of course, but still), will really throw mud at those who believe that Russia is going where it should be?
All of these Akhedzhakovs, Makarevichi, Pashinins, Ganapolskie ... Their name is legion (by the way, the Roman legion is exactly 5 thousand and it counted), with which it is necessary to go into battle. And perhaps not through discussions and beliefs, namely, as in the photo.
The time for words sooner or later passes. And the time comes for action. And we must act accordingly. Until it's not too late.
One pastor, Martin Niemöller, said many years ago:
"When they came for the communists, I was silent - I was not a communist.
When they came for the Social Democrats, I was silent - I was not a Social Democrat.
When they came for trade union activists, I was silent - I was not a member of the trade union.
When they came for me, there was no one to intercede for me. "
Those who today began to shout about Kadyrov's resignation can be understood. But you need to understand something else. Despite all that was in his past, today Kadyrov is what is. A peculiar phenomenon, but ... ours, in general.
In general, the performance, although, as I have already noted, did not carry anything new in itself, except for some idioms and comparisons, gave a definite result. I would compare it with a briquette of yeast, thrown into the summer toilet in the summer heat. Flood, in one word.
But seriously, then:
1. Kadyrov expressed the point of view of the majority of the people regarding the "systemic opposition" and other outspoken traitors.
2. Kadyrov openly said that patience comes to the end of all, and tolerance, too.
3. Kadyrov's point of view coincides with the Kremlin's point of view. And precisely because it coincides, it was Ramzan Akhmatovich who voiced it. With maximum efficiency.
As Vladimir Vladimirovich would say in such a situation, "we made a definite message to our partners." Looks like it happened. Then, as they say, draw conclusions, until the inputs began.
Yes, some of our media didn't happily squeal, that "Putin decided to merge Kadyrov," and therefore substituted him for heavy Western criticism.
... dreaming is not bad ...