At the shipyard of the Indonesian state company PT PAL, the landing ship dock (DCD) LD 601 Tarlac under construction for the Philippines has been launched, the overall technical readiness of which was 85%, the blog reports
bmpd
.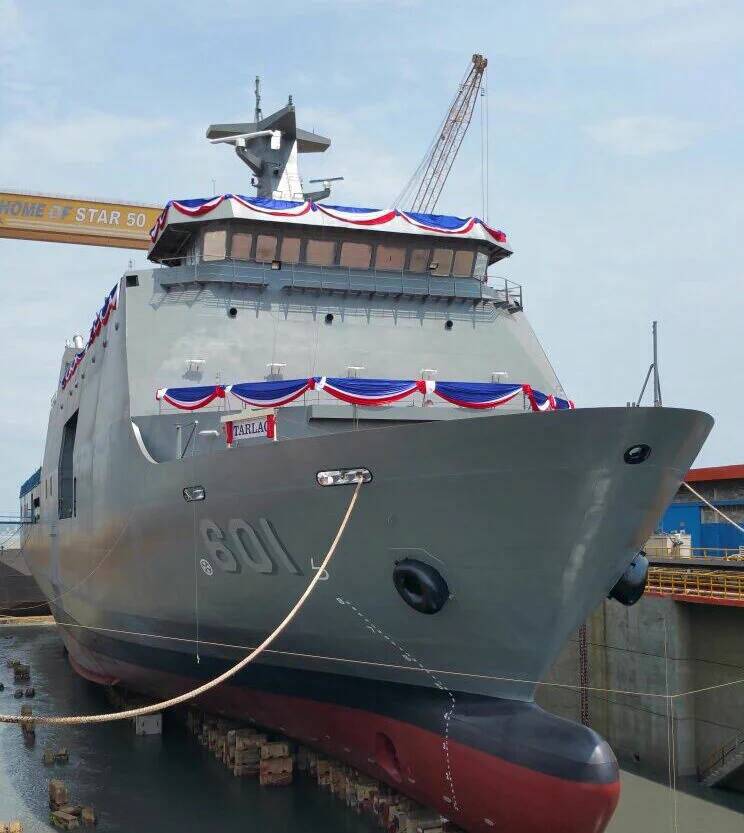 Delivery of the ship to the customer is scheduled for the end of May of this year. The contract for the construction of the 2-DKD was signed at the beginning of 2014. Its cost is about $ 91 million.
"PT PAL Indonesia won an international tender held by the Philippines for a ship project, which is, in fact, a reduced modification of the Makassar-class DKD built for the Indonesian Navy under the project of the South Korean corporation Daewoo Shipbuilding & Marine Engineering (DSME). The contract for the construction of two SSV ships for the Philippines was the most significant export success of the Indonesian shipbuilding industry in the entire
history
"- said the blogger, with reference to the Philippine media.
After launching the lead ship into the water, the shipyard began cutting steel for the 2 DDC.
Help bmpd: "
The DKD under construction for the Philippine Navy has a total displacement of about 7000 tons, a length of 123 m and a width of 21,8 m. The power plant includes two B&W 9L38 / 32A medium-speed diesel engines with 3000 hp each, providing a speed of up to 16 knots. The ship has a dock chamber for basing two LCU-23M landing boats, a cargo hold and is capable of carrying up to 520 airborne troops and 2800 tons of cargo. The flight deck has two landing pads for Sikorsky UH-60 class helicopters. The armament of the ship, at the request of the Philippines, should include one medium-caliber universal artillery mount (presumably 76-mm Oto Melara Compact) and two 30-mm artillery mounts. "