The Washington Post journalist Craig Whitlock conducted a private investigation and found out that America lost 24 heavy drone last year, the blog reports
bmpd
.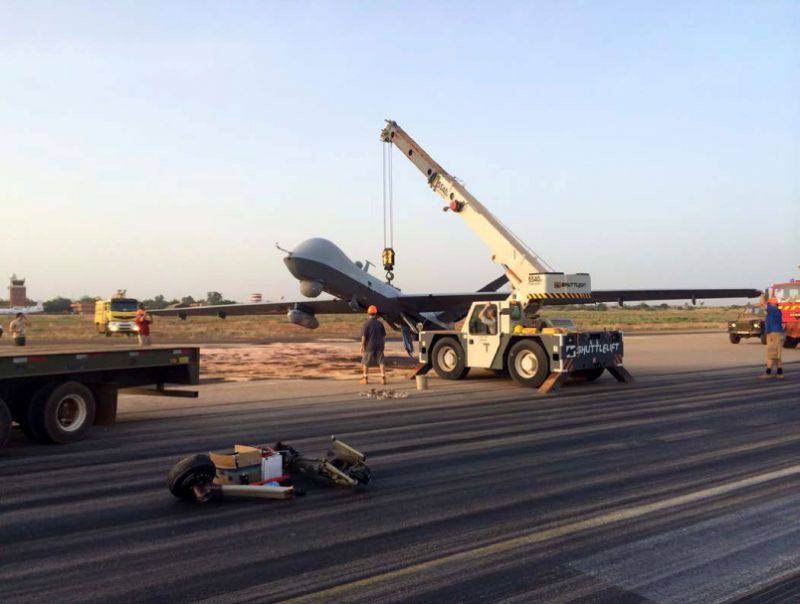 Evacuation MQ-9 Reaper, crashed due to operator error near Niamey (Niger)
One drone was lost in the US, six in Afghanistan, four in the Horn of Africa (US Air Force base in Djibouti), three in Iraq, one each in Libya, Kuwait, Turkey, and Syria. For the two accidents, the countries are not officially listed, but presumably it is Mali and Yemen.
The main causes of losses are operator error and electrical system malfunction. Confirmed only one combat loss: 17 March 2015, the Syrian air defense was shot down in the province of Latakia MQ-1 Predator.
In addition, the author writes, "The Pentagon has confirmed the loss of four Gray Eagle drones, full MQ-1 Predator counterparts. Three are in Afghanistan and one is in Iraq. "
Compared to 2014 g, the flight time of drones was reduced by 8%.
According to the information, impact drones in addition to the US Armed Forces "are in service with the NSA, the CIA, NASA, the Armed Forces of Great Britain, France and Italy."
According to the journalist, "about half of the MQ-269 Predator drones received from 1 were about half lost — about 2001 units remained in operational readiness." All of them by 140 should be completely replaced by the MQ-2018 Reaper.
Currently, work is being carried out in the United States to upgrade the backup system, which will increase the flight time on the emergency gang from one to 10 hours. To date, upgraded 47 drones.