In the Indonesian Surabaya, at the company of the company PT PAL, the lead frigate URO "Sigma-10514" was launched, reports
TSAMTO
.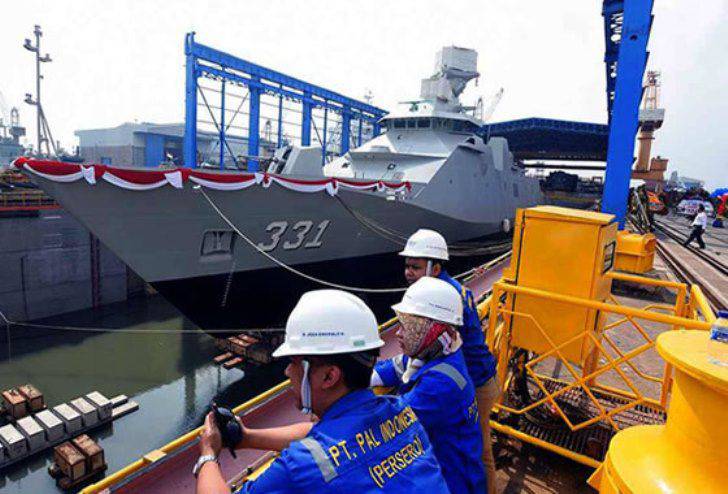 According to the publication, "The Ministry of Defense of Indonesia and the company DSNS (Damen Schelde Naval Shipbuilding)
The contract for the supply of the Indonesian Navy head 2400-ton lightweight frigate URO Sigma PKR 10514, developed on the basis of the project of the frigate Sigma-10514, signed in June 2012 g.
The ship consists of 6 modules, four of which were built in Indonesia (PT PAL), and two in the Netherlands (DSNS). The final assembly of the frigate is carried out by an Indonesian company.
The lead ship is planned to be transferred
the fleet
in January 2017, under the PKR project (Perusak Kawal Rudal), construction of up to 20 such ships is planned.
The second frigate (first serial) was laid in the spring of the 2014. His transfer to the country's Navy is scheduled for October 2017.
Help TSAMTO:
"The displacement of the frigate Sigma-10514 is 2365 t, length — 105,11 m, width — 14,2 m. Cruising range - 28 nautical miles at speed 5000 knots, autonomy - 14 days. The crew - 20 man plus 100 more equipped places to accommodate the landing. The ship is equipped with a three-coordinate radar with a target detection range of 20 km.

The frigate will be equipped with missile systems and artillery installations to intercept air targets and conduct anti-ship combat, torpedoes to combat submarines, electronic warfare, combat control system TACTICOS. "