The government forces of Syria cut off the formation of Daesh (IG) from communications in the direction of the settlements of Al-Miass, Al-Qaryatayn and Al-Mansur, having destroyed a large number of militants, reports
RIA News
The message of the representative of the Syrian Armed Forces Ali Maykhuba.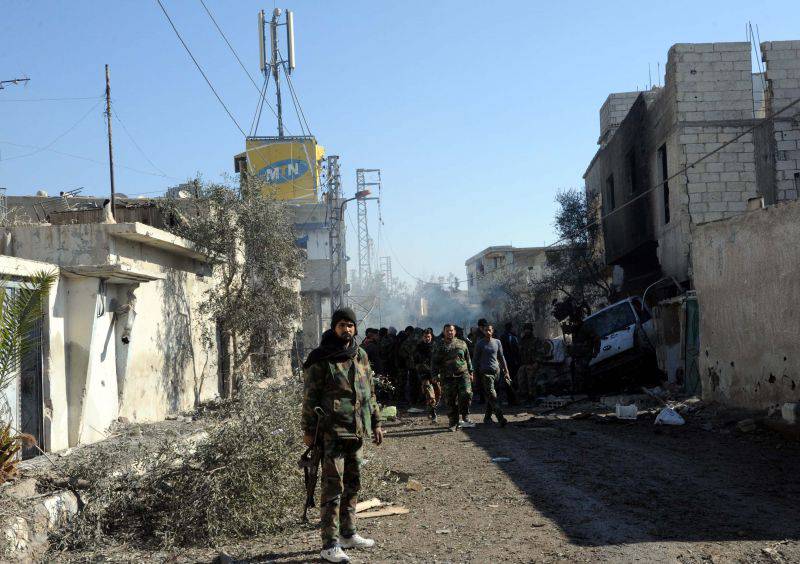 "Units of the SAR armed forces, in cooperation with the militia groups, established control over the two mountains of Mkhin Al-Kabir and Mkhin Al-Sagyr, the repository area, the village of Mkhin, the villages of Howvarin and Al-Hadas, and the dominant heights along the Al-Mkhassa-Al-Karjayatin road and cut the most important ISIS communications in the direction of Al-Mancourt - Al-Mhassa - Al-Qaryatain. During the fighting, a large number of terrorists, weapons and military equipment were destroyed, "Maykhub told reporters.
According to him, "in the northern suburbs of the city of Homs, government troops, using ambushes, destroyed over 40 terrorists in the Jaburin and Tallaff areas."
"They also destroyed a large number of vehicles, some of which were equipped with machine guns, mortar positions belonging to ISIL in the Al-Msaless region, Al-Alwann and Al-Antabli agricultural lands, as well as in the Zakyari valley, in the Al "Bayayrat in the vicinity of Palmyra, on the mountain of Al-Hurubi Al-Kabir in the vicinity of Al-Qaryatain," added Maykhub.
The successes of the Syrian army led to disagreements in the group itself and the flight of a large number of extremists.
"The successes of the SAR armed forces over the past period have led to a great decline in the morale and morale of terrorist groups, as well as to disagreements among the commanders of these groups, the flight of a large number of terrorists towards the Turkish and Jordanian borders," said the general.
In addition, the Syrian command in its statement noted the success
aviation
ATS
"The Syrian air force destroyed 1662 object of terrorist organizations in the area of ​​Damascus, Homs, Hama, Idlib, Aleppo and Deir-ez-Zor ... For the period from 27 last month to today, carrying out 481 combat mission," - said in a release.
According to the statement, "the terrorist headquarters was destroyed in Idlib province, where militant rocket launches were adjusted, four command posts, an underground ammunition manufacturing plant and a fortified area."
"In Aleppo, the Syrian air force destroyed three warehouses with
weapons
terrorists, a command post and several dozen SUVs with machine guns, "the command said.