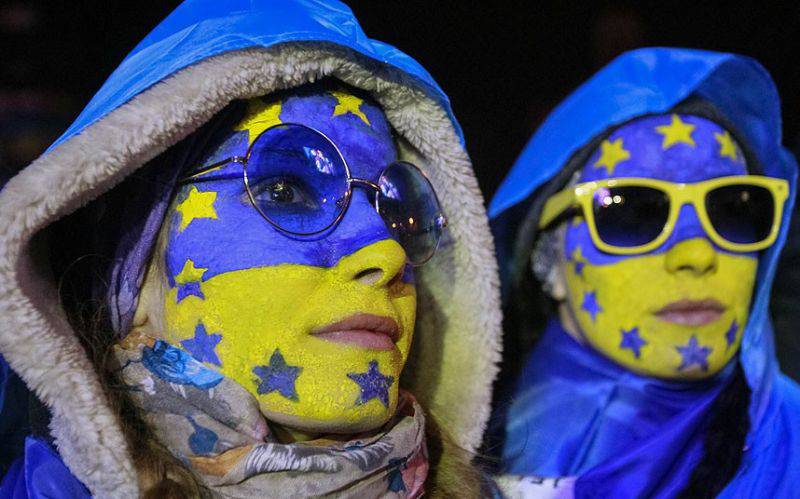 There is such a hot topic: 3 billion borrowed by Yanukovych, and the categorical unwillingness of the country of Ukraine to return them. And the most offensive and unpleasant for us is that this, frankly "illegal" position finds support and understanding in the West. Yes, in Soviet times, money to "friends and allies" was often distributed through very strange schemes (the socialist brotherhood of the people!), Which made their subsequent return extremely difficult. The friendship ended abruptly, and no one was in a hurry to return the money. But with the country Ukraine, in this case, everything was categorically the opposite: no "trust in the word", but only the official formalization of this loan. In fact, Mr. Putin did everything so formally and formally that there's simply no place to go. Irish stock exchange, British law ... The question is, why all these formalities between the two fraternal Slavic peoples?
However, as the sad practice showed, these "formalities" were not only not excessive, but even proved insufficient. Although, as they say: there is simply nowhere else to go. Or, maybe the deal should have been "consecrated" by Ben Bernanke and the Pope? What happened? Ukraine asks for a loan from Russia. And Russia, following all the formalities and rules of the Western financial system (they laughed at our rules), lends money. After that, due to political changes inside Ukraine, this financial transaction is immediately questioned. No, Ukraine is forced to pay interest, but the loan itself is called "a bribe to Yanukovych," and the need to repay it is constantly debated.
At the same time, no one denies the fact that Ukraine received money from Russia on time and in full, no one denies that this money was spent on quite "official" expenses. If it were possible to find any flaws, they would be instantly found. But no, everything is clean. However, repayment of the loan by Ukraine (with the support of its Western sponsors) was not even considered. This amount was not credited to the 2015 budget. In fact - this is very serious. We were constantly offered and offered to abide by certain general "rules of the game", a kind of "international law". And what do we see in fact? The same countries frankly (I would even say impudently) ignore these rules of the game. But the amount of 3 billion is ridiculous compared to the total volume of "sovereign loans." There, after all, the conversation is about hundreds of billions and trillions of dollars.
At the same time, the system is quite tough: Russia faced it in the 90s, when it was forced to pay all-Union debts from a half-empty budget. The slogan was: "Die, but pay!". At the beginning of 90, our German "partners" stated about our debts rather firmly and briefly: "Debts have to be paid." And the point. The fact that, say, a plant in Ukraine (now sovereign) was built for the loan amount or a port in the Baltic States did not bother anyone. Moscow should pay - it was more convenient for them. We were popularly explained that the "civilized world" has its own rules of the game and they must be strictly followed, only in this way can we achieve respect and prosperity. Yes, difficult, yes, it hurts in some places, but it's worth it. Well, Russia played by these rules and successfully: paid off the debts of the USSR and even got a plus.
And she continued to play by these very "civilized rules", for example, giving out a sovereign loan to Ukraine. This is where everything stalled. That is, we can give them something, there is no ban on this, but to claim back ... Here the "international law" interrupts its work. In fact, financial paradoxes began much as before. All the "gas wars" with Ukraine is a complete and concrete absurdity. Is there a need for gas? Buy it! Sign a contract, pay money and get gas. Russia has never refused to sell gas to Ukraine (or to someone else if it is technically possible). The problem was client solvency. But, according to "international law", solvency problems are the problems of the client. No money - sit without gas. The West spoke about "gas blackmail" on the part of Russia and about "energy security". Suppose I want to buy a Mercedes, but I don't have any money ... Can I talk about the "transport blackmail" of gentlemen from Stuttgart? But the logic is the same. Or at least it should be the same. Imagine, I went to a solo picket near the Mercedes dealership. Demanding to knock off my 50% cost. What, I wonder, will be the reaction of the Germans? Or imagine the manifestation of "red-nosed citizens" next to the liquor store. They want cheap vodka for the people.
You may say that it is absurd, but it is in this vein that the "gas wars" in Europe are unfolding over the past ten years. There is a market economy, there is a Russian Gazprom, which offers gas. Do not like the prices? - invite competitors and achieve reduction. Instead, we have endless political discussions and the struggle for "energy independence" from Russia. So what is this "international law"? I will say more, if the West had explained to the Ukrainians from the very beginning that it was necessary to pay for Russian gas and not to frown, then the whole
история
Ukraine would have gone some other way. More logical and civilized, perhaps. But instead, Ukrainians were told that Gazprom was offending them. These words fell on fertile ground, and the last ten years instead of business, we have endless political games around the pipe. But what does politics have to do with it? After all, this is pure business.
The example with Mercedes is not accidental: Russia wants to buy something in Europe? She signs a contract, pays money and gets the goods (the latter is not always). But Westerners tried to build our relations in the gas sphere with Ukraine by completely different principles: the Ukrainian consumer should have gas, money is a separate question. In principle, our energy companies worked this way in 90s in Russia: if you want to sell something abroad, be kind enough to supply fuel to the impoverished domestic consumer. But this may be normal within one country (or may not be). But with intergovernmental relations, this is utterly absurd. Russia, in fact, was confronted with the fact: if you want to sell gas to Europe, supply Ukraine. Is this some form of socialism? After all, if we work within the "free market" framework, the conflict is incomprehensible in principle. Now, if you turn away from all these "games", then the gas conflict with Ukraine is absurd in its essence. We sign a long-term contract and work on it. What could be the questions? We are so accustomed to politicizing the issue of gas trade, that we no longer feel the abnormality of this situation. But everything is simple. Goods - money - goods. Classic. Gas - hryvnia - fat. Romance.
The paradox and window of Overton at the same time - for us gas is already, as it were, not a commodity, but something - completely from the sphere of "high politics". And everything is quite simple: the economy of Eastern European countries is energy-intensive and not profitable, which makes it dependent on Russian energy supplies. This is typical for Lithuania and Poland. But this means a certain political dependence on the Kremlin. And here the West is making a "knight's move": no, they are not investing billions in the re-equipment of the industry of these countries, they are starting to take out sales of Russian gas from a market economy to politics. For some reason, Gazprom and the Kremlin's "energy blackmail" are to blame for the internal problems of European countries. Well, where are these the most: simple, clear and civilized rules of work in the European market?
In fact, de facto imposition of a rejection of the "market economy" occurs. Because within its framework neither Lithuania, nor Ukraine is viable in the given political alignments. And "civilized Europeans" are trying to bring them out of the action of market laws. Is there no gas in Ukraine, and people are freezing? Blame the Russians. If this is not socialism, then what is socialism? And even when Ukraine started "gas extraction" from the export pipe, it did not cause any condemnation from the European Union. They were surprised to note the "drop in volumes" of incoming fuel. Blame, of course, Russia, which can not solve "their" problems with Ukraine. But Ukraine's position was purely market-based - either you sell us gas at the prices that suit us, or we "select" it ourselves. In fact, this is where the root of many Ukrainian problems is - the West has silently allowed them to "pull gas from the pipe". In fact, this entire endless scandal around the "most beautiful country in the world" is explained very simply: after the first Maidan, the West decided to withdraw Ukraine from a market economy in relations with Russia.
This lack of understanding of this simple fact is surprising to ordinary Russians, but in fact everything is elementary: Ukraine can not abide by contracts with Russia, do not pay gas bills, frankly steal this very gas. For all this, the EU closes its eyes, fixing only the shortage at the exit from Ukraine. But Gazprom is to blame. That is, from their (Ukraine and EU) point of view, Russia is obliged to supply this country on non-market conditions. Hence the battle for the pipe. From the very beginning, nothing good could come of it. Nothing happened. In fact, the West has provided Ukraine with a very, very "disservice", making it believe in the possibility of non-market methods of management.
And here is the logical conclusion: Ukraine is in need of everything: from coal to food, but cannot pay for anything. And at the same time in the Parliament there are continuous meetings, and the Ukrainian patriots make ardent speeches. But the situation does not change for the better at all. And you can say these speeches even in Ukrainian, even in Turkish, in fact the "independent Ukraine" did not take place. And the thing is precisely in this (not in the language, of course). The point is the economic insolvency of the Ukraine system. You will laugh: capitalism (no matter what we understand by this expression) did not take place in Ukraine. In order not to enter into endless discussions, I will say this: capitalism is when you have to pay bills. In Ukraine, this excellent situation has not arisen. You see, there is a scoop, a clean scoop, when "shanovni Panov", instead of paying incoming bills from a current account, are engaged in a political "movement".
Therefore, all our calls for Ukraine to pay for gas are not met with understanding. To do this, one must live under capitalism, and a person of a "socialist type" does not understand such things in principle. Yes, they would have paid, definitely. But they simply have no money. And to no, as you know, and there is no court. As we all have long been convinced: Western law is very, very selective, that is, for Parisian homosexuals, for example, it applies, but for Donbass miners no longer. You will not believe it, but with the "principles of market economy" the same cholera: they work somewhere, but they refuse to work somewhere. Amazing isn't it? If you look at the "Ukrainian gas conflict" and the financial relations between Russia and Ukraine as a whole from this point of view, then everything falls into place.
In general, for any normal person, all these endless gas negotiations with Ukraine look very, very unusual. But if we take into account the fact that Ukraine is a kind of socialism, and the EU and the US maintain non-market relations of this country with Russia, then everything suddenly and suddenly becomes clearer. That is why the last years of 10 negotiations with Ukraine go almost continuously. The point is not the complexity of the subject under discussion, the point is "the collision of systems". And that is why, after the first Maidan, Russia resolutely began to look for workarounds for the export of gas to Europe. In general, of course, everything turned out for Ukraine as foolishly as possible: this very gas export through its territory could be a big plus and give a lot of bonuses, and in many ways "feed" the population. Ukraine, on the other hand, turned its biggest plus into a giant minus: endless scandals, debts for gas, reduced transit, higher prices, and finally a coup and a civil war.
Here, in principle, it is the gas issue that proves the complete state failure of the Ukrainian "elites": the Russians have created at their own expense a strategic megabusiness of billions and tens of billions. And this very gas transit business sharply raised the geopolitical significance of this Eastern European "power". It was possible to collect a bunch of "buns". And it is easy, elegant and not straining. Ukrainians "brilliantly" managed to turn this giant plus into a nightmare. Talented people, unusually talented. Instead of engaging in a billion-dollar gas business, they engaged in primitive gas blackmail. "If you want to supply gas to Europe ..." - that was how it sounded at the beginning. "If you want to receive gas from Russia ..." - so it sounds now. "Did you try to work and pay the bills?" - I would like to ask in reply. You see, this is the classic psychology of roadside thugs: someone produces goods, someone buys them, transports them, transports them ... And someone comes out with a brush on a big road. By the way, I am not an expert in economic theory, and I can't say whether it is possible to include these "individuals" in the description of the economic system. And how to include them? Workers of the knife and ax ... romance from the back streets of evroshlyakh. This is not a deviation, it is a "postsocialist" system: the overlapping of the canal with water to the Crimea, the explosion of the supports of the electric main ...
People don't even think about doing business: they can sell water, electricity and watermelons at high prices, they do much easier. Our mistake is that we perceive the Ukrainians as quite a European civilized nation, albeit an extremely Russophobic-minded, but European. A sort of "eastern France". After that, all our efforts about something agree with them endure an epic Fail. Alas, it is not even "northern Gabon", it is some kind of "fabulous Land Ground." Imagine that the power line to your city passes, so to say, through the territory of a "fairy-tale narod", for example goblins (it was shorter there). Now try to explain to an ordinary goblin that it is not good to throw down the pillars of this line.
Submitted? This is it! Now the next quest: get three chests of gold coins from the goblin king. In these statements, only a fraction of the irony, the rest is true. Ukraine is in fact an extraordinary interest for all kinds of "reenactors" and lovers of "combat fantasy". Many (most!) Do not understand this, but the Ukrainians, at the cost of incredible efforts, managed to make an extraordinary breakthrough into a different dimension. They abandoned the norms and conventions of modern civilization completely, completely and completely. Well-armed groups of adventurers roam all over Ukraine, human life is not worth a penny ... Recently, one of these groups demanded a ransom from Holland for the stolen paintings. "Scary!" - You say. Scary, but unusual and interesting!
Who, by the way, is the typical hero of a fantasy novel? A person with no place to live and work, but definitely talented and smart. He, as a rule, does not plow, does not sow, does not bargain and does not even "take pride in the social system." That's why he is the hero of the fantasy world. Working and paying bills is boring. To understand Ukraine, we need to abandon our usual logic and value system. Ukrainians simply already live in another world. And, of course, they will never return any money to us. How do you imagine commodity-money relations "according to Marx" with a fabulous narodtse?