Greetings to you, dear readers. What you read today is almost unrelated to Ukraine. Not because I moved somewhere. For family reasons, so to speak. So at the beginning of the foreword. Lyrical.
I came home this morning, and there my cockroach. Well, everything seems to be as usual. But ... In the air it smells like a thunderstorm. Already the belly began to tremble. Maybe the mother-in-law came unexpectedly? It seems not time now. Yes, and the snow on the street ... Even a cockroach so unkind as my mom can't get over. So what happened?
And the Cockroach is so sincerely (already goose bumps on chitin): "When did you call me in marriage, what did you call me?"
So I remember ... I turned on the well-known ... Well, such as a tararusik or a tararashechka ... It didn't work ... It turns out that I called her then a lamb-laughter ... That's all right. Although, men will understand me. Themselves also the stars from the sky promised ... Instinct ...
In short, she read my notes here. Well, and she remembered that she was a Ukrainian. Yes, laughter. And then - for the people she felt hurt. What are you doing the perfect idiots of us? What am I, idiot? And ultimatum. Or do you write what we, Ukrainians, smart and good, or instead of borsch will eat Chinese noodles. And straight from the bag. She hit the saint. That's what it means to give the enemy true information about their weaknesses.
But the worst thing is that she, the enemy of labor cockroach, demonstratively closed the lid with borscht. Type of sanction. Until I solve the problem. Here it is. In short, I thought, I thought and decided, if it really came to a food blockade, I will write. But harm does not rest. Anyway, I'm in the main house! Because I will not write as requested Tarakanushka, but vice versa. Not about the greatness of the Ukrainians, but about the Russians. And then you, dear readers, about the logs in the eye began to forget ... This is me about your saying ...
To start, I climbed into the "Browser". Not the one that is ours, native, but yours. The one that ru. Successfully so climbed. Guys, and after what you read on this Observer, do you really think that the Russians are all smart? Once upon a time, in his youth, he ate "Crocodile" in the library. So, what I have fallen into, many orders of magnitude steeper.
We have, in Ukraine, such a great know-it-all journalist Vitaly Portnikov. So, after our SBU caught a female body called Nastya, I wrote about this in the last "Notes ...", wrote the answer to the Muscovites. Not to you, but to those on whose site I am now grazing. It must be said worthy of such an answer. Type nothing to wriggle to our victory. You and your Swamp are in ... well, there, on which people most often sit, and we are almost in Europe. In short, your maydaunas believed that our maydaunas just squealed with happiness from support. But it turned out that traitors, even traitors in the camp of enemies, are not loved anywhere.
Vitaliy Portnikov wrote the informative text "To the Moskal Friends", summing up the discussion that flared up between Ukrainian patriots and Russian enemies of the people and traitors about the measure of collective and personal responsibility of each Russian for the attack on Ukraine, 300 years of the imperial yoke, famine, great-chauvinism and so on and so forth, which is in our common
stories
there was an excess.
This I quoted the beginning of the article by your maydaun Mikhail Anshakov. Type from your table to ours. And then even funnier.
"... choosing a side, you need to fight the enemy for the sake of those ideals that you uphold. So did the Russian national traitors who supported Ukraine in the ongoing war. It did not end, they did not surrender. You can not fight on the side of Ukraine and repent for your crimes to the Ukrainian people on their knees. These are absolutely different conditions that require different psychological attitudes, and repentance is inappropriate until the mission is completed, and evil has not been defeated. "
Consider dear readers, this
yours
, Russian maydauny write, not Ukrainian. Anyway. Further funnier. In the sense of reading. Do you even know what is happening in Russia? I thought that in the course. It turned out - no.
"We are appealing to FIFA with the initiative to move the World Cup 2018 from Russia to another country ready to host it. And if it is technically impossible, we urge all participating teams from all countries to boycott this event on the model of a boycott of the Olympic Games in Moscow in 1980.

The grounds for our initiative were, first of all, the seizure of the Crimea by Russia and the war inspired by it with its direct armed participation in the south-eastern Ukraine. This "hybrid war" claimed the lives of more than 9 thousands of people, and more than 1,4 million made refugees and internally displaced persons. The actions of Russian President Vladimir Putin also led to getting into the "hybrid war" zone of the Buk missile system of the RF Armed Forces used to fire a passenger airbus of flight MH-17, killing all 283 passengers and 15 crew members.

In addition to the above, Putin and his regime imprison innocent people just for their position in relation to his regime and the war in Ukraine. Among the most well-known political prisoners and hostages of the regime are Ukrainian military pilot Nadezhda Savchenko (kidnapped and taken to the Russian Federation), Ukrainian film director Oleg Sentsov (sentenced to 20 years of camps) and Russian public figure Ildar Dadin (3 of the year camps). In the Crimea and the regions of Eastern Ukraine occupied by Russia, human rights violations are permanent and widespread. The leader of the Crimean Tatars, Mustafa Dzhemilev, who was deported as a child with his family to Stalin and later served as a prisoner for his convictions in the Soviet GULAG, the Russian authorities denied entry to his home in Crimea. "
This is also a letter from the Russians. True, instead of the names of "world-renowned figures of science and culture" so far pshik. But I think someone will sign it soon. After all, Kasparov and Makarevich, not to mention Nevzorov, and Sobchak on the spot. So, dear readers, make your own conclusions.
And how many heroes in Russia. Just put the paw nowhere. Suddenly, the hero accidentally crush. You, probably, remember the recent statement of one deputy from some Siberian city? One who does not respect Kadyrov. Only then he apologized for some reason. It seems not to be was. So here's another one. Valery Retired.
"Your appeals, as an official, to the persecution of the so-called non-systemic opposition, that is, us, are repulsive and disgusting at Stalinism. I thought who the first official of your level would dare to say is well forgotten -" the enemy of the people "Everybody walked around and so on." State Department cookies, "" non-systemic opposition, "" foreign agents. "The first was the head of Chechnya, 40% of the people who were exterminated as" enemies of the people "by Comrade Stalin, whose words you With ecstasy quote. Let your people give you an assessment. If not today, then cut 5,10, 15 years. And he will give it. Absolutely. God does not will not give.

My home address is at your so-called. "Chechen diaspora", for sure, there is. I'm not afraid to die. But I will not tolerate the humiliation of myself and my friends! "
Imagine now how Ramzan sits and scratches his head. How much exactly will the Chechen people give an assessment of its activities. And why today it is impossible. I do not know how people do, and cockroaches in such cases, paws tear. One on one. If the opponent is equal. And if like here, just kick kicked out. In order not to stink.
But the most delicious for you on the "Observer" I left last. Is there such a colorful madame ... Katya Maldon. Maybe I don't understand something in your human names, but Katya should be a little girl. Then he grows into a big Catherine. And here, judging by the photo, big-very big, but still Kate.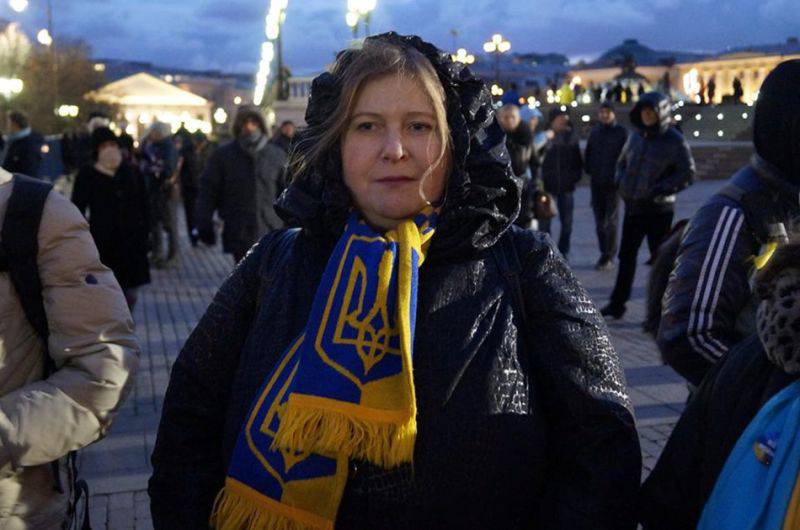 In the photo: a civic activist, a member of ROD "Maidan without Borders" Katya Maldon
In short, remember New Year's Eve in Cologne? Well, then, when a few hundreds of Germans Arabs crushed a little? Do you think you know everything? As if not so. You know nothing.
In general, the Germans indicated "culprit" before the election. To call her Frau Merkel (for particularly blunt voiced in plain text and propagated around the world countless times).
"I would be in the place of the police, I paid the closest attention to this prepared provocateur, he just had a snout in the fluff !!! Who benefits from it? Guess three times, the first letter X ..."
That's what this Katya is. He knows everything.
I quote one of the Russian-language articles:
"Meanwhile, the people of Cologne ABSOLUTELY EXACTLY IDENTIFIED THE ORIGIN OF TRAGEDIA: the other day there were mass protests in the city, during which the demonstrators" thanked "the German Chancellor for such a" gift "for the New Year -" Frau Merkel, where are you? What do you say? " afraid, "" Thank you, Frau Merkel. Poor Cologne ", was written on banners. The situation begins to take a serious turn for Merkel. Her party's victory in the upcoming Bundestag elections in 2017 and the re-election of the Chancellor becomes a fantastic scenario It seems that her only chance to remain in power would be to grant the right to vote to all refugees and migrants whom Merkel so kindly donated to her country. But this option is also a series of fiction. "
For those who do not understand, I chew. Refugees are stupid. For six months, even one phrase can not be learned in German. Katya knows. She studies with them there in Germany. Merkel is a real tolerant German. It stands for the equality of all and everywhere. But for some reason, Merkel was tired of Putin. So he taught this Syrian something, that famous phrase: "I am a Syrian, and Frau Merkel invited me." Putin knows German perfectly.
And all so that in future elections Merkel would not be elected Chancellor. Fu ... much the most disgusting to write what you are reading now. But I did not write this. I indicated the authors, and the source too.
I don't know if I'll get borsch today, but using the example of just one site, I showed that Russians and Ukrainians are twin brothers. Russia also has its maydauny. There are patriots, their pravoseki. Only called a little differently. But all goals are the same. To destroy what is and, maybe, to build something else later. Moreover, as the experience of Ukraine has shown, the builders of the destroyers are none. So we live in ruin for two years. Maybe this bowl will pass you by. I really do not want those about which I wrote to take over you. Read, do not be silent, fight. It is better to fight, even with fists, somewhere in the Swamp, than Artai under Russian cities.
Many sites, which just yesterday were quite patriotic, today are beginning to slip towards radicalism or criticism. Well, you can understand everything. Fight for the reader. The fight for the rating and what else happens there, I do not know. The main thing is that in the heads (of any) the ability not only to perceive information, but also to think, would not be lost. Simply put, think, analyze and draw conclusions.
And our next meeting, as always, at the beginning of the week. There I will write for the soul. And not for borscht. On this bye.