The crew of the aircraft carrier cruiser "Admiral
Fleet
Of the Soviet Union Kuznetsov "will celebrate the 25th anniversary of the flag raising at the ship's standard mooring in Murmansk, betrays
TASS
Post press service of the Northern Fleet.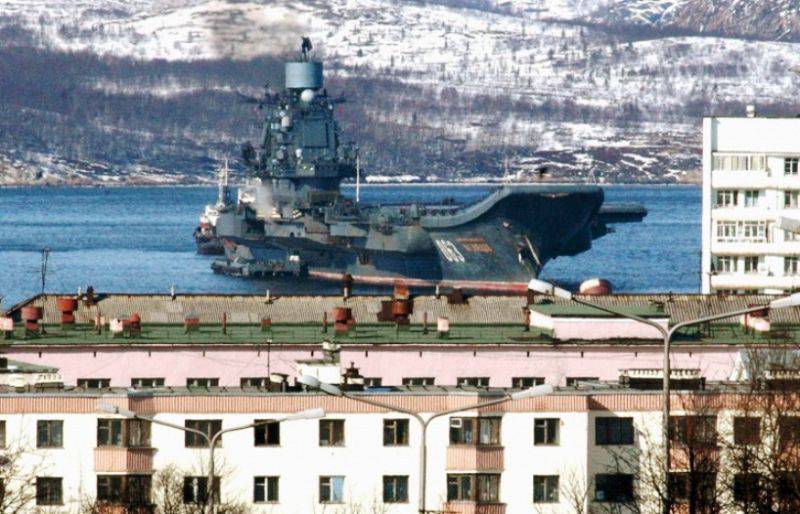 "In honor of the anniversary of the aircraft carrier this week will be held solemn events and rewarding the military," - said in a release.
"In the fall of 2015, after the completion of the planned restoration of technical readiness, Kuznetsov entered the training ranges of the Northern Fleet in the Barents Sea. The crew checked the performance of all units and mechanisms of the ship. Also, there were scheduled intra-ship exercises to combat survivability at sea, communications exercises, and testing of the operation of complexes designed to support deck flights
aviation
. Due to difficult weather conditions, training flights of carrier-based aircraft were not carried out, "the press service said.
Flights will be resumed in this when the ship leaves the sea.
It is noted that "Kuznetsov" is not only the only Russian aircraft-carrying cruiser, but also the only ship in the world from whose deck fighter pilots rise into the air in conditions of the polar latitudes. "
"The Admiral of the Fleet of the Soviet Union Kuznetsov was founded under the name Riga of 1 on September 1982 of the year at the Black Sea Shipyard in Nikolaev. 6 was launched on December 1985 of the year, and in 1987, it was renamed "Tbilisi". In October, 1990, the ship received its current name "
- reminded the press service.