At the end of 2015, the Leninskaya Kuznitsa plant provided the first complete sample of its own Triton armored car for testing, the blog reports
bmpd
.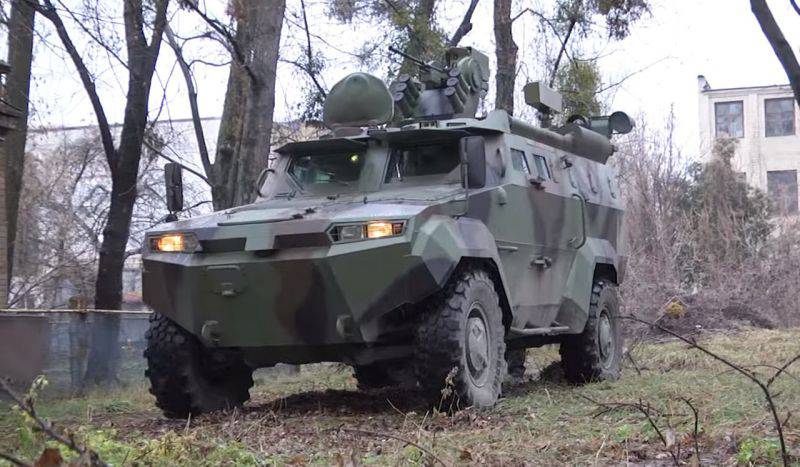 The "Triton armored vehicle" is an armored personnel carrier with the wheel formula 4х4, the BTR-80 elements are used in the chassis design. The "Triton" has a combat weight of about 11 tons and is equipped with a Volvo TAD620VE diesel engine with a capacity of 211 l. with. and an automatic transmission Allison 1000 CP. The maximum speed on the highway reaches 110 km / h, power reserve - up to 700 km. The ballistic protection of the STANAG 4569 Level 2 level corps is announced, "the blogger writes, citing Ukrainian media.
It is noted that the presented prototype is "made in the version of the reconnaissance vehicle for the State Border Service of Ukraine, equipped with a new mobile ground reconnaissance system and EW Jeb, produced by Ukrspetstekhnika Group of Companies, including radar reconnaissance of ground and low-speed millimeter-range targets LC111 Lys", a two-channel day-night and night-vision television surveillance system, a thermal imaging system, a laser rangefinder and a radio and radio monitoring system. "
In addition, the car is equipped with a radio jamming station "Enclave". The crew of the 7 man, four of them - landed outfit.
"Although initially" Triton "was declared as floating, however, the manufactured border variant does not possess amphibiousness. As a weapon of the presented sample, the remotely controlled combat module MBM is also used in the development of the Leninskaya Kuznitsa plant with an 12,7-mm NSVT machine gun, "notes bmpd.
The Ukrainian border guard has already ordered a 62 car.
A prototype of the Triton armored car built by PJSC "Plant Leninskaya Kuznitsa", made in the variant with equipping with a mobile ground reconnaissance system and EW Jeb for the State Border Service of Ukraine