Ural metallurgists, using Soviet drawings, recreated a multi-tower heavy tank T-35, which is installed in the museum of the Ural Mining and Metallurgical Company (UMMC), reports
Look
with reference to the foreman of the Uralelectromed enterprise (part of the UMMC) Farit Khafizov.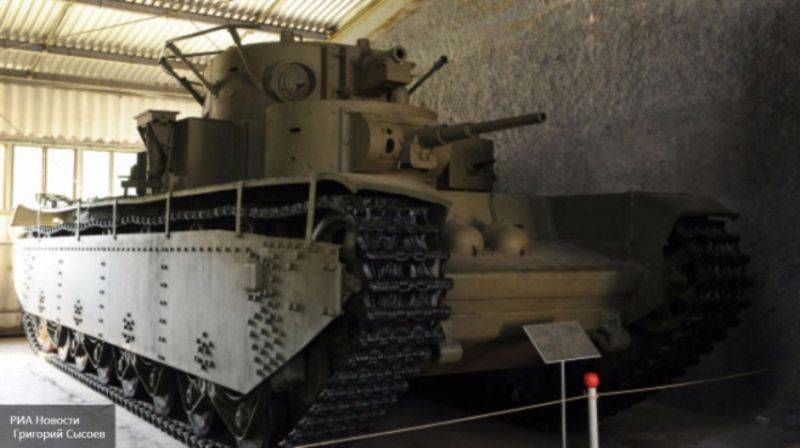 "Work on the creation of the T-35 went 5 months. More than a thousand parts were manufactured at the enterprises of the UMMC according to Soviet drawings. The tank is fully consistent with the original: weight - 55 tons, body length almost 10 meters, height - 3,5 meters. The only thing is that there is no engine, so the tank is not on the move, "said Khafizov.
"This is a fortress on tracks. We ourselves were surprised at the grandeur of this car when it was collected. This is the heaviest and largest exhibit of the Museum of military equipment UMMC. Two 50-ton cranes were used to transport equipment from the workshop to the museum, "he said.
According to Khafizov, "just 59 of such machines was released." A tank was developed in Kharkov in the 30s of the last century.
"On
tank
five towers with
weapons
. Stood by car
aviation
engine licensed by BMW, but the maximum speed was only 8-10 km / h. T-35 is low maneuverable, so it was inconvenient in hostilities. Only a few took part in the battles, the rest of the vehicles failed even on the way to the front, "he said.
Today, only one original copy of the tank is known. "Now our recreated tank has become the second in the world. T-35 was a symbol of the military and industrial power of the USSR, because nowhere in the world in the 30-ies there was a five-tower heavy tank in the series. This car is depicted on the medal "For courage", "added Hafizov.