Surprising data on the level of unemployment in the country presented the Ukrainian State Statistics. According to this agency, the unemployment rate in Ukraine has increased, while making (attention!) 1,9%. Reports about it
UNIAN
. The State Statistics Service of Ukraine proudly declares that the unemployment rate is the lowest in Europe, and that the International Monetary Fund's forecast was not correct, according to which the number of unemployed in Ukraine by the beginning of 2016 in Ukraine was estimated at 11,5%.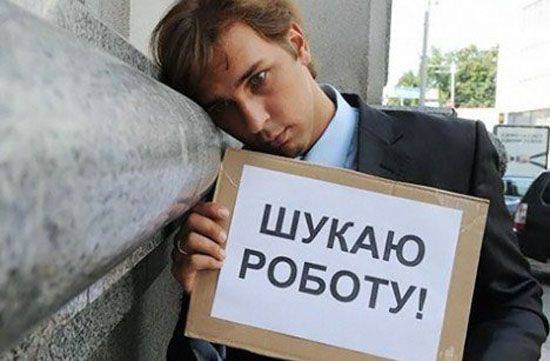 Further reports of the State Statistics Service of Ukraine suggest that the agency once again deceived Ukrainian citizens. The material department reports that the number of unemployed people with a Ukrainian passport is 490,8 thousand people. This value suggests that the Gosstat "Square" percentage of unemployed does not calculate the number of economically active citizens (as is done throughout the world), but of the entire population of the country. Moreover, the State Statistics Service states that it did not take into account the population of "individual regions of the Donetsk and Lugansk regions". It turns out that the State Statistics Service does not already consider these territories Ukrainian?
If we proceed from the formula for calculating the unemployed, which is used throughout the world (based on the number of economic active citizens), the unemployment rate in Ukraine exceeds 12%, given that up to 1,5 million people simply ignore registration with the employment service. Unemployment among young people under the age of 25 reaches the value in 33% (and this is without taking into account the unemployed who left the country). Apparently, the Gosstat "Square" did not dare to publish such figures, and therefore decided to go to the Ukrainian cunning and simply changed the calculation formula.
For reference: the official value of the number of unemployed in Russia is about 6%.