TV channel
112 Ukraine
reports that in the center of Kiev at the next protest rally gathered wards Seeds Semenchenko - militants terbat "Donbass". The militants, remotely led by Semenchenko, who enlisted the support of American senators in the camp last year, are demanding that the government investigate the reasons for the failure of the Ukrainian army near Ilovaisk.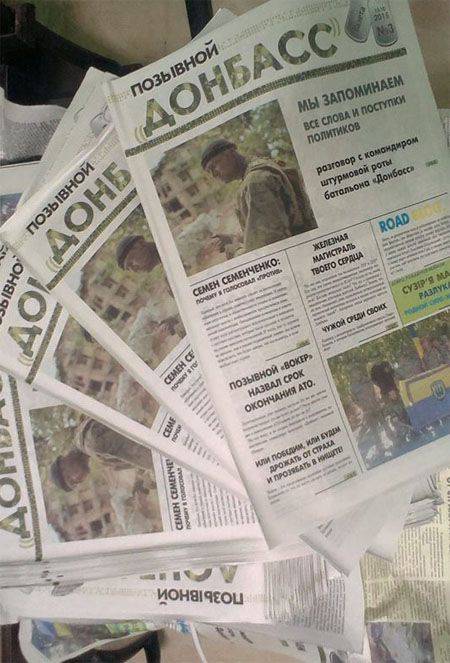 Recall that, according to the Ministry of Defense of Ukraine, about 200 Ukrainian security officials were killed in the Ilovaisky cauldron and about 300 were injured (interesting figures: 200 "200th" and 300 "300th ...), and according to Semenchenko, there are at least 5 more deaths. According to the Prosecutor General of Ukraine, near Ilovaysk about a year and a half ago, 366 Ukrainian security officials were killed.
Protesters are demanding that the leadership of the Ministry of Defense and the General Staff of the Ukrainian Armed Forces be held accountable for ilovoi events.
At the same time, Semenchenko himself, who is a deputy of the Verkhovna Rada of Ukraine, publishes on his Facebook page tales of how the Donbass terbat "defeated the Russian army under Debaltseve", with reference to the material of Yevgeny Shevchenko. We present an entertaining piece of "heroism" of those who were defeated by the troops of the NPT and the LC in the Debaltsevskiy cauldron, and those who now decided to compose more fables "for posterity" (spelling, punctuation and style are kept):
It is sweeping behind the window, snow drifts on the roads, someone is stuck in a traffic jam, and someone has given up and did not even leave the garage. I think it is not only in Krivoy Rog. A good time to read about how our boys 2015 beat the Russian invaders in February. Interesting article by Evgeny Shevchenko
"... After the group continued its movement and almost immediately found a second tank, which apparently simply did not understand the situation and rolled out directly to the" Donbassers "who were ready for its meeting. Those, in turn, did not differ in pity for the" lost " Russian
tanks
and without unnecessary sentiment, within a few minutes, in the literal sense of the word, they beat this goner, shaw mammoth. Within the first minute, he received at least seven hits from RPGs and flies (a fly is a rocket anti-tank grenade), but the tank was strong - from head to toe it was hung with dynamic defense. As a result, none of the seven hits brought its result - shells either ricocheted, or exploded along with the DZ, without causing significant damage to the equipment. The tank began to back away, but did it very sluggishly and this was understandable - the driver was guaranteed to receive several shell shocks in a row. As a result, the box slowly but carefully framed his barrel ... "
Ukrainian warriors can and can beat the enemy. I am proud of the name and affairs of the Donbass battalion, proud of my sister cities!
Apparently, such fables will soon appear in Ukrainian textbooks ...