It's so accepted in our times that any writer can be labeled "paid up." Another, of course, the question: by whom. In general, everyone who expresses his opinion in some media has such a collection. And it's good when everything is clear and understandable. Worse, when it is not entirely clear what the person wanted to convey to the readers.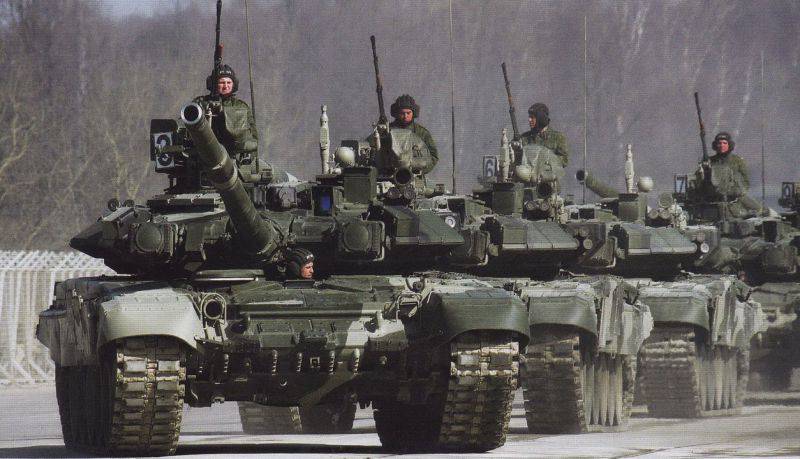 In our case, in the Free Press, which was not previously considered to be focused on certain places like the State Department and others like him, we came across an article by Sergei Ischenko. "
Divisions will rise from the ashes
". And firmly thought over what they read.
It cannot be said that Ishchenko "is not our man." It seems to be ours. But some nuances make this doubt. And, remembering that we have already 4 military schools for two and having stepped up those convolutions that, according to the proverb "callus from the cap", we subjected his words to some analysis from a military point of view.
It all started with a statement by Russian Defense Minister Sergei Shoigu. In it, he voiced one of the main tasks of his department in the coming months, the formation of three new divisions in the western direction.
"It is necessary not only to form these divisions, but also, of course, to equip them in places of permanent deployment with the construction and creation of appropriate polygons, equipment storage areas and, of course, personnel residing."
This is clear and understandable, it did not require any evidence, because it was shown more than once on TV. But then the strange began. In some incomprehensible way, the three divisions turned into
tank
the army. The links went to the beginning of June last year, when some "high-ranking sources in the Russian General Staff" began to give some media and (!) Bloggers information that it is planned to recreate 1 tank army by December 2015, 1. And it seems to be how to form "from scratch" another combined arms, instead of (or in addition) to the already existing 20th Army.
In fact, bloggers, the "business newspaper" Vzglyad, cast doubt on the accuracy of their information. But what is the demand from the blogger?
Further, according to the text of the article, Ischenko said a lot about where and how divisions will be created, of which the strength and power of the tank army will be composed.
"The General Staff of the Russian Armed Forces announced that by December 1, 2015 plans to reestablish the 1 Guards Tank Army as part of the Western Military District, as well as to re-form and replenish the 20 Guards Combined-Arms. That's what new divisions need for them.

December 1 has long passed, but so far our only tank army in the Armed Forces looks slander. Today, it has only one tank division - 4-I Kantemirovskaya (Naro-Fominsk, Moscow Region). There is also the 6-I separate tank brigade (Mulino of the Nizhny Novgorod region), the 2-I Taman motorized rifle division (Alabino village, Moscow region) and the 27-I Sevastopol separate motorized brigade (Moscow)

It is clear that these troops are completely inadequate for a strike association with such large-scale tasks. Indeed, until 1991, when the 1-I Guards Tank Army, which had become famous during World War II, was disbanded, it consisted of two tank and motorized rifle divisions, two missile brigades, an anti-aircraft missile, artillery and engineering-sapper brigades, two separate helicopter regiments. And a lot of other parts and units are smaller. "
Stop. And what are the actual tasks in question? Allow ourselves to quote Ishchenko a little more so that everything more or less falls into place.
"But why all these incredible efforts and huge costs? Why a tank army, why three new full-blooded units in the western direction, which the Ministry of Defense will have to deploy in just a year? You can't consider serious horror stories of some modern Ukrainian political analysts as if" Putin is preparing to throw to the Dnieper "?

Before the Dnieper, if I really needed it, we would have no doubt, and so we would have gotten it. How this is done - see plots from Syria. But if the goal is Ukraine that has not flown off from coils, then who or what?

To answer this question, we need to look at our western borders of Russia a little wider - from the Black Sea to the Baltic. What happens there is terribly reminiscent of the 1941 year. A month ago, the same Shoigu openly cited the following figures: in the NATO countries bordering the Russian Federation, "this year alone, the contingent increased by eight times for aircraft, and by number of servicemen - by 13 times." "To the borders of the Russian Federation" additional deployed to 300 tanks and infantry fighting vehicles, deployed Aegis Ashore missile defense systems. In various degrees of readiness are 310 carriers, capable of carrying around US nuclear bombs 200. "

300 tanks and infantry fighting vehicles - this is a complete divisional kit. Throw personnel from overseas on the passenger Boeing, put it behind the levers and go ahead.

From the places where the same nuclear bombs are stored - a few minutes fly to our main industrial and administrative centers.

Losing sleep about this may not be necessary. But the conclusions do - necessarily. To put new divisions. On the last money to form a tank army. Or maybe not one.

Can all this be done without the usual Russian disorder? Of course. But otherwise we, apparently, do not know how. Neither today nor when they retreated to the Volga, but then they took Berlin anyway. "
Now much becomes clear.
At least, we understand that rumors about a tank army in the Western Military District are nonsense. Yes, 300 tanks and BMP are almost a division. Plus, that there was before our "partners" from NATO.
But the tank army is not
weapon
protection. This is a weapon of attack.
Let's look thoughtfully for what is needed tank army.
1. A full-strength tank army is a real armor class capable of breaking through anything. Question: what should be pierced in case of what? Ukraine? Sorry, but the whole army of Ukraine can be rolled by the forces of two brigades. This is not hats, this is the real thing. The APU in its current state will at best be able to imitate the fighting.
Europe? Yes, a thousand tanks will be able to destroy all the roads from Lviv to Berlin. And arrange parking on Unter den Linden. But forgive me, where is our defensive doctrine then? And what is the direct meaning of such actions?
2. Rembaza full TA allows you to repair virtually everything without a manufacturer. We emphasize, full. This is a big plus if it, the repair base, exists. Moreover, repair in combat conditions is simpler, because a lot of tanks - a lot of spare parts. Accordingly, the manufacturer will only that which is not restored on the spot. And easier to dispose of.
3. The possibility of proper training of crews. In TA there simply must be training shelves / centers that will be prepared by the crews specifically for a specific part, taking into account the specifics of a particular compound or unit.
4. For TA it is easier to solve the problem of transporting tanks. Because for this, parts must be created that will deal with this. transfer of equipment and its provision.
Naturally, there are downsides.
1. The most important. If we start from the fact that TA is an offensive weapon (I repeat that we have little understanding of how TA can defend passively), then the theater on which it can effectively be used is clearly not Ukraine. And the Europeans, who lived for several decades under the fear that the Russian tanks would wash, drawing water from the Channel, created very effective means against our tanks. And it's hard to argue with that. European VET is not only effective, but also numerous.
2. Equipment. TA - a rather big connection. And for normal use, the tank army should be equipped not only with tanks and means of their repair and transportation. And also motorized gunners, artillery,
aviation
, engineers and much more. And all, note, at the regimental level.
3. Accommodation TA near Moscow, consisting of the 4-th Kantemirovskaya division (Naro-Fominsk, Moscow region), the 6-th separate tank brigade (Mulino of the Nizhny Novgorod region), 2-th Taman MSD (Alabino of the Moscow region) and something else in terms of parts looks logical.
It seems to be an armored coat covering the capital. The question of who and how to cover the "court" divisions and brigades, we leave behind the brackets. But the fact that these parts will be involved in the latter case in the last turn is understandable.
But being under the cover of air defense of the capital is very justified and logical. "Arrive" in these parts far from immediately, and not the fact that it will arrive at all. Moscow air defense is not a joke.
And in the western direction with air defense is not so luxurious. And it turns out that it is necessary either to scatter parts at some distance from each other, so as not to arrive by means of the same carrier planes and others that are capable of this business, mentioned in the Ishchenko 310 article.
It is not a sin to spend a hundred carriers on Naro-Fominsk. The Kantemirov division is definitely worth it. But as a result, we are not sure. And in the West, for sure, too. But in the same Boguchar, Ostrogozhsk, Voronezh - why not? Although about Voronezh - we got excited. There is someone to metalopad from the sky to organize.
Nevertheless, the protection of TA from any air attack is no less complicated than its creation.
In general, the idea of ​​creating a tank army in the western direction seems to be a sort of creeper. And a petty pugalka, for it is not clear who they want to frighten more: the West or the Russian inhabitants. The deployment (and even more, the creation) of a tank army in our time is a very expensive business.
"It's not necessary to lose sleep about this. But it's necessary to draw conclusions. To set up new divisions. To form a tank army with the last money. Or maybe not one."
So why Ishchenko wants to scare someone with outright nonsense, which clearly borders on meanness? This call is strange. Indeed, 300 tanks and BMP - they will reach the Urals, right? Especially if the passenger "Boeing" crews from the States to transfer. We have no one in the western direction at all, some trenches from the times of the Great Patriotic War. And only the urgent creation of a tank army numbering 1 000 tanks will be able to curb the aggressive plans and intimidate the enemy. Nothing that the budget will sentence, right? The main thing - the enemy will be scared to death, and the tanks and BPM will remain in their places!
It is strange to read this from the captain of the 1 rank. Very strange. Let even kapraz spent most of his life on newspapers. That's not the point.
The bottom line is that, no matter how we shove the Internet for a week, we could not find sensible arguments and reliable information about the creation of a tank army. Well, they could not, and that's it.
Especially cool is silent on this topic MO. And correctly silent. For to create the planned three divisions is one thing, and the army is another. And the three divisions - this is not the army. These are three divisions.
It is very good that in our MO there are knowledgeable and intelligent people who understand the situation perfectly well. And they will not go on the creation of such a monster as absolutely useless in peacetime as a tank army. Because if you fight, then there is no place to fight TA, and there is nobody. Moreover, there is nothing to maintain such a structure in peacetime.
If we turn to the narrations of modernity, we can see that over the past 20-30 years (and possibly more), compounds like TA have not been used anywhere else. The last war, where the parties operated on tank armies — correctly, the Great Patriotic War. Not even World War II. There, the sides lacked neither targets nor tanks. The only ones who operated with tank armies were the USSR and Germany. And only on the Eastern Front.
As for today's day, as the practice of the Iran-Iraqi, Indo-Pakistani and Iraqi wars has shown, it is easier for the solution of operational tasks to create on the basis of a tank division what? Correct, body! More mobile connection that does not require huge costs. And with the possibility of its dissolution after the combat mission.
So actually, it is the divisions that plan to create in our Ministry of Defense. Based on the already existing tank regiments and brigades. Not from scratch, we emphasize this. In the same Boguchar, where the 10-I Guards Tank Ural-Lviv Volunteer Division named after Marshal of the Soviet Union Malinovsky was withdrawn. Yes, today there is only a separate tank brigade, but the entire infrastructure created after the withdrawal of the division from the GSVG is preserved. And the question of reconstructing the division is not a question of years.
Why it was necessary to submit information in such a manner is not clear to us, to be honest. But the fact that fools in Russia (including those in the Ministry of Defense) is becoming less and less is quite obvious.
Maybe it just does not suit someone?