High-speed ships that the US Navy ordered from Austal USA cannot withstand the oncoming impacts of high waves, reports
RIA News
a statement by the head of the Pentagon's operational verification department, Michael Gilmore, published on the Bloomberg website.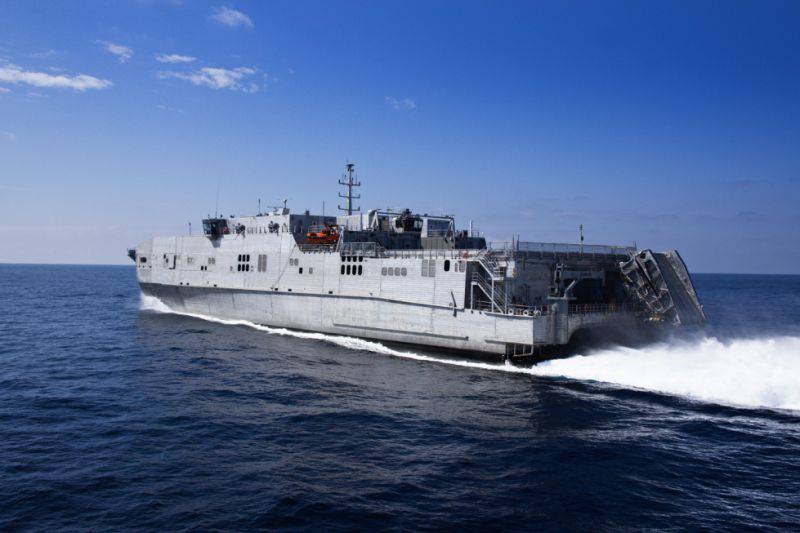 "Expeditionary Fast Transport (EPF) Expeditionary Catamaran ships are designed to carry approximately 545 tons of cargo and 312 personnel to a distance of thousands of kilometers to 2,2 at speeds up to 80 kilometers per hour. They were deployed in Africa and the Middle East, as well as in Singapore. The Navy bought ten ships of this type, each of which costs about 217 million dollars ",
- explains Bloomberg.
Five of them are already in operation, and 5 is still under construction.
"When building ships, we had to compromise on the design of the bow, apparently to reduce weight," Gilmore writes in a letter to the US Congress. "As a result, many ships began to suffer damage to the aluminum hull due to a collision with the waves."
"However, even with the strengthening of the bow, it can be damaged by a high wave," he said.
According to Gilmore, EPF should not go into the sea during high seas or "walk at low speeds."
The repair of the first ship, received in 2012 g and tested in a rough sea, was spent $ 511 thousand. Repair the next three cost more - more than a million for each ship. The fifth EPF is currently awaiting repair.
Electric generators were also unreliable. "In some cases, their work time was just 208 hours instead of the promised 8369," Bloomberg notes.