The head of the Main Operational Directorate of the General Staff of the Armed Forces of the Russian Federation, Lieutenant General Sergei Rudskoy told the media that the Russian military will be involved in a humanitarian mission in Syria. According to Rudsky, several international organizations are now engaged in the distribution of humanitarian aid in Syria, but such assistance reaches the civilian population very rarely. Mostly humanitarian supplies are captured by militants. In addition, under the guise of humanitarian aid in Syria, controlled by terrorists, are often sent
weapon
and ammunition.
According to Sergei Rudsky, the Russian Defense Ministry is starting a new phase of the operation in Syria, while continuing to inflict airstrikes on terrorist infrastructure facilities. The new phase of the operation will consist in the distribution of humanitarian aid for civilians in need in Syria.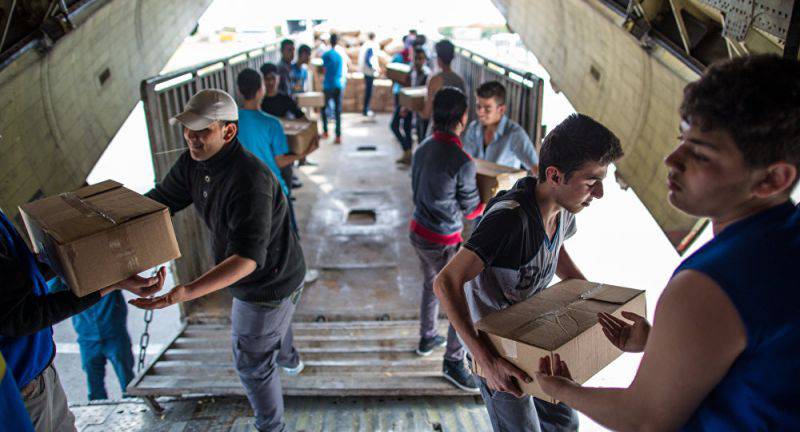 TASS
cites a statement by Lieutenant General Sergei Rudsky:
A decision was taken to deploy a humanitarian operation in the Syrian Arab Republic by the Armed Forces of the Russian Federation. In the majority of settlements of this country there is an extremely difficult situation, when the residents are experiencing a shortage of not only products, but also medicines and essential items.
This stage of the operation can be called the stage of the struggle for the loyalty of the local population. If the Syrian population, part of which lived for a long time in the territories occupied by the militants, succeeds in demonstrating the goodwill of Russia, then the probability of success of the entire operation in Syria will be significantly increased. The main thing is that the humanitarian mission is not accompanied by increased risks to the lives of military personnel who will be involved in the implementation of this mission.