In an interview with the German edition
Reuters
Gerhard Schroeder, former Chancellor of the Federal Republic of Germany, suggested that the formation of the ISIS terrorist organization began some time after the invasion of the American army into Iraq in 2003. For Russia, it is difficult to call such an idea new, but in Germany, such considerations are even in the official press, even if they are expressed by famous personalities, it is not accepted to publish. Freedom of speech…
Since Schröder was the former Chancellor, they nevertheless decided to publish his opinion in the German press. According to Gerhard Schroeder, the US intervention in Iraq in 2003 gave impetus to the formation of alternative armed groups in this country, which today rallied under the banner of terrorism, becoming a single group of ISIL.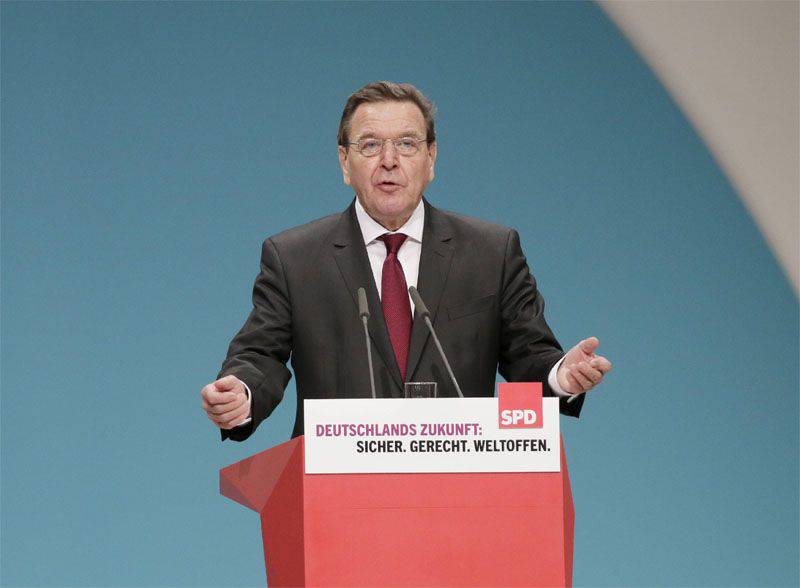 In addition, the former German Chancellor criticized the policy of the current Chancellor. Schröder is sure that problems in Cologne would not have arisen if Merkel kept migration flows under control and would not try to build a humanist out of her own, opening the country's borders to more than a million immigrants from Africa and the Middle East.
Schröder declares that the fact of Germany's limited capacity to receive refugees is obvious now. According to him, all other statements are nothing more than an attempt to pass over the desired (including the "integration of refugees into the ranks of the Germans") as real.
Schroeder spoke about the Ukrainian crisis. According to the former German Chancellor, the longer the EU tries to put pressure on Russia with sanctions, the further and further the impasse in Ukraine will come to a dead end.
Schröder:
It would be reasonable to go towards a political partner who respects the agreements reached, and not isolate him. The heads of the Western states know exactly how important Russia's support in efforts to resolve, for example, the conflict in Syria. I hope that the position of the current leadership of Western countries will not alienate Russia, who wants to help Syria and in the end solve problems by political means.