Over the past 5,5 years (from 2010-th to June 2015 g), the number of crimes in the Armed Forces of the Russian Federation continues to decline, but over the past 2, the number of unauthorized abandonment of units and desertion has increased,
Kommersant
Rosstat data. The Defense Ministry said that these statistics do not reflect the real situation.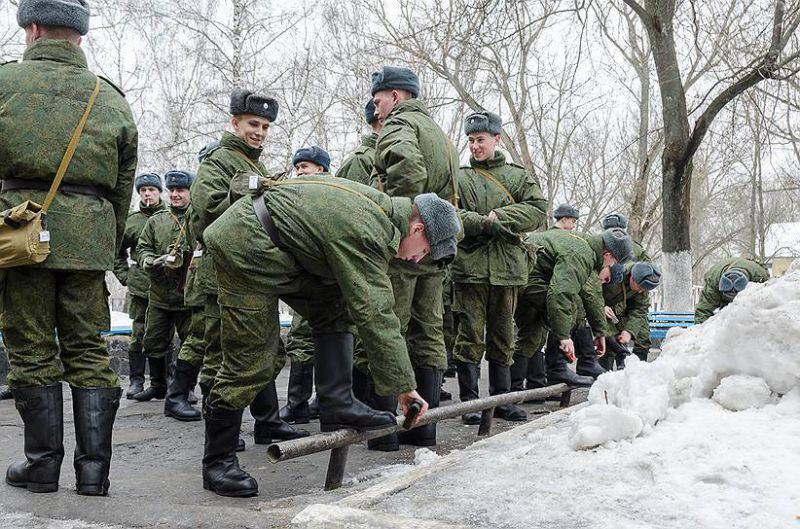 "Data on the state of crime among military personnel from Rosstat was requested by Ella Polyakova, a member of the presidential Human Rights Council (HRC). The response, signed by the head of the statistics department of trade and services Rosstat Marina Sabelnikova, contains data for the last five years. We are talking about recorded violations of Art. 328 of the Criminal Code ("Evasion of military service") and articles contained in Ch. 33 of the Criminal Code, which lists crimes against military service, "- says" Kommersant ".
According to the above data, "the overall crime rate among military personnel over the past five years continued to decline, for example, in 2010, 698 cases of military service evasion were recorded, and 2013 already had 512 cases. In January-June 2015, 508 was recorded in such cases. "
Positive dynamics persists in the number of cases of non-statutory relations: "If 2010 was recorded in such violations in 1186, 2014 was recorded in 939, and 2015 in the first half of 499".
The total number of crimes decreased almost 2 times: "2010 crimes were recorded in 5225, 2014 g - 3044, and in the first half of 2015 - only 1413".
According to Polyakova, "against the background of successful dynamics, there is an increase in the number of crimes related to desertion and evasion from military service by simulating a disease or by other means."
"In 2014, in 1,7, the number of registered cases of desertion increased by 2013 year - 50 versus 29, and in the case of evasion of duties, this is the ratio of the 232 case in 2014 to 96 in 2013," she noted .
"The published data suggest two possible conclusions: the servicemen may have left the unit trying to avoid ill-treatment by the officers or being sent to participate in the conflict in the south-east of Ukraine," Polyakova believes.
The human rights activist recalled the 5 case of contract soldiers of the Maikop brigade, who were sentenced for desertion in December. "The convicts served at the Kadamovsky training ground in the Rostov region and left it, believing that they could be sent to the Donbass," she said.
The Ministry of Defense noted that the specified data is only a statistical calculation with the "average temperature" in the hospital. "According to the law, citizens who have the status of military personnel serve not only in the Ministry of Defense, but also in the Ministry of Emergency Situations, state security agencies, the Ministry of Internal Affairs, and it is not possible to isolate information on committed offenses specifically in each department," the department said.