Indonesian news agencies are spreading a series of terrorist attacks in Jakarta. According to preliminary data, the explosion of improvised explosive devices was carried out by groups of terrorists, who in total were at least 12 people. One of the powerful explosions thundered in the business district of the Indonesian capital, where the offices of large firms, diplomatic missions of different countries and hotels are located.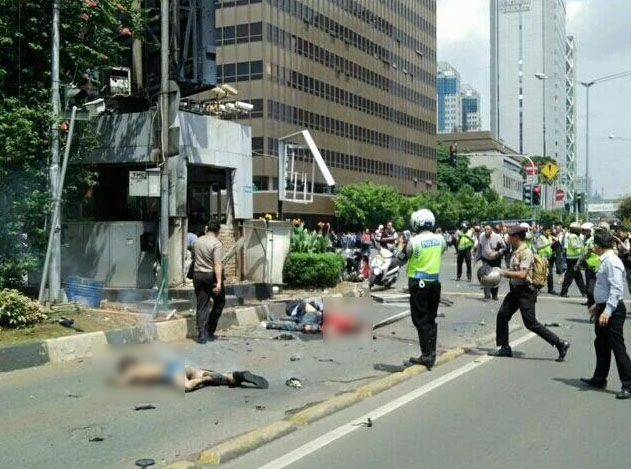 According to the data received at that moment, twelve people died as a result of the explosions in Jakarta, 18 people were injured. Several injured are in critical condition. Among the wounded is an employee of the UN mission, not far from the representation of which one of the explosions occurred.
Information Agency
Associated Press
reports that after a series of explosions, an exchange of fire broke out between a group of terrorists and policemen. As a result of the shooting, one officer of the Indonesian police was killed, several more law enforcement officers were injured.
Another group of terrorists occupied the roof of a building known as the "Jakarta Theater". Prior to that, one of the suicide bombers from this group carried out an explosion near the Starbucks cafe, which killed at least two foreign citizens. While their citizenship is not officially called. In social networks it is said that among the dead there is a citizen of the Netherlands.
The Russian diplomatic mission claims that there are no Russians among those affected by the terrorist attacks in Indonesia.
Approximately two and a half hours after the explosions in Jakarta, the Indonesian police announced that they were detaining 4 people who were involved in the terrorist attack on the capital of the state with the largest Islamic population in the world.
In an address to the nation, the Indonesian president called the bombings in Jakarta "a terrorist attack on a peaceful city."