The Pentagon decided that American
Tanks
Abram
s are not the military equipment that can show its effectiveness "in the open spaces" of Latvia. The main US military department concluded that it would be more expedient to replace heavy tanks with less massive armored vehicles. Informational portal
Delphi
reports that today, on January 13, 2016, the rotation of the American military contingent in Latvia is being carried out, and at the same time tanks are being withdrawn
Abrams Books
.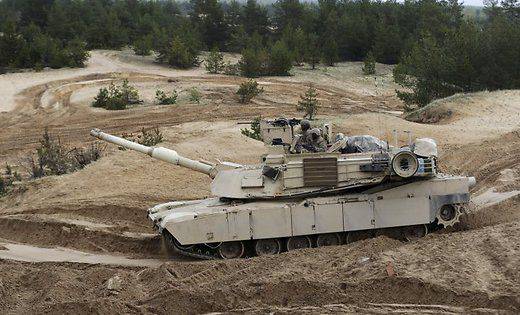 170 American troops of the 2 Cavalry Regiment arrived on the territory of the Republic of Latvia and will be based on the local armed forces. The 2 Cavalry Regiment itself is deployed in Germany.
The Adazi military base is abandoned by the Abrams 8 and the Bradley 9 BTR. Tomorrow armored vehicles will arrive in Latvia instead.
Stryker
, as well as several SUVs
Humwee
. As reported in the American command, these machines "will be more efficient in Latvian conditions and require less costs for operation and maintenance."
At one time, the Latvian authorities asked American partners to leave tanks in the country on an ongoing basis, apparently not caring about what tasks the American Abrams will perform in the Latvian swamps ... In the Latvian segment of social networks, the withdrawal of American tanks was already called "the end of powerful advertising action ", which was called" Save Latvia from Russian aggression! "