Recently was in Berlin. In the evening, I went to the bar, not to Elephant, as Stirlitz, but something similar. I sit drinking coffee. And at the bar three young and very drunk Germans. One all the time something screamed out loud and rather tired of me.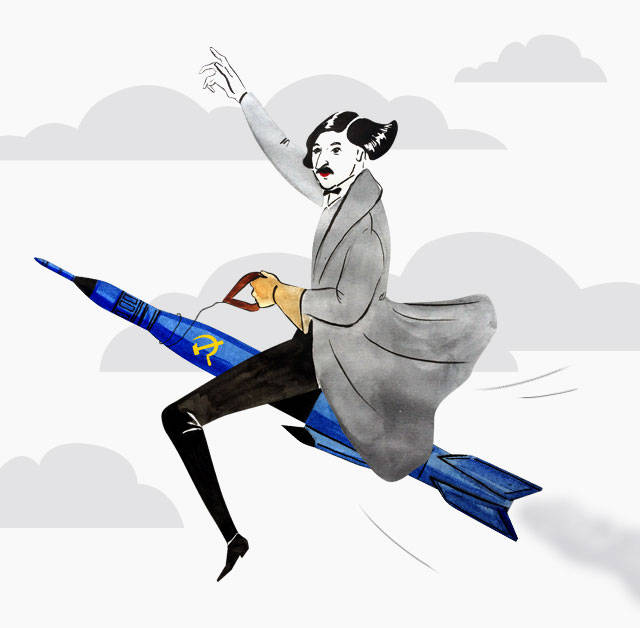 I finished my coffee, got up. When I was passing by the bar, the young gorlopan detained me a bit, patted me on the shoulder, as if inviting me to participate in their fun.
I grinned and shook my head. The guy asked: "Deutsch?" ("German?"). I replied: "Nine. Rusish. The guy suddenly fell silent and almost pressed his head into the shoulders. I retired. I will not hide, with a triumphant smile: I was pleased with the effect produced. Rusish, aha.
And I am Russian to the very depths. Exemplary Russian. Scratch me - you will find a Tatar, this is from the father's side, with my mother's Ukrainians - where without them? - and somewhere mysterious Lithuanian great-grandmother lurked. In short, the correct Russian DNA. Thick and rich as borscht.
And my whole set of chromosomes, and in addition to it a set of meadow Vyatka herbs, salted mushrooms, birch brooms, my mother's lullabies, three volumes of Chekhov in a green cover, Chukchi red caviar, mother of aunt Zina from the village of Brykino, crumpled letters of her father, December stars from snowy childhood, Haidai's comedies, sheets on the ropes in the Lublin courtyard, Piggy squeals, sad Tchaikovsky violins, voices from the kitchen radio, the smell of carbolic on the Moscow-Lipetsk train, transparent tinctures of Ivan Petrovich - this whole set made me a human being From such a depth that it is terrible to glance, as in a monastic well.
And there is no originality in me, I am a typical Russian. Mysterious, thoughtful and dangerous. Contemplator. Dostoevsky wrote in The Brothers Karamazov about such a typical contemplator, that "maybe, having accumulated impressions over many years, he would give up everything and go to Jerusalem to wander and escape, and maybe his native village would suddenly burn, or maybe that and more together. "
To be Russian is to be torn to pieces. Frowned upon. Wide open. One leg in Karelia, the other in Kamchatka. With one hand to take all that is bad, the other - immediately give the first oncoming swindler. One eye on the icon to marvel, the other - on news The first channel.
And a Russian cannot calmly dig in his garden or sit in the kitchen in his native hruschob - no, he does not just sit and dig, he looks around at half of the planet, he is so used to it. He thinks in colossal spaces, every Russian is a geopolitical. Give Russian will, he will make a garlic bed from Perm to Paris.
Some farmer-reddish farmer in Alabama doesn't know exactly where New York is, and the Russian knows even how much our rocket will fly to New York. Why send a rocket there? Well, this is a second question, insignificant, we do not waste money on trifles.
Now we are worried about Syria. Maybe I have a faucet in the bathroom, but first I know that there is in Syria, and then, if time remains, I'll get the faucet. Syria is more important to me than a native crane.
Academician Pavlov, our great physiologist, gave a lecture "On the Russian Mind" in 1918. The verdict was this: the Russian mind is superficial, our people are not used to repeating something for a long time, it is not interesting to them. However, Pavlov himself or a contemporary of his Mendeleev seemed to have denied this accusation by his own experience, but in general it was correctly captured.
Russian should have time to think so much around that life is not enough. That's why we drink a lot: each glass seems to make it clearer. World processes accelerates. He waved a glass - Chamberlain is gone. He waved another - Reagan flew by. Third upset - let's deal with Merkel. Not biting.
Twenty years ago I had two Italian girlfriends. We came from the University of Milan to write diplomas in Moscow - something about our great culture. They began to comprehend it quickly - through vodka. They come, say, to visit me and immediately get a bottle from the bag: "We know how you have made." Well, like a Russian kid, I did not hit the face with dirt. Poured in full, overturned: "I will show you how we can do!". The Italians squealed: "Belissimo!" - and looked at me with admiring eyes of the Rafael Madonnas. God, how much I drank with them! And it kept, never fell. Because he understood: behind Russia, nowhere to retreat. Then he helped write one diploma. We, the Russians, are master of all hands, especially with a hangover.
Most of all, Russian appreciates the state of a drowsy full rest. That jelly on the table, salary on time, Urgant on the screen. If something goes wrong, the Russian is angry. But not for long. Russian always knows: tomorrow may be worse.
Only our people could write a proverb about a bag and a prison. My mother all her life in the kitchen in the canteen was folding cans with a stew - "for a rainy day". That day never came, but I find myself in the nearest "Pyaterochka" already stopping near the shelves with canned meat. I look at the banks thoughtfully. As if I want to ask them about something, like crazy Chekhov Gayev. But for now, keep quiet. I do not buy yet.
At the first opportunity, the Russian runs abroad. Away from the "lead abominations." The same Pushkin rushed all his life - they did not let him go. And Gogol was happy as a child, crossing the border of Russia. Italy, he adored. This is how Zhukovsky wrote from there: "She is mine! No one in the world takes it from me! I was born here. Russia, Petersburg, snow, scoundrels, department, department, theater - all this I dreamed of. I woke up again in my homeland ... ". And then, when the Russian gets drunk with wine, he sees enough of the baroque and has heard the organ, buy junk and cheese, wake up in it.
Foreigners are fed up with their lying smiles, it's time to miss. Tosca vague, unclear. Not the snow and the scoundrels. And for what longs? Neither Gogol, nor Nabokov, nor Sikorsky, nor Tarkovsky will give an answer. Russian melancholy is inexplicable and alarming like a bell ringing over the hills, like a girl's song in a random train, like the sound of a drill from a neighbor. At home, sick, abroad - a chore.
To be Russian is to live between the sky and the pool, between the hammer and the sickle.
Every Russian scolds his country for what it is worth. The authorities have thieves and bastards, have taken away everything that you can, there is no one to believe, the roads are terrible, there is no law, there is no future, completely damned days, dead souls, only to throw down the Volga from the cliff! I curse myself, I do not regret words. But as soon as I had a foreigner or — worse than that — my compatriot, who had not lived here for a long time, would begin to say nasty things about my country — then I beast like a drunken Yesenin. Here I am ready right in the face. With a swing.
This is my country and all its sins are on me. If she's bad, then I'm not a present either. But we will suffer together. Without suffering - what kind of Russian FIG? And to leave from here - where and why? I have a whole world of foreign land. I'll die here. The coffin will be made to me by the drunken master Bezenchuk, and in the coffin let them put a couple of cans of stew. For a rainy day. For perhaps "there" will be even worse.