The State Council of the Republic of Crimea distributed
statement
in which the actions of Ukraine related to attempts to blockade the peninsula and disrupt the supply of electricity are called acts of genocide. The statement noted an increase in the activity of illegal armed groups on the border of Ukraine with the Russian Crimea.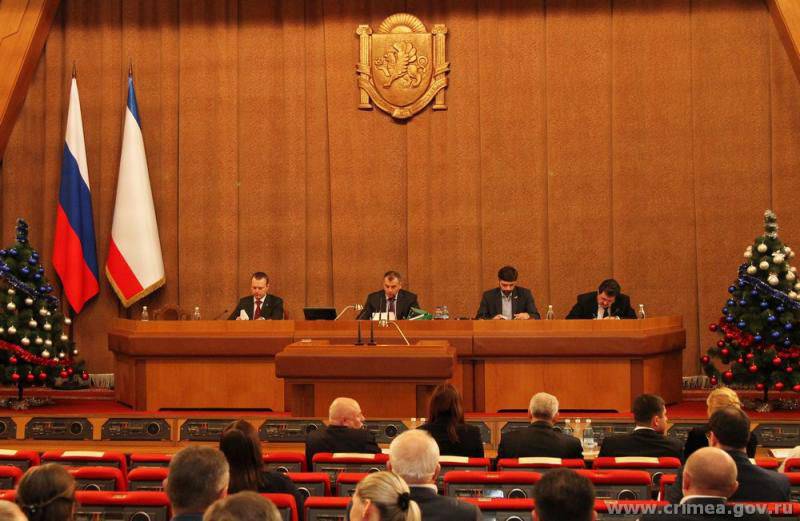 From the statement adopted by the Crimean legislators:
The State Council of the Republic of Crimea expresses serious concern over the increased activity of terrorist groups and the danger of a growing number of crimes closely related to terrorism in the adjacent territories to the Kalanchak, Chaplinka and Chongar checkpoints on the part of passing the state border of Ukraine .

The blockade of the Republic of Crimea, led by the deputies of the Verkhovna Rada of Ukraine Mustafa Dzhemilev, Refat Chubarov, as well as a group of persons actually operating under the control of the authorities of Ukraine, under the leadership of Lenur Islyamov has been going on for more than four months. This is reflected in the daily reports of the OSCE Special Monitoring Mission in Ukraine and is a clear example of the most flagrant violation of human rights, hate crimes, genocide, which are detrimental to the civilian population of Crimea.
The document provides information about the time and place of the undermining of power lines, arranged by Ukrainian militants. In addition, the text of the statement calls on Ukraine not to shirk responsibility for the activities of illegal armed formations and to disarm them.
From the text of the statement:
We are convinced that the terrorists and their accomplices, who encroached on the life and health of the civilian population of the Crimean Federal District, cannot escape responsibility. This crime has no statute of limitations, and sooner or later the perpetrators must be punished.
In connection with the above, the State Council of the Republic of Crimea, recalling that genocide is a grave crime that violates the norms of international law and poses a serious danger to human rights, expressing deep concern about the increasing terrorist threat, believing that these crimes are subject to the Convention on Prevention crimes of genocide and punishment for it, seeking to ensure the inevitability of criminal prosecution before the international court and the punishment of those who committed these devils elovechnye acts, appeals to the Foreign Ministry, the Prosecutor General of the Russian Federation, RF IC, as well as in the UN General Assembly and Security Council (...)

with a request to characterize the actions of (Kiev) and conduct an investigation into the facts of terrorist activities on the territory of Ukraine, adjacent to the Republic of Crimea.