Charles! Karl Kroener from the town of Mühlacker in Baden-Württemberg! I really want to ask you the same question that once asked its generals one
historical
character: "Is Germany the end?"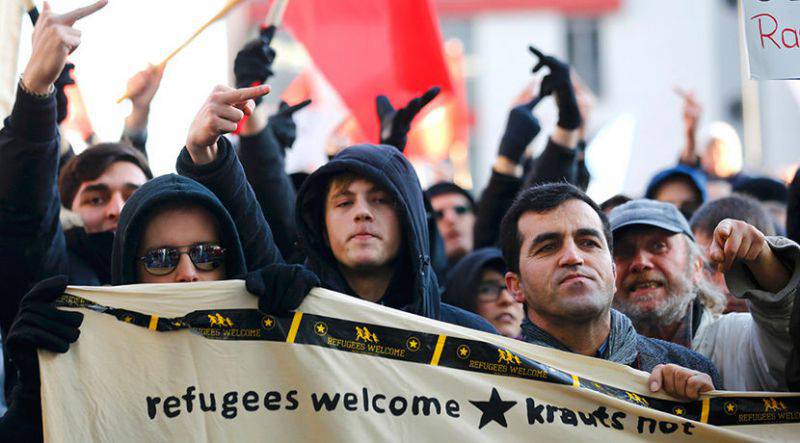 What have you become, Carl? What has your country become?
Where now to look for that Germany which was respected, which they were afraid of? Total 70 years, Karl, and who did the Germans become? Those same Germans, from which half the world trembled.
Karl, I will never forget your grandfather, Hans Kröner, artilleryman of the Great Germany division. It was the first in my life party of our war from the side with which I was able to meet. He passed Belgium, France, Poland, Yugoslavia and reached my Voronezh. Where "Great Germany" smashed his forehead about General Chernyakhovsky's 19 Corps and the 10 Division of the NKVD Colonel Sarajevo. In the 41 Infantry Regiment of this division, my grandfather fought.
My grandfather was not in captivity. And Hans Kroner had to work with us for a certain amount of time. But he remained strong Hans, one of those whom our grandfathers truly hated, but respected as an enemy. I rewound my own, as it should be, and had been doing business with the Russians all my life. Respected. And he was respected.
Karl, he would be crazy in the next world if he could, looking at what is going on around you. Not even because he was a soldier of the army, which put the whole of Europe in a pose. He was a man. If you do not understand their mistakes, then at least recognized. I read it in his book, it was the case, he gave it to me.
Carl, look at us. We can win. Enemy, circumstances, situations. Thank God, we don't have to invent our enemies, the Russians have always been in order with this. We have not become weaker in these 70 years.
In those days, if the Germans wanted to take their own, they went and took. Another thing that happened so that what they considered their own belonged to us. And we, Russians, don't need a stranger. But for your ...
Carl, look, think, why haven't we changed? And why have you changed so much? Yes, at one time you took your where you wanted. But time has passed, and now they take theirs from you. And you give. Please note that during this time the essence has not changed a lot. Yes, we were in full arshe, but ... Ours (in the sense, the Crimea) returned. And we don't abandon ours (in the Donbas sense either).
Probably the thing is, Karl, that we have not forgotten what it means to be men. If we had something similar to what happened in Cologne and other cities, we would act differently. This is me about skirts, Carl. Russian men do not wear skirts as a sign of solidarity with their women. We have other items and gadgets for this. For example, mount, bits, colas, bins, and indeed our imagination and ingenuity allows us to use as improvised means such that the Germans would never have occurred. And we have nothing, rolls to the fullest. There would be a reason.
If, God forbid, this happened to us, Carl, honestly, we would not have filled the police stations with victims of harassment, but hospitals. Harassment Moreover, the farther from the border with Europe, the more epochal it would be.
And the women we have are not that German. You never believed when I sent you a year ago about a case with us when two tipsy Ukrainian women went to the hospital with broken jaws and noses for saying nasty things about Putin. And in vain did not believe. Russian Frau, she is not only a galloping horse can stop, the elephant is braking. And unscrew his trunk. Or not the trunk. What is there to talk about some drunken hohlushka.
It was strange to read the reports, to be honest.
"In the square in front of the station and the cathedral in Cologne, the townspeople traditionally celebrated New Year with firecrackers and fireworks. According to police, a group of 1000 young people stood out in the crowd who celebrated inappropriate behavior."
A group of a thousand people. In crowd. And in the crowd, apparently, considerably more than this group, there were no peasants at all. Apparently, the men in New Year's Eve in Germany are sitting at home. Everything. And in the crowd there were these ... "partners No. XXUMX" and "partners No. XXUMX". This, of course, explains a lot.
"After that, as witnesses say, a real" hunt for women "began. Groups of young men in 20-40 surrounded the victims, snatched their bags, took away their smartphones, and all this was accompanied by gross sexual harassment. .
I did not invent it myself, I quote the "German Wave". There were witnesses, but there were no men. Oh, Karl, if we had this, there would be memories for a year. For the fun would have begun such that in no fairy tale you can imagine. Although this is hard to imagine. We're not tolerant.
Karl, maybe it's time, before it's too late, to become, as it were, a little less civilized? Drop your tolerance and just give in the face to someone who imagines that he is the master of life?
And then, and then what? How to make all those whom you launched to yourself live not according to the law of the jungle, but purely humanly?
Responding to 6 in January for such a question, the Federal Minister of the Interior, Thomas de Mezieres, pointed out that the government has increased spending on integration courses for those migrants who have good chances to stay in the country.
And this, according to him, is not only assistance in teaching German language, raising qualifications, finding work and housing, paying social benefits, but also a whole range of requirements for migrants themselves, de Mezieres said that "full recognition of our value system, including equality of men and women. "
And if they don't recognize, Karl, then what? Send, or something, will you? Yeah, right now, they will stroke the laces and quietly go back. On palm trees. Dreams Dreams...
Yes, for many years Germany was really the center of Europe. On which it was possible to be equal, something even to envy. The standard of living, culture, development. Personally, I would be very sorry if your country turns into the backyards of Ethiopia or Sudan. And all this goes.
Karl, and maybe it's time again to look to the east with hope? No, not in terms of something to hog, in this respect we have complete order today. Ovovar no worse than 70 years ago. In terms of learning how to live, feeling not a numbered organism. Partner.
Yes. This is hard. But after all, we already know many examples of how the Spaniards, the French, the Brazilians and the Americans got into one trench together with the Russians in the Donbas. And the Germans. And we know how, after these, the Germans had a hard time after returning home. And the goal was one - the war against fascism.
Karl, you really need to change something. To begin with - let grandma rest from the works of the righteous. And look at Austria, there was always a good place for you there. Suddenly, who else draws ...
There are a couple of thoughts. Or maybe you take, and declare war on Russia? And then, while ours digest it, will they give up in minutes through 5-10? Again, we do not zafigachim GSVG, and GRVG, but in the offense, we will not give these ... afro arabbomigrantam. Defend the old memory.
Or another sentence. And what would you do not make an open not Oktoberfest, but let's say, Mayfest? Expose in Cologne, Stuttgart, Hamburg and where else have you got burnt there, beer from the heart, cancel the visa for a week and send an invitation to our Union of paratroopers? Yes, and most importantly, allow them to swim in the fountains. Well, and tell your partners No. XXUMX to sit at home and not protrude.
Karl, you have there silence among the migrants will be provided for the year ahead. Unless the outcome is the opposite. And if they suddenly start creeping out again, you can organize a festival twice a year. But already with the payment of the guest.
Laugh laugh, of course, but something needs to be done. And to do to you, today's grandchildren of those soldiers who could conquer all of Europe. And they would have won if they had not been stupid with us. But since your grandchildren are very different from your grandfathers, it becomes a pity to you, to be honest.
Required Postscript
. I really sent this letter to Carl. Naturally, removing personal from it and replacing some terms that are understandable to us, but the Germans will not understand. I really was familiar with his grandfather, who built two medical products factories in Voronezh. And who fought on our land and was captured here. Hans Kröner really wrote the book "Memories of War", which I presented. And, perhaps, I will sometime write about this peculiar German who really made an indelible impression on me. If Karl permits, I will gladly publish his answer. I think it will be interesting.