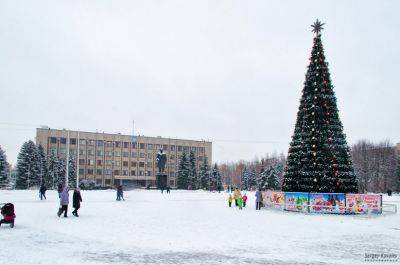 Greetings to all! And their own, and others.
The past year has been, how could it be better formulated, tedious. And I decided for Christmas to go to the godfathers. This is if the analogue to take the human. It seems not relatives, but to overturn a cup or two and talk for life openly after the eighth - quite to yourself. Not expecting regular reckoning in the morning - no, not in the form of a hangover. For the most terrible hangover is nothing compared to our "three-letter". That you have there, in Russia, they are "polite". And we have ... But I will not talk about sad things, especially since most of the holidays have certainly been a success.
So I ended up on Christmas in the glorious city of Slavyansk. Have godparents friends.
What can be said in a nutshell? Slavyansk lives. Very peculiar lives, I must say. It is now the capital of Donetsk region. In both. More precisely, half the capital. But with the governor and all his followers.
When the Ukrainian army liberated the city in the distant 2014 year, it was not particularly like the capital of the army itself. And people became much less, and the whole houses.
But a year has passed, and Slavyansk has become more and more like what it was before the war. And, by the way, the people have considerably increased. The city center looks quite decent, and what cars can be found - no worse than in Kiev.
The thing is that all those who came to Slavyansk came to Slavyansk who did not promise joys and riches. And the integrity of chitin. Officials, judges, prosecutors, police officers and others, who had much to lose, except jackhammers.
In general, Kramatorsk appears as the regional center of Donetsk region. As a less affected city. But what kind of hitch went out - Kramatorsk is smaller than Slavyansk and in those still times was, and they shot at nothing at all. Accordingly, the people left less.
And when the invasion of the Donetsk Varyags began, it turned out that Kramatorsk was like Moscow. I mean, not rubber. And all there will not fit. So we had to those who came running in the second turn, and those who did not get the rank, to settle in Slavyansk. The benefit of free space enough.
The locals, of course, had to be nervous, for those who were left without seats came running, but it seemed that there were more than necessary posts. But somehow everything was settled. All seated. All places have enough. The governor from Donogah in Kramatorsk, Donetsk mayor's office moved from Mariupol to Slavyansk. Plus also Slavic and Kramatorsk administrations. In short, wherever you look, you'll get into the official.
So they sit, you know, you can't knock it out. Govern.
At the end of last year, Mr. Zhebrovsky, Pavlo Ivanovich, who, the chairman of the Donetsk Regional Military Civil Administration, if anyone does not know, this is how the RSA is now called in the spirit of the times, visited Slavyansk. And he severely reprimanded local officials that they did not properly execute the presidential decree on combating the communist past. Slavic creaked, postonali, renamed 15 streets in accordance with the letter of the decree. There is nothing left - another 163 object.
I'm not trying to pin you, do not think. Hundred. Sixty. Three. Object Which require renaming, as they are the heritage of the black communist past. In both! That is the main task! And you are all about gas and coal and money for fish ...
True, Lugansk cockroaches, who ran past me, whispered that in this respect, they too were not all thankful to God. And Comrade Plotnitsky immediately after the meeting of the new year ordered to change every single sign on the roads of the LC to the same signs, only in Russian.
But what does this mean? Yes, all about the fact that cockroaches, that Plotnitsky, that Zhebrovsky are the same. Ukrainian cockroaches. Such as me. And we do not give them, the masters of fate, to sit on that place exactly. So we push on some sort of epoch-making accomplishment. With special effects.
Okay, they made Cathedral Square from the October Revolution Square. Nothing, in the same place there is a true cathedral. And instead of Dimitrov Street, now Danilevsky Street. Also, by the way, not quite smoothly. Well, the Bulgarian communist Dimitrov is already almost forgotten in his homeland. But here Danilevsky ... Oh, how difficult with him.
And he was born not in the Donetsk region, but very much in the Kharkiv region. And he was a secret adviser in the Russian Empire. But it is okay, but the fact that his cousin, Euphrosyne Osipovna Danilevskaya, was the grandmother of the communist poet Vladimir Mayakovsky, is clearly not going through any gate. Overlooked Zrada, in short.
Well, road signs in the LC - this is also from the great joy. The fact that the roads after the bombing were not all patched up at least superficially - this is half the trouble. But pointers definitely need to change everything. To a single. So that no letters of Ukrainian language are left! Otherwise, again, it will be full of zrada, or whatever it is called in the LC.
And now let someone say that life is easy for cockroaches. Especially if we take into account the fact that sometimes people come up with their own heads that they can't hang on cockroaches in any way. As, for example, with signs.
On behalf of the entire cockroach community, I officially declare that we are absolutely not in the business! This is not our paws deal! These are the people who were honored!
That seems to be otmazalsya. Now, as usual, after a little sad babakhnu more fun. For the money I will tell. For salary. Salary in Ukraine is the same holy thing as in Russia. That only confirms the unity of the people. And getting it, dear, everyone prefers the day to day.
What do you think, what bank do all the officials in Slavyansk use? No, not Oschadbank. He has problems, and he has big problems. That there is no money, then ATMs fail ... And not Privat. With "Privat" it can be a complete hello. That is, the blood will be stuck for a week, or even more. And there's really no one to ask.
So, the Sberbank of Russia is now considered the most reliable and popular bank! It is clear that this is not your Sberbank, in which Gref sits, but ours, in which Yushko. But it's probably not worth telling that 100% is a subsidiary of a Russian bank. And so everyone knows.
That's what a strange thing it turns out. Russia is an enemy and an aggressor. Russia is doing everything possible to lead Ukraine astray, that is, European integration. And those who criticize and vilify you so vehemently to keep and receive money are preferred by the Russian bank itself.
Yes, it is not customary to talk about it openly. But each government official in his wallet, under the Oschada or Privata card, modestly stores a plastic card with a green coin logo. Because it is reliable. And at least once a month, albeit with an eye on, but comes to an ATM with the inscription "Sberbank of Russia". That's how it happens ... Any patriotism gives up before filling a personal wallet.
But in general, Slavyansk is alive. Yes, this is not the city that so brightly burst into the pages of newspapers and reports of the Russian media. This is the usual ordinary Ukrainian city. Where ordinary Ukrainians live. Who walk the streets, not looking at the sky. Drive in their cars, if you have the opportunity to drive.
And about the events of 2014, try not to talk. At all.
Once again all of you with the last Christmas and finally New Year!
Thank you all for your comments. Of course, I would not like to be guessed by me. I know how this will end. And mustache paws are not superfluous! So I sincerely recommend guessing on the tea leaves, maps, straws, lard fat. And cockroaches better left alone. We are still useful.
And especially for the reader Anna-Anita. There are actually a lot of us. Maybe not as much as we would like, but there is. Those who each evening begins with a glance into the distance, turning their backs to the setting sun.