Edition
The Daily Mail
publishes material stating that German Chancellor Angela Merkel has decided to recognize a failed migration policy in the EU. According to Angela Merkel, the European Union has lost control over the migration waves and is not able to answer the question of what exactly the number of refugees crossed the EU borders in recent years.
Merkel, speaking at a business forum in Mainz:
We suddenly faced the problem of the influx of migrants into the EU countries. We were vulnerable, and today, it must be admitted, we do not have the capacity to ensure proper control over the situation and restore order.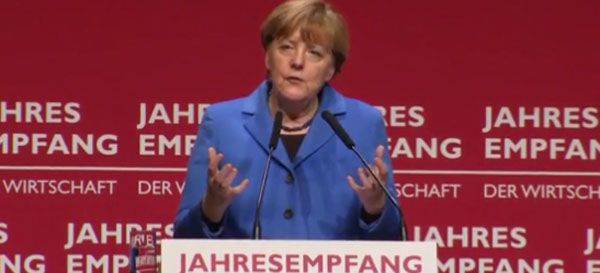 The only thing that causes skepticism in this statement is the term "suddenly." Mrs. Merkel is clearly disingenuous, declaring surprise, since it was clear from the time of the NATO invasion of Libya that the Libyans, who lost their homes and jobs, will move to Europe in order to get it all in a new place. Today, millions of Syrians, Iraqis, Yemenis, citizens of Somalia, Egypt, Tunisia, Afghanistan and other countries in Asia and Africa have added to the tens of thousands of Libyan refugees.
Merkel spoke in favor of tightening control at the borders of the EU, adding that she continues to advocate for the absolute transparency of the internal borders of Schengen. According to her, you can not have a single currency and not have freedom of movement between the countries of the eurozone. The German Chancellor stated that the restriction of freedom of movement affects the EU economy.