Understand, oh, how Ukrainian politicians understand their position. Or pose? In which they stood, and they set the country. Another year of construction "tseevropy". People again ask about some kind of "visa-free", about social policy. And now more and frost added.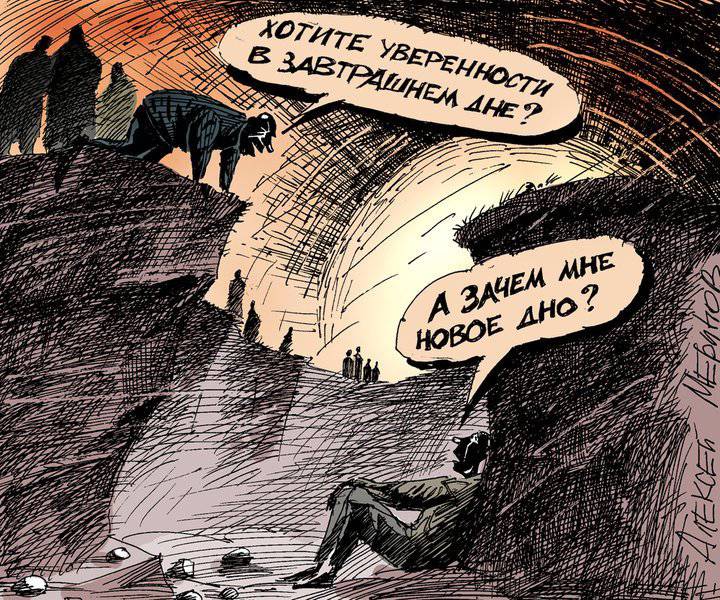 Understand everything. Not only those who are now at the helm, but also those who are temporarily away from this helm. Or timely. It is, so to speak, in the background. Engaged in more information support mode. One of these "standing" is the first president of Ukraine Leonid Kravchuk. The man who did a lot for the collapse of the USSR and for the creation of Ukraine as an independent state. Or rather, the one who first sent Ukraine into the clutches of the enemies of Russia.
So, Leonid Kravchuk again made an attempt to give the Ukrainians a dream. Jump, however, does not offer. Probably, the age does not allow to engage in physical exercise. But Ukraine can be rebuilt in a new way.
Kravchuk talked about this in an interview with Ukrainian television. Spacious, with science-like inserts. That's exactly about the new fake in the performance of the first president today and talk.
Undoubtedly, today for Ukraine there are two questions, the solutions of which are not even proposed. And oh, how you want to decide. The territory is scattered like cockroaches from bright light. And, what is the most incomprehensible for Ukrainians, they are not running "somewhere". Run from. It is like the duty phrase of an abandoned wife. "Gone, bastard, to the young" ... And never - "left me."
The first question is the question of Crimea. This is a question for Crimeans and Russia as a whole. No one in Russia already thinks about who owns this peninsula. Even ardent liberals understand that the ship sailed. And swam away at will. And all these Ukrainian blockades, bans, outages only reinforce the opinion about the right choice among the inhabitants of Crimea.
What does Kravchuk offer? And no more and no less than complete state autonomy of the Crimea!
"Our wisdom lies in the fact that we must propose new approaches to politics in the Donbas and new, politically restarted approaches in the Crimea. If we really want Crimea to be with Ukraine. I don't want to say that he will return to Ukraine and was the same as it was before. This is an unrealistic task. But the policy must be restarted. "
"I am talking about state autonomy. So, as South Tyrol is a separate, in fact, a state, but it is part of Italy - and there are no questions. And there was a war for decades. Decided? Decided."
Oh, the first president bluffs. Fool includes. Not even a fool, but a fool. And to the fullest. It seems like the Constitution, which once gave the oath, and did not read at all. And what is there in this very Constitution? And there is a very simple phrase - Ukraine is a unitary state. Not federative, namely unitary. And what is Tyrol talking about then?
True, in his interview Kravchuk does not concern this side of the question. No need Svidomo mass of this to know. And to understand that everything else, without a fundamental change in the Constitution, is just words.
Stuffing for those who read or perceive only the beginning and end. Start for Svidomo good? Good! The Crimea in their heads is simply obliged to crawl to Ukraine and ask to take it back. End how? Good too Crimea will return to Ukraine. What else does? Never mind. Further "tseevropa" in full ... And prosperity. Also from a full bucket.
There is, however, one point to which even the Ukrainian media are forced to pay attention. Russia. Everyone understands that the Russians do not take seriously all this talk about the Crimea. And these are not just words, but deeds are already visible.
"I want to suggest that Russia be approached with such a proposal. Maybe not now, maybe after some time, when the situation changes."
"If the price of oil reaches 20 dollars per barrel, then it will be easier to talk to Russia."
So that's where the main thing. Kravchuk plays on the blind faith of Ukrainians, that the fall in oil prices will tear the Russian economy to shreds. Well, to see how many percent of GDP Russia receives today from the sale of oil and gas, ukropatriots will not want. What for? And it would be worth it. Then this fake will break into imperceptible droplets.
Yes, Russia today largely depends on the price of hydrocarbons. But not critical. 15% a lot, but ... in order to think about the Crimea in this aspect, is negligible.
Well, and the last statement on Crimea from Mr. Kravchuk. For a snack, so to speak.
"And Russia will understand, not because she would like to give the Crimea or give another status to the Crimea, but because she already felt that Crimea cannot live full-fledged, full-fledged life without Ukraine."
It's funny, if it were not so sad. Let me remind you the beginning of the article. Do you guys really think that subhumans live in Crimea? Do you really think that there they do not understand who is to blame for the rolling blackouts? Who is to blame for the lack of water in the canal? Who is to blame for breaking economic ties with the nearest regions? Who is to blame for the sea of ​​blood in the Donbas?
Donbass is precisely the second problem that Kravchuk proposes to solve.
Calls to destroy the separatists of Donbass by military means came across the active reluctance of the residents of Donbass themselves. Well, they do not want a concentration camp or a grave. They do not want, that's all. Yes, and ukrovoyakam who periodically receive serious kicks from former miners and other working people, also in the grave do not want.
And they gradually build their own state. It is difficult to build. Sometimes, to put it bluntly, they build on mistakes, if not more. But live. They no longer survive, but live. And no worse than in his former state. Unless, of course, do not consider the shells arriving from the Ukrainians and mines in peaceful cities and towns.
"We went ahead and decided on a strategic course - this is good. But we were not determined basically: how to end the war in the east."
"The Minsk agreements solve current issues: how to divert heavy
weapon
how to make the exchange of captives, how to demine some territory - these are the current issues of the ATO. And the strategic question, how to restore the territorial integrity of Ukraine, how to restore its sovereignty throughout the territory - the Minsk agreements do not solve it "
Has it come down? Did Kiev really understand that such a people cannot be defeated? Are those almost 200 000 people who are now concentrated close to the line of separation, can go not to the morgue, but to their families?
Well yes. Now we are dreaming. Everything is much simpler.
"If we continue to insist that we still win in the Donbas, there will be no end to the war."
If we drop the diplomatic language, it turns out something like this. We can not win. We are not able to return the Donbass by military means. Our army is no good at all, even in confrontation with much smaller armed forces LDNR.
"If in the current situation, when there is a war, when the issue is not fundamentally resolved, when we have not determined politically and the world community has not decided on this in a broad, global sense, when we have no real guarantees - not like the Budapest Memorandum, - we have no appropriate guarantees of Russia ... We must sit down and work very seriously. "
I agree with the latest statement. Need to work. It is to work, not to kill people.
It seems to me that Kravchuk voiced what the current Ukrainian authorities have not yet talked about. Did not speak officially. But they are ready to voice this point of view at the highest level.
In general, Ukraine is already enslaved by the West. Enslaved politically. Almost introduced external management. Enslaved economically. There is no question of any revival of the economy. Today we are talking only about creating the necessary industries in Europe and the USA.
Ukraine is enslaved ideologically. The population (some of it) does not so much believe in Western happiness, but all Russian hates. And on this base, it is perfectly possible to push back the dreams of a visa-free regime. About NATO. About the EU. Everything is allowed. The main thing is to explain what did not work out because the insidious Kremlin did this and that. And the civilized world cannot do this. He is civilized.
In general, there was already a very specific opinion about Ukraine. More precisely, it becomes clear what is the difference between Russian and Ukrainian. The national fun of Ukrainians was jumping on a rake. And with persistence worthy of another use. And after every bump on your own forehead shout that it is a neighbor's rake. This neighbor slipped this rake svidomye feet. And when it turns out that the neighbor rake has long been thrown into the garbage and removes hay tractors, to pretend that he did not seem to say anything.
Kravchuk's interview might not deserve such attention if it had not become a signal. A signal that Ukrainian politicians understand where they have driven the country. Return all back is no longer possible. Connections are broken. The country is in chaos. And there is no way out. Previously, until fraternal ties were broken, one could count on Russia's help. A quarter of a century it was.
We will look after the agony. Alas, Ukraine will no longer be the state with which to deal in the coming decades. Country of sunflower. Judging by the joy of the Ukrainian correspondent who saw Ukrainian oil at 3,98 dollars per liter in one of the US supermarkets.