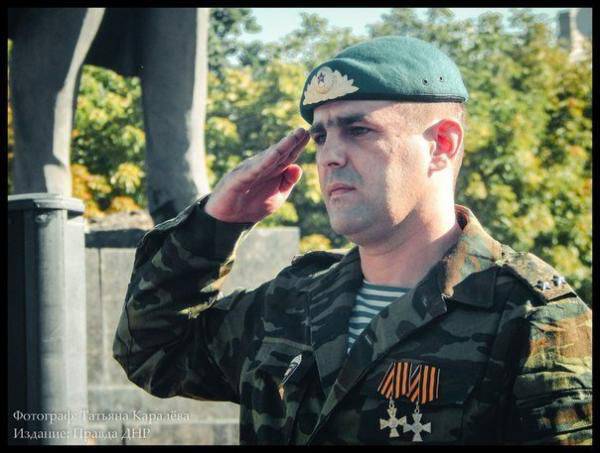 According to information from Donetsk, the deputy commander 100 of the Republican Guard's MSBr, Lieutenant Colonel Yevgeny Yurievich Kononov, and the call sign "Kot", died from a bullet of an enemy saboteur. Not to be confused with the Minister of Defense of the DPR, General Kononov Vladimir Petrovich.
Evgeny Yuryevich passed practically all key. He fought for the "liquidation of boilers" on the border with the Russian Federation, participated in the defense of Shakhtersk and Saur-Graves, in the attack on the southern sector, in the battles for the airport, was wounded.
He led the Republican Guard actions during the "Debaltsevskogo boiler", being directly on the spot. In general, a respected military commander. Earth to him rest in peace and the eternal memory of friends and colleagues.
Another "successful work of the Ukrainian DRG"? Or effective action online groups "Shadows"? Or is it the continuation of the elimination of unwanted commanders?
It is difficult to say what really happened. Was Kononov so careless that he said what he should have been silent about in the wrong company? Or his opinion on some issues was different from the reality spelled out by the higher and higher in the NPT?
In any case, the obviousness of this scenario is better and can not be said.
If we consider the version of the enemy saboteur, assuming that Kononov did not allow anything extra, it also turns out to be strange. Zamkombriga ... No longer a brigade commander, not a regiment. A worthy target for sending the DRG?
Here I am about the same.
Strange, but it turns out that in the Donbass the best ones die from enemy bullets, and if absolutely for sure, the commanders elected according to a complex assessment system. And for some reason no one perishes on that side. At least no messages were received.
Strange situation. There is an army, there is a WG, there is an MGB. All proper structures are available. But some Ukrainian DRGs want what they are doing on the territory of the LDNR.
Absolutely refrain from criticizing the new head of the new DPR MGB, General Vladimir Pavlenko. In the 3 week, no one has yet succeeded in turning state security into an effective tool for protecting the state. And what and how the former MGB was engaged in, we wrote repeatedly. No, it seemed to be dealing with state security too. But it is impossible to do this professionally and effectively if internal disassemblies take place simultaneously and the laws of the DPR are grossly violated. And the MGB is primarily engaged in fighting internal adversaries, ranging from demonstrators to entrepreneurs. Where is there to catch spies and saboteurs ...
I still sincerely hope that Pavlenko will succeed.
For honestly I will say: obituaries are already tired of writing.