The UN Permanent Representative to the UN, Vitaly Churkin, regarded Kiev's idea of ​​sending peacekeepers to the Donbass as an attempt to divert attention from its failure to comply with the Minsk agreements, reports
RIA News
.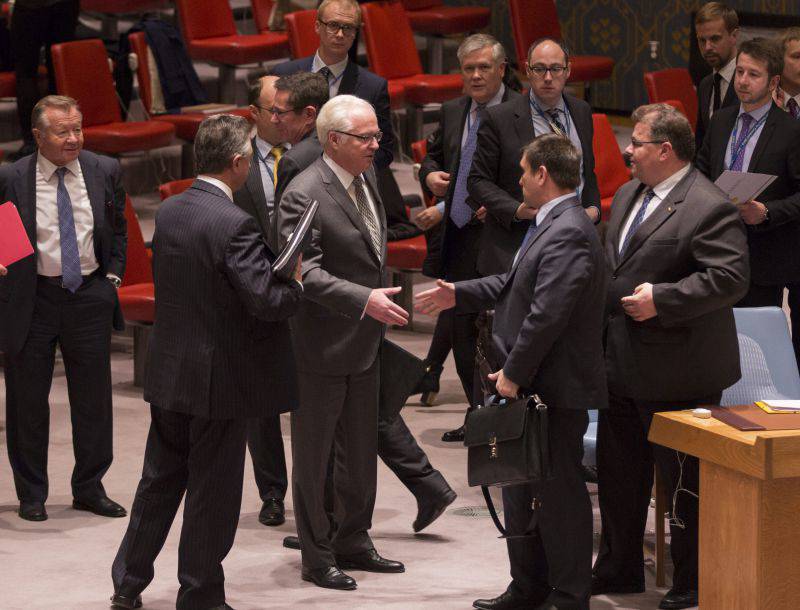 The agency recalls that since the new year Ukraine has become a non-permanent member of the UN Security Council. The Kiev representative to the Organization, Yelchenko, previously stated that Ukraine "invites the assessment mission of the United Nations to prepare the peacekeeping operation in the Donbas." Now Kiev is trying to organize a trip to the Donbass permanent representatives.
"We consider all the talk about the deployment in the east of Ukraine of a certain UN peacekeeping mission as an attempt to divert attention from the failure of Kiev to fulfill a number of key provisions of the Minsk agreements from February 12 of 2015 of the year"
Churkin declared.
He noted that "the OSCE is engaged in the international support of the agreements reached, the OSCE Special Monitoring Mission is on the ground, and it has all the necessary tools."
Against the UN peacekeeping mission were in the DPR.
"I would like to remind you that there is a set of measures for the implementation of the Minsk agreements, signed on February 12 of the year 2015. And according to paragraph 3 of this document, control and verification are entrusted to the OSCE Special Monitoring Mission. There are no representatives of the United Nations or other peacekeeping organizations, "said Denis Pushilin, a representative of the Donetsk Republic.
"This is another attempt of the Ukrainian side to conduct an audit of the Minsk agreements, which is unacceptable and does not at all contribute to their implementation," he added.