Greetings to you, my dear friends and foes. I myself didn't even think that I would like to write to you about our life so quickly. Just because before the holidays I thought that these days life stops. People celebrate. Yes, and cockroaches, too.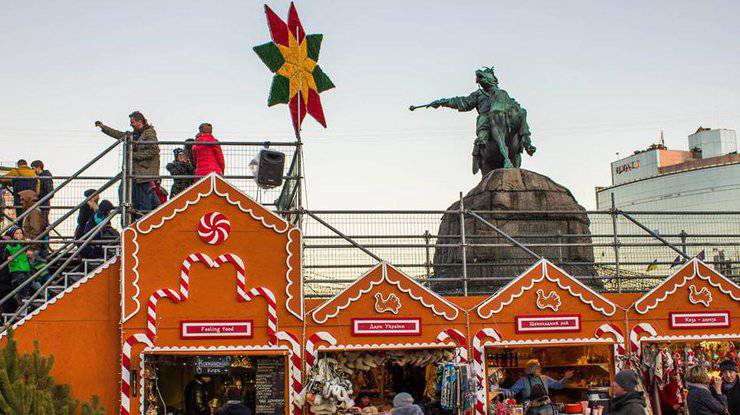 First of all, thanks for the congratulations and wishes. I will try to justify and survive. True, now, taught by experience, I will be more careful. I'm talking about wishes ... We have a frost, like in the Arctic. And one of the friends-readers wished for a truck with sugar on my street to tip over. So I run every day to watch. It happened - it did not come true. It hasn't come true yet, but the mustache and paws almost froze ... Maybe it will then overturn. And right outside my house? I will wait.
In general, you live in your own countries boring. Even in our former areas you miss. Think of where to go. Around the trees dances lead. Health alcohol ruin. I already do not write about increasing the consumption of mezime, which is necessary for the stomach.
Is it our business? As the year began, so be it. So, 366 days are waiting for us. Well, at the worst, cheats. In principle, zrady something else last year float. But float this year. So, I'll start to talk about how yes we have.
I'll start with today's holiday. Christmas That's the wrong Russians celebrate this holiday. Wrong! Somehow not in a European way. It must be Christmas, and then the New Year. But in Russia? All in Russian. Christmas (admittedly in European style), New Year (again in European style), again Christmas (in Russian), and the most bizarre holiday - the old new year. What is this talking about? You, of course, think about the love of holidays. And no. This reluctance to work.
True, we also do not work. No work. But almost no one left such money to celebrate everything in double size. Here is our Poproshenko and proposed to shorten and cut. In a sense, not a fig to celebrate, like quilted jackets. We will be modest. One Christmas, One New Year. And our patriarch Filaret howls. "There is an opportunity to switch to a new style, but the people are not ready for this. It is necessary that there should be changes among the people, and then the church will switch to a new style by its decision."
They are preparing people for breaking the old world outlook. Already at the subconscious level. As I think, by next year we will end this wadded Christmas.
True, I remember here. The recent celebration of the New Year. I screamed a little. Well, I met the New Year in Moscow. What can you do, Muscovites know how to organize a holiday. An adequate president will be shown. Again, chimes. In short, as soon as these chimes began to beat someone or something in the Kremlin, half of Kiev snapped: "Happy New Year!" Probably, and in our country, as our svidomians have long said, a Russian extra chromosome appeared. However, this is a fact. From genetics you will not escape.
Yes. Speaking of genetics. Now I will write you information that will make many of us envy. Well, not in the sense of "but we have gas in our apartment." This is where the problems started. And in the sense that a white Asian porcupine was born in Kharkov! Yeah ... Envy? Only we will show it to you only on the Internet. To the envy did not take place as long as possible. Although, maybe with some chromosomes also zrada? I do not know. But born and live.
Now a little about Russian wiles against nenki. You did not know? And these intrigues are permanent. It can be said several times a day. Here, for example, the attack of Russian hackers on "Prykarpattyaoblenergo". And it is not we have revealed. These are our good "friends" Americans have tried. Winter has come. The wires began to tear. For some reason, the heat ceased to be warm. And who is to blame?
And the Russians are to blame. Attacked meanly "Oblenergo" and turned off this very electricity. Only now the CIA, the NSA and other organizations are trying to understand how the hackers did it. The system is not connected to the Internet. Well, overseas friends did not think that Ukraine is not their USA. We here in the old manner all. So they come up with what and where those terrible hackers climbed. We here with the people of the cockroach consulted and decided. Russian climbed through someone's home computer. Then they got into some kind of carrier. Probably with some porn site. And only then, through this site, and ruin the power supply system.
For the CIA and other smart - give the idea for free. If your mind is not enough to come up, then ask the cockroaches.
Okay. Now about the money. The fact that, and how we have with the beginning of the year is going in the wallet. And going on there ... in short, it sucks there for some reason. Economists planted
news
. Inflation in Ukraine peaked over 20 years. More than 43% counted. Well, our economists have always had problems with arithmetic. But we are easier with our men. Just sat down and remembered that yes how. In short, I will not even write. Just bring a sad remark of our embroidery. Verbatim.
"Glory to communal tariffs! Glory to food prices! Glory to new jobs! Glory to the dollar against the hryvnia! Glory to European integration! Glory to the visa-free regime! what we got for 2 of the year! "
Something Ukrainian is going on with money. The new budget, about which much was written and which was taken secretly at night, as it turned out, does not guarantee anything at all. Visa-free regime? Figushki. There are a lot of points that this mode will fuck up on time. IMF loans? Yaresko said that this is also garbage. Does not guarantee this budget new loans. Well, and so on.
Tax code? Even funnier. The European Code forced the peasants to roam the Ukrainian roads back and forth. Because it became simply unprofitable to work. Even the tractor began to burn. And the hell are they needed now? Yes, and private entrepreneurs are happy. They no longer have to pay enough. Now everything is simple. 18% flat base rate and 22% social tax. That's all.
But most of all the joy brought us a new tariff for the import of electric vehicles. We now for this very import will not pay anything at all. That is where Peremoga is. You do not know, but every Ukrainian here sleeps and sees himself as the owner of this very electric car. Especially a lot of these in Transcarpathia. Where Russian hackers frolicked. Why? I put such a miracle in the courtyard and I am sure that no infection will steal it.
There is still peremoga. We will now pay the party out of pocket. I will translate for dull. Gathered, it means, men or even women there, invented a party for themselves. And go ahead. Receive money from the budget. On the development.
Why? This is not a factory, or there is a factory. This is the party! You could say the backbone of politics. And this ridge should be cherished and loved. In the sense of feed.
Okay. Something I'm all about is sad. Again, readers will say - the cockroach is not amusing. I'll tell you better about the presidents. Tolerant so tell. In the beginning about ours, and then about yours. So as not to offend anyone.
Poproshenko surprised the world by coolly formatting the cover of The Economist magazine. True, the joke did not work. Our people are not particularly inclined to humor. Immediately spotted whom our guarantor replaced with a loved one. Yes, and live for some reason in a hurry. I decided not to live in 2016 at all ... Right away, in 2017 I waved.
I will not copy and show. I am ashamed, and you yourself will find. Now there are so many such covers on the net that the 100% guarantee doesn't even discuss your good mood.
But Putin in Sochi held a hockey training. Not in the sense of sitting at the table and began to learn how to play this very hockey, but in the sense of himself took a stick, put on skates and drove around the playground. And someone from those present on the video and shot. Here the Russians are better than the Ukrainians. I'm talking about phones and smartphones. Do not discharge like ours, in the Donbass at the most crucial moment.
So here. We watched this video. Fake clean water. There, in one episode, the defenders clearly play along with your guarantor. It was necessary to "box" it, and they are by the rules. What is this hockey, when by the rules? Yes, and the gate should be measured. Something too often Putin gets into them.
Vyshivanok after viewing expressed the general opinion Svidomo. Nothing, that's when there will be a world championship in litrobol, our own will show. Maybe, of course, if he survives. They say a very dangerous sport, this very litrobol ...
Well, at the end of the most terrible zrade this week. I mean the nasty company that has dug in in the camp of our greatest friends. About the "Coca-Cola" I. You can not even imagine what kind of zradu they planted great Ukraine. They drew Russian on the Christmas world map of Crimea. Ours already jumped patriotically several times.
Now we are discussing a ban on the use of this drink. We and Pepsi-Cola enough. Although ... Pepsi also has a Russian Crimea on a commercial. Then we will drink "Soviet champagne." This is our invention. Kiev factory of sparkling wines. Decommunization in Ukrainian.
In general, this New Year has shown many holidays among world companies. Or maybe our SBU tried. It turns out that the German "Adidas" enemy. Koreans are generally full padded jackets with their LG. Even "Audi" enemies. Not to mention all sorts of "Hyundai" and "Nissans."
Apparently, we will soon go on carts and drink spring water. Own manufacturing. Unless, of course, we find a spring.
Enough, perhaps, for today, see you, dear readers. Something tells me that this year will be a turning point for us. Either we break the back of our power, or it is our chitin. If this does not happen, then they will break our country. And just like a rod. On the knee.