Sensational
история
about a student who allegedly committed suicide because of his pro-Ukrainian views, there is only the latest example of the state in which our society turned out to be. Suddenly, we discovered that there are a huge number of people living next to us who, being Russian by passport and by blood, in fact have long been a soul on the other side. And this is not about the owners of yachts and offshore accounts and not about the activists of the liberal party - everything is clear with these, but about simple hard workers, housewives, students of universities and technical schools, office workers and others. In a word, those whom we meet on the streets every day. Many among them are representatives of subcultures.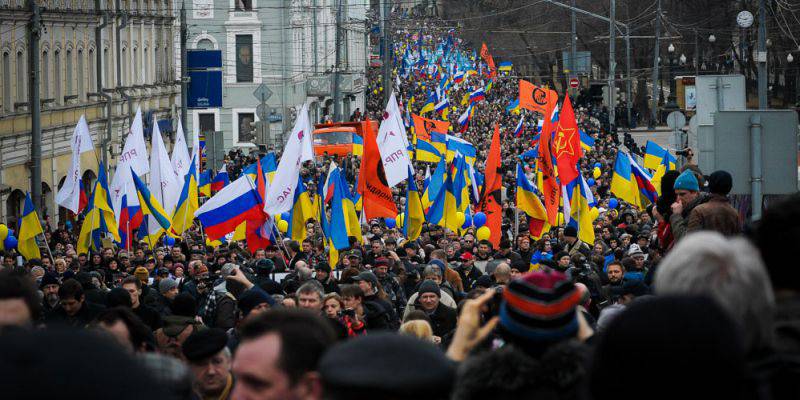 Almost all of these volunteers were never Ukrainian citizens, but militants from the most brutal groups would envy their zeal. Most are limited to Russophobic posts in social networks, the more embittered go from words to deeds, and the most radical go to fight in the volunteer battalions of Ukraine. Of course, there is no justification for these people, but it is definitely worth understanding the cause of what is happening.
Xenopatriotism as a phenomenon was, is and always will be. Among a single number of Russian citizens, one can always find a certain number of fans of foreign cultures and foreign countries. True, there is one important point. For example, someone passionately loves Sweden, her lifestyle, economic achievements and rock culture. But such love at least has a reasonable explanation - many people like "rich and successful", and both people and countries whose mass culture is actively developing, while in the Russian Federation gerontocracy reigns - in music and in cinema. Only, Ukraine can hardly be referred to as "rich and successful", not to mention an attractive popular culture, which is simply not there. For a number of objective reasons, this country should have for the Russians not even zero, but negative attractiveness. But no…
The most amazing thing is that the official propaganda of the Russian Federation is to blame for the current situation. The absurd wording about the fraternal people (which, if you look at it, ceased to be so long before 1991), which was hammered into the head for decades, was so ingrained in the immature minds that many did not notice that there was no longer any fraternal people, but there was a hostile aggressive mode. Of all the countries with which Russia borders, the leadership of Ukraine alone declares that it is ready to fight with the Russian Federation to the end. Thus, the propaganda of "internationalism", "tolerance" and cosmopolitanism played a cruel joke with the leadership of the Russian Federation - and Kiev, which is significant, without any special efforts, received a unique resource. Immediately I recall the monstrous failure of the Soviet propaganda, which the whole 1941 had been convincing the Red Army for a year, that, say, the German workers were against Hitler. In fact, it was the German worker who was the most motivated soldier and the most cruel punisher.
And what do we, these people say, that big Russian officials and oligarchs are the biggest fans of Miami, London, New York, Switzerland and the Maldives. And we are helping fraternal Ukraine, with which we have, as President Vladimir Putin said, many connections. And why can't she help, they will say? After all, we are not in a state of war with Ukraine, and President Putin is shaking hands with President Poroshenko. Why can state officials of the Russian Federation express sympathies to Ukraine, and when simple some do the same, they are considered extremists?
All arrived! It must be honestly said that many of our fellow citizens have lost their sense of national identification, and this is almost a catastrophe. The state and a significant part of society have lost their orientation and binding threads. Fragmentation has begun. Yes, in the Great Patriotic War, too, many Soviet citizens collaborated with the Germans, but 90% of them either were very offended by the Soviet authorities, or thus tried to survive in a banal way. There were only a few Germanophiles who, at the call of their hearts, went to the service of the Reich.
In our case, the situation is different. Tens of thousands of people across the country are ready, with varying degrees of activity, to help a hostile foreign state for free. From direct participation with
weapons
in the hands and sabotage before campaigning and work as informants. These are Russian people by birthplace, by blood and by citizenship, many of them have never been to Ukraine. Such a situation is a dream of any foreign intelligence service, and if Kiev were more skillful and organized, this fifth column (I am writing this definition without quotes) would have done a lot of mischief.
I will take the liberty to assert that the mass Ukrainophilia among Russians has become a type of social protest. Protest against stagnation, all sorts of prohibitions, the lack of social elevators and prospects. Here, by the way, it is appropriate to recall those Russians who are going to fight for ISIS. Decades of mess and cosmopolitanism have borne fruit. The ideological vacuum was filled, but not at all what the commanding fathers from the Forbes list of billionaires would like.
An extremely dangerous situation has developed, much more dangerous than the entire NATO bloc combined. Victory in any war does not begin at the design bureau or at the machine tools of enterprises. Victory begins with the mind. And there the defeat begins. France lost the war of Germany in 1940 not because it had few guns or
tanks
- she lost because the French did not want to fight. In our case, it is still sadder. Let's imagine a creepy, but quite possible picture: a young engineer in the afternoon engages in components for the Armata tank or a fifth-generation T-50 fighter, and in the evening he actively writes off with his friends from the public of the social network VKontakte Cyborgs. Donetsk airport. "
It is necessary to change the system of education, someone will instructively say, having made a serious face for greater importance. Maybe it should. But will there be a lot of confusion from the frenzied agitation of a chubby figure for a holiday in the Crimea, if he himself likes to sunbathe exclusively on the beaches of Florida, California or Australia? Will the calls to buy domestic cars have any effect, when the "fathers of the nation" themselves at the highest level prefer exclusively the products of the German automotive industry?
It is clear that those who have already chosen their side in the conflict cannot be persuaded. People have already formed. But maybe someone should start to reconsider the television dogma, to keep still hesitant?