Saudi Arabian authorities have ordered the introduction of a special position in the east of the country in the city of Al Qatif. Additional police units and army units have been introduced into the city, there are several dozens in its vicinity (according to the Iranian news agency
FARSNews
- a few hundred) BTR. This "enhanced security measures," as reported in Riyadh, is required to "prevent possible mass protests." In this connection, Riyadh expects mass protests?
The fact is that the day before it was reported that 47 people were executed in Saudi Arabia who were declared guilty of terrorist and extremist activities. Among those executed was the Shiite imam Nimr Buckl en-Nimr, who preached in the east of the country, including in the aforementioned city of Al Qatif.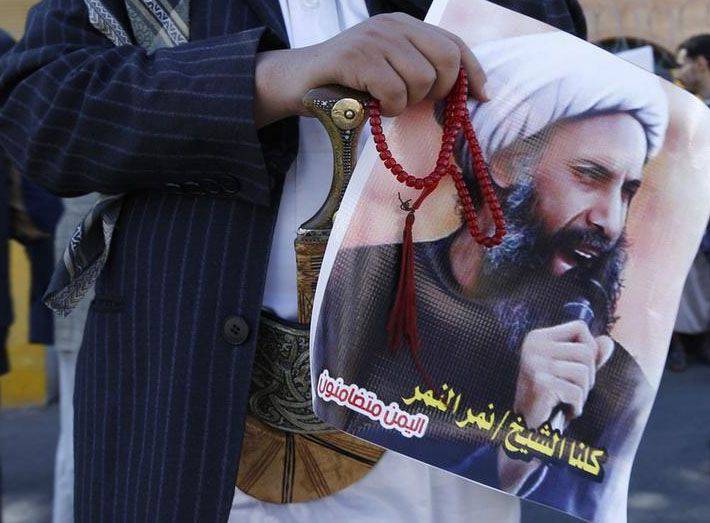 In the city itself, according to the British
The Independent
police stations and administrative buildings are closed. Several armored vehicles entered the city, and the military, using loudspeakers, "warned" the population about the inadmissibility of "illegal actions."
The townspeople still staged a march against the arbitrariness of official Riyadh, despite the fact that, according to Saudi law, any protest rallies are equated with a state crime and threaten the rally participants themselves with the death penalty.
Radio Liberty
reports that hundreds of residents of eastern Saudi Arabia marched with portraits of the preacher Nimr al-Nimr from his hometown of Al-Awamiyah to al-Qatif.
For reference: El Qatif is a city with a population of 100-thousand on the Persian Gulf. The vast majority of city residents are Shiite Muslims.
In a number of countries in the world, the execution of an Islamic preacher in Saudi Arabia has been sharply criticized. In Bahrain, police disperse protesters with tear gas. Ex-Prime Minister of Iraq al-Maliki called the execution of a preacher a crime against Islam. In Lebanon, the Supreme Shia Islamic Council called the execution of an-Nimr destruction of reason and a bloody point in the dialogue of branches of Islam.
The most severe criticism of the authorities of Saudi Arabia comes from the representatives of Iran. Tehran said that the Saudis support terrorism, since Imam al-Nimr has repeatedly spoken in favor of countering terrorist groups hiding behind the banners of Islam. The embassy of Saudi Arabia in Tehran was routed by hundreds of angry Iranians. The building of the Saudi consulate in Iran's Mashhad was also attacked.
It is necessary to add that, along with a Shiite preacher in Saudi Arabia, his nephew was executed, who, like al-Nimr himself, was accused of complicity with terrorism.