Lyudmila Gridkovets, a dean of the faculty of psychology at the Kiev Institute of Business and Technologies, a veteran of all Kiev Maidans, published a congenial demotivator on his Facebook page. As you can see, it contains the words that the famous philologist Vladimir Ivanovich Dahl allegedly said: "Ruska was always considered the Poltava-Kiev language, spoken by the people of Kievan Rus from time immemorial! Now, the arrogant Mordovian tribe, argues that the Russian language is Church-Slavonic in mix with the Old Bulgarian ... In other words, a certain Ryazan Esperanto suddenly became known as Russian ... ".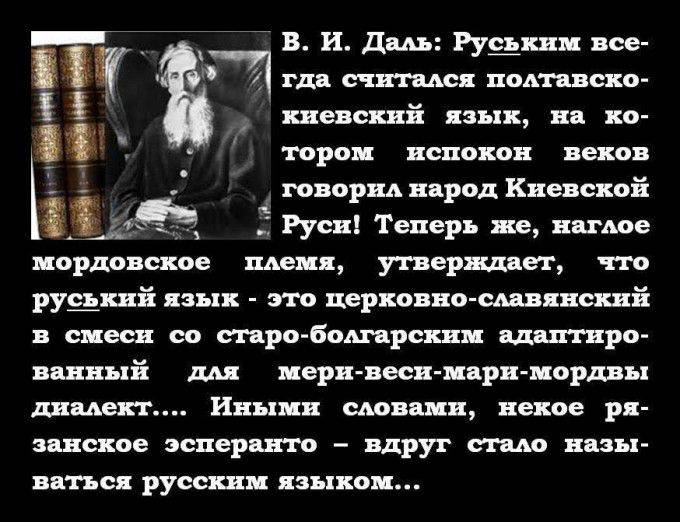 If the dean of the Kiev Institute of Business were not so ignorant that, incidentally, is typical of Ukrainian nationalists, she would have known that V. I. Dal died in 1872, and Esperanto appeared only in 1887. It was then that his creation was completed by the Warsaw oculist Zamenhof, who worked on the first textbook of Esperanto 10 years. That is, these words falsely attributed to Dal could not be spoken to them in principle, since the very term "Esperanto" did not exist in its time. Not to mention the fact, the whole life of this great Russian philologist, all his works are completely opposite in spirit to the pearls of Ukrainian nationalists that are ridiculous to the horror.
Vladimir Ivanovich Dal, descended from the Danish ancestors, accepted Orthodoxy, was a great Russian patriot. He was engaged, by the way, not only in philology, but also in the affairs of imperial government in the large post of deputy minister of internal affairs. Dahl, a native of Lugansk, spoke in Ukrainian too. He generally knew a lot of languages ​​and adverbs. But he only included the Little Russian dialect in his "Explanatory Dictionary of the Living Great Russian Language," and did not publish a separate dictionary of the "Poltava-Kiev language", as opposed to "Ryazan Esperanto," which says "arrogant Mordovian tribe."
No, I am not surprised that liberal political technologists are launching insane Russophobic fakes. I am surprised that the deans of Kiev universities believe them quite sincerely. There is a rhetorical question. Who and what will these deans teach?
Before the war, I was familiar with Lyudmila Gridkovets, she is, in essence, a good person on a personal level, but her national-liberal fanaticism, coupled with ignorance, made her a stupid tool of evil forces, as well as her colleagues jumping on the Maidan. Poor Lyudmila and all the other Ukrainian nationalists! Understand: hatred of Russia, inspired to you by Western puppeteers, completely shut your native from you
history
and pushes for completely inadequate actions and texts.
By participating in the Maidan, you helped the oligarchs and the West ruin and plunder the unfortunate Ukraine. By spreading such false Russophobic texts, you are helping to completely mad her unhappy people.