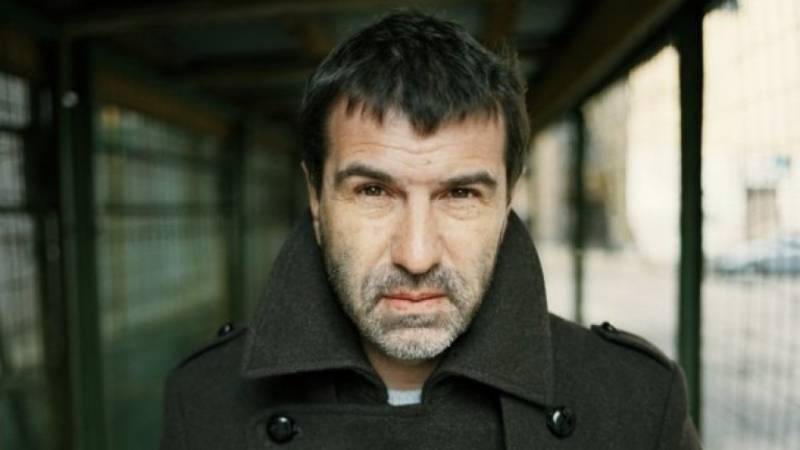 At a meeting with readers in Riga, the Russian writer Yevgeny Grishkovets explained that he didn't like "in the national idea of ​​Ukrainians," why there would be no Europe soon, why he stopped respecting representatives of the Baltic countries, how different the Russian cultural code was from European, and why the Riga writer Pikul is optional for reading, and Tolstoy is obligatory.
In Riga, Yevgeny Grishkovets is a frequent visitor, here in the New Riga Theater they first staged his book "The City", and on the same stage he directed his play "Po Po Po" with Latvian actors. Here he was first translated into a foreign language (the novel "Shirt" - in Latvian). Here he brings all his solo performances. The following year, Riga promised the most recent creation of Grishkovets - "The Whisper of the Heart", in which he will play the organ for the first time and speak from the middle kind, and on this visit Yevgeny will present the solo performance "Farewell to Paper" to the public. It will be about how much humanity is losing due to the departure of paper media.
The writer admitted to the love of Riga and the departing bearers at a meeting with readers in the book cafe Polaris. Immediately after that, he went to communicate with his beloved residents of Riga - musician Renar Kaupers (in 2008, they recorded the song At Dawn together) and director Alvis Hermanis.
Delfi publishes the most vivid excerpts from the meeting with readers. Interview with Evgeny Grishkovets for the portal will be published in the coming days.
About popularity.
I do not have popularity - there is fame. Popularity is a more lightweight and short-lived thing. I learned about the fact that I am known when, six months after receiving the Golden Mask, I first called Sergei Yursky, began to explain who I was, and he said: yes I know!
I accepted that fame is a feature of my profession. I tried to lead a more closed way of life, but I realized that I spend on it much more strength and vital resources than to be as I am ... Yes, I can not drink in the bar incognito, but I have such an audience, that I don't need to order a VIP-lounge at the airport so that they don't pull, and if you want to relax, you can go abroad ...
On the entertainment literature.
I have a bad attitude to this genre. If it can be called a genre. In my opinion, this is an attraction: what to look through a glossy magazine, what to read Pikul - for me there is no difference. I do not get pleasure from it. It is better to drink wine ...
All a la
historical
novels are rubbish. Of course, I do not include great novels among them. After all, Tolstoy also wrote, in general, the historical novel War and Peace. And Pikul wrote entertaining literature on historical topics, admitting quite a lot of lies. Yes, very talented, but this literature is not required for reading. Despite the fact that he is your countryman. And "War and Peace" is a mandatory book ... My literature does not belong to the category of entertainment, I have never made such an attempt.
About reading.
I do not believe in regular reading. The last 13 years I have not read fiction. I do not think this is something useful or unhealthy. These are big experiences, and it's impossible to get big experiences every day. It happens that a person read a lot, and then again ... and cannot read. Especially large and complex books. He suffers, begins to doubt, believes that he is lazy. But life just went like that. He may be in love now, or he has everything terribly interesting at work - and he cannot read. I had three periods of drunken reading in my life, when literature was necessary as air, and I read daily many hours a day. And now I have a long period of non-revelation - I can only re-read some books, opening new depths in them.
About feelings for show.
Feelings of show and thoughts of show is disgusting. This is not appropriate. I do not do either. I do art - I do works of art. They exist in the form of literary texts and performances.
About the play "How I ate the dog."
Now I rarely play it - three or four times a season, and I used to do it often. All in all, I played it once on 650. Now it is the fourth edition - absolutely different from the initial one. After all, the performance began to play a man who was 30 with a little, and now on stage a man who 40 more than. When 16 years ago I started to play this performance, I was pleased and surprised by the fact that they were listening to me. I was glad that it was possible to talk about simple and intimate things - childhood, the street - and everyone is happy that they remember all about it, but nobody spoke to them about it in this way. And there was the subject of growing up a man.
Over time, the main theme has changed. Now it is a topic of freedom, like a certain mysterious dream of a man that he doesn't imagine. And the topic of meeting a person with the state, and any state is not interested in and cannot be interested in the individual qualities of an individual person. In addition to numbers, bills, sizes.
About the life of the writer.
My life is rigidly structured. For two weeks of touring - one at home. There are still separate blocks. For example, 25 December, I give the last performance this year, then until March 1 will be at home. This is the only time I can write. At another time, even if I have inspiration, I will not sit between travels. If I have a plan and have time, I will write. If there is no intention and there is time, I will suffer. Watching TV, drinking in a bar, talking on the phone. But without intention nothing will come out.
On the conflict with the quartet "I".
When I arrived, the guys from the "And" quartet were already quite famous. Then they became famous, and already I was famous. They made the film and the play "Conversations of middle-aged men". And we went actively comparing us. Many felt that we were doing the same thing. And then I found it necessary to speak out publicly. He explained that we are not just dissimilar, we are perpendicularly different ... They are not just not close for me, they are ideological enemies ... Their heroes are smart, talented, funny, rich, understanding everything in life and sated with it. This is a zhlobsky view of the world. All my heroes are also intelligent and educated, but they painfully do not understand how to live. At the same time love to live. And there the characters understand everything, but they are bored to live. This comparison is essentially unpleasant for me.
About the fate of Ukraine.
I do not know what they will have there. And unfortunately, we have to say that it will be there, and not here. Besides, I myself, for the most part, an ethnic Ukrainian, my mother's maiden name is Tsyganenko, and my grandmother is from Zhdanov, now Mariupol ...
On my site odnovremenno.com I described in detail the phenomenon that today, in relation to us (Russians), Ukrainians behave like emigrants. They feel bad there, but they try to write how they feel good there and, if possible, sympathize with us. The plane was shot down - they rejoiced in the streets, and they write to me in letters: we sympathize. And, in general, they follow the worst
the news
- this is a typical treatment for immigrants, to monitor the homeland, how bad it is. I wish them all prosperity and joy. That they were original, and Gogol for them did not become foreign literature. So that they do not invent stupid things, such as translating Pushkin, Lermontov and Gogol into Ukrainian. It's pointless. These writers are unknown in the world because they are untranslatable ...
Any person who is in a state of anger - he is always sure that he is right. Another thing is that anger is dark, it stuns and dazzles a person, or, conversely, bends and sharpens his eyesight, giving an inadequate picture of the world ... Today, the national idea of ​​Ukrainians is in many ways hatred of Russia - let them not agree and do not want to simplify.
A person who thinks, feels, experiences and suffers from what is happening in Russia is looking for answers to questions to himself. And the same thinking, feeling and beautiful Ukrainians have all the questions for us so far. And as long as it does, they will fail. But forever it will not be so - its life takes.
About anxieties for Europe and Russia.
I am disturbed by what is happening in the world, that there are no landmarks ... I live in Russia and intend to live in it, and I'm acutely worried about my personal suffering, that Europe, as an example of a way of life, meanings, charm, has lost all meaning for Russia ... Once we were doing Euro-repairs, we wanted, if not in the stairwell and on the street, then at least Europe was in the apartment, even in Kemerovo and Irkutsk. Now Europe cannot be enchanted. In Russia, people are keenly aware of injustice, and here there is insulting and senseless rhetoric.
Recently, I participated in a conference in Berlin, where there were representatives of Latvia, Lithuania, Estonia - I said that to them: I lost respect for you. Why? If you are seriously afraid of military aggression from Russia - you are fools. If you represent fear, then you are scum. They say: we have such an old memory of aggression. And I tell them: to live by the old memory is also nonsense, and this is not at all European. What now, any Jew must fear any German or anyone who speaks German?
It worries me that the Europe in which we fell in love with 20 years ago is no longer there, and soon it will not be at all. And Europe in the face of irresponsible and insignificant people is not trying to do anything about it. I can't look at the idiot Merkel, especially when she takes selfies with migrants ... I lived with migrants. When in 90 I came to Berlin as a Jew oppressed in Russia, they settled me on a Red Cross to live with two Moroccans - this was very European. Their hopes were justified - I returned home.
And the biggest concern is that at school we perceived, as demagogy, the phrase "If only there was no war," and on the eve of 2016, it sounds relevant.
About Russian code.
In connection with talking about the difference of cultural codes, I recall the phrase: "And a woman is also a man!" You can continue - the Swiss is also a man ... Only in the German-speaking world I played more than one hundred of my performances, in France - more than a hundred, translated into French ... I do not tell how the Russians celebrate the New Year, but the themes of childhood, expectations of something, maturation, disappointment, love - they are clear to everyone. The differences are not in the area of ​​codes, but in the field of everyday knowledge, exotics. And the codes work for everyone — we humans are universal. I don't know about the Chinese, but in Europe for sure. In this sense, I do not know that a person from Tomsk is less European than a person from Klaipeda. Is that in Tomsk University is better, and people know foreign languages ​​better than in Klaipeda, but in it the weather is better.
About happiness.
I will answer with the words of Andrei Tarkovsky: an intelligent person of Christian culture can only be happy when he does not think about death - in the process of friendship, love and favorite work. I remember how happy I was, but that was in my childhood. Sometimes I am happy now, but very briefly - I understand that, as much as in childhood, I will never be happy no matter what I do. Therefore, I allow myself not to fuss on this topic. Moreover, the same Tarkovsky said: happiness is too insignificant a goal to achieve it.