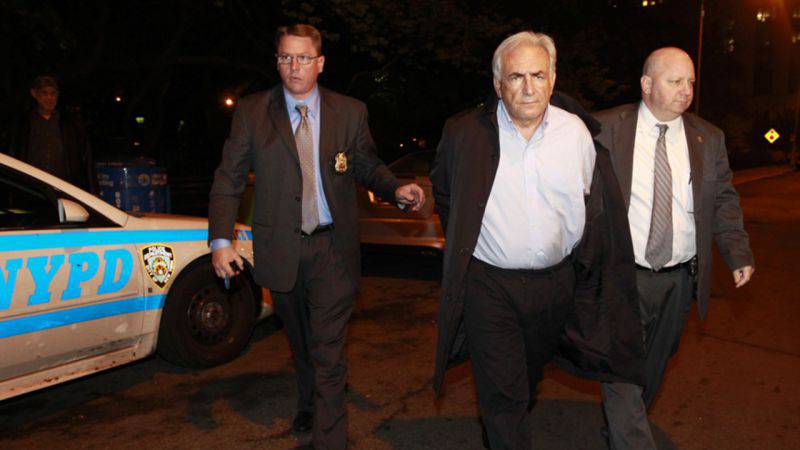 Recent events with the introduction of the yuan in the list of reserve currencies of the IMF forced me to recall this long-standing
history
. And the story with three billion "dead raccoons", which Ukraine should return (but not return) Ukraine, also forced us to recall this bright event. So, at that time (2011 year) Dominique Strauss-Kann (DSK for short) was the head of the IMF and the presidential candidate of France (instead of the cozy teddy Hollande). And DSK stops at the hotel and is going to fly to Paris, but the New York police are taking him off the flight (by the way, from the territory of France - French aircraft), but this, of course, little things - no one in France dared to rebel, and accuses of rape the maid After that, his career is over, and his good name is hopelessly flawed. The entire "free press" begins to mix DSC with mud.
But somehow it all was infinitely clumsy worked: incredibly absolutely and absolutely stupid. Honestly, if professionals were engaged in this, they would come up with something more interesting, intriguing and exciting - for example, DSK could publicly, I repeat, publicly insult and strike a black man. It is the Negro and it is publicly and demonstratively. Or, for example ... how many different funny scenes arise. But US intelligence agencies worked at the level of very provincial Russian "werewolves in uniform". Somewhere on the outskirts of Uryupinsk it would be even more. But not here, just not here. First of all, DSC at that time occupies a very high social position, which means that a) he understands that "the entire free world looks at him"; b) simply can make personal contacts and not with an unattractive "black maid". Well, let's say he, having lived to such an age and having reached such heights, turned out to be unnecessary to anyone in personal terms, that is, as a man. It's a shame and bitter, you know, but let's say. He is sitting, which means that in a New York hotel he is sad, lonely and useless to no one, looking into a bottle ... Tosca. And that is typical, money for the escort service, which in New York is a dime a dozen, either. And you, probably, thought that the Frenchman, the head of the IMF and the presidential candidate of France - is something extraordinary? What does a resident of New York around the circle dance? The reality turned out to be much more dull.
Sits, so DSK in his room, bored, longing, recounts little things in his pockets - enough for snickers, but no longer for a woman. The life of the French elite in this respect is heavy - the times of Louis XIV are over, the French elite are long gone, the French elite has gone down to complete poverty - woo Hollande, as he drove to his beloved motor scooter. Here you would go? On a motor scooter? And he was forced. So DSK was on the verge of old age, longing, loneliness, poverty and complete "forgetfulness / abandonment." And then she entered, in the sense of a black maid. It was then that everything began to turn. As it turned out later, by the way, this very nice black lady in the same hotel worked as a prostitute, but DSK did not offer her even a hundred dollars. So, many men have in their pocket an extra hundred dollars in this case, but not our hero. Our hero most of all resembled an asocial teenager from a dysfunctional family during puberty. He could not hold back either his feelings or his emotions ... For which he paid the full extent of impartial American laws ... Some kind of asocial type this DSC. And how could such a monster grow to the post of head of the IMF?
No, they could not prove anything, but the sediment remained. In this whole story, the complete absence of a harsh reaction from France is striking. Neither the French authorities, nor the press, nor even the French people dared to rebel in this suspicious situation. They say that the Western press always lies about Russia, and this is true. But as for the openly absurdly slyapannoy provocations against the presidential candidate of the Fifth Republic - the situation is completely similar. America mixed DSK with mud, and no one dared to argue. In fact, the US authorities openly demonstrated to the "free French" that they will decide who will and who will not be the president of France. Actually: Ukraine is the "second France". And no one in Paris, or in Kiev on this issue does not "buzz". But everyone condemns "not respecting democratic principles in Russia." Funny. The thing is that at the post of IMF Managing Director, he entered into a tough conflict with the leadership of the United States. The problem is that, secretly from the Ukrainians and their other admirers, the Americans long ago lost their leadership in the economy, and their debts are very heavy. But they don't want to give "levers of power". It seems to them reasonable and natural that planet Earth needs "American leadership", and nothing can be done about it.
There was a time when America was really very, very strong, which is reflected in her role in managing the IMF and world finances. This is very profitable both economically and politically, but the times of prosperity for the United States have long since sunk into oblivion. Therefore, they are trying to keep the "commanding heights" simply at the expense of political, power decisions. DSK is a vivid example: either you carry out our orders, or you depart from those very "commanding heights". For some reason, many people still associate America with wealth and political freedom; in reality, today the United States is a rather modest and very tough in a political sense system. In a sense, the same Ukraine left the USSR ... in the USSR. A sudden turn on 360 degrees ... Poverty, plus the total politicization of modern Ukraine and the continuous expectation of "punishments", amid massive arrests, doesn't it remind you of anything? But it was, it was! So to say, "forward, to the past!" Gingerbread from the Americans ended and for a long time - only the "magic" whip remained. Under him, and got DSK. America is no longer going to "buy" its allies, as many had hoped, it is going to bend them exclusively, blackmail, rob and intimidate. You will be surprised, but to be an ally of Great America has ceased to be of any advantage. So Mr. Poroshenko understood it only now. He realized that he had fallen into the same Stalinist system, but under the star-striped flag, and it was too late to twitch.
America is bankrupt, but bankrupt with 11 carrier groups, eighty bases around the world, a mass of "allies" and hangers-on, powerful intelligence agencies and a complete lack of conscience. And they are trying to solve their own problems exclusively at the expense of everyone else. Therefore, instead of closing the three billion Ukrainian debt of Russia at their own expense, they "bend" the IMF to change the rules of the game there for the sake of Ukraine. But Ukrainians and others firmly believe that the United States is the richest and most developed country in the modern world. And this country is their reliable ally. Moreover, the USA has been forcing the IMF to finance the country in a state of civil war for the last two years. And it is clear to everyone that Ukraine will never return debts, but the United States "crushes", threatens and intimidates those who disagree with such a course. That is why America and can not be an ally to anyone anywhere - she, like a black hole, sucks all the matter to which she can reach, and does not give anything in return. Putin at one time quite calmly allocated 15 billions of American money to support the economy of Ukraine, for some reason the United States and the EU did not want to "kill" his proposal. But the "pro-Russian" Yanukovych openly begged for money from the unapproachable Angela Merkel, but absolutely unsuccessfully.
He stupidly asked for money, but they rudely refused him, after which the Maidan was launched in Kiev. Wasn't it easier to pay? Listen, it was, in fact, a landmark event: Russia had money for a loan to Ukraine, and the West did not have it. And the West began to act in the "cowboy-hussars" style. That is famously, straightforward and without extra costs. What surprises me is that this approach did not alarm the Ukrainian elite: do not find 15 billion for such a country? But this is just ridiculous! What is this "strategic partner" with empty pockets? Why do you need a poor owner? Speaking of international finance, it is customary to mention amounts in the tens and hundreds of billions of dollars. When the Mexican economy gigged down in the middle of 90's, the United States immediately gave 40 a loan of billions of dollars to it. Instantly. Those same "40 billion", about the need to obtain which Ukrainian reformers talked for so long (see the problem 40 billion). So, through 20 years, those same forty billion was not found for Ukraine. Neither the States nor Europe. The United States in general escaped with guarantees of one billion a year. But Ukraine needs much more. And so, "sectoral sanctions" are being imposed against Russia with the goal of ... no, not the Crimea. In order to make her continue to finance Ukraine. Alas, the Putin factor. Not a ride. The US is actively blackmailing private owners of Ukrainian bonds in order to force them to make concessions. Twisting the hands of the IMF and organizing a "case" against the current head of the IMF, Christine Lagarde ... Excuse me, do they have their money anymore? What is this blackmail?
You see, life has really changed and if after WWII cooperation with the United States could be very interesting, today any contact with the Americans is a mortal danger. As a drug addict takes everything out of the house and is extremely problematic for everyone around him, so the modern United States is extremely dangerous because of its unsolvable financial problems. It became terrible to deal with them - they would eat it. They will eat and shoe will not be left on the memory. As has been said more than once (not by me), the main goal of Americans is to sow as much chaos as possible in Eurasia. The ideal option is if military conflicts will rage from Europe to the Far East, then all finances will rush to the safe harbor of the United States. And if the whole of Eurasia is choking with blood, then who, sorry, will ask their debts from the USA? The United States has no finance left, the power levers remain, precisely because of the DSC, which is why Christine Lagarde, that is why FIFA and athletics. What we are seeing now is a kind of zerg-rush. Massive attack on all fronts. Either you obey the Americans, or they break you through the knee. Therefore, claims to Russia about the "conflict" of its policy, to put it mildly, are not justified: to achieve conflict-free situation, you need to be "soft plush Hollande" and immediately follow their orders (and another order can be: kill yourself, my faithful slave).
The danger of the situation lies in the fact that the American elite has finally "hit the robe", and they are not going to negotiate with anyone: either complete submission, or Guantanamo ... I am terribly sorry to disappoint all Hollywood fans, but we have another America will not be. Yes, once the US was associated with skyscrapers, freeways, jeans, rock and roll and Coca-Cola. Alas, those days are long gone. America has ceased to be a rich and free country. And the fact that it has become, in principle, we are well known without CNN. It is unpleasant, but there can be no return back: the United States will continue to kidnap people, torture them, bomb cities, organize coups, arm terrorists. Sorry, it was a good country.