Everything. The 2015 year is finally a thing of the past. But we, and by "we" we mean everyone to whom the words "Donbass", "Novorossiya" is not an empty phrase, we see off with an exhalation.
There are things that allow you to exhale. The promised offensive of the Ukrainian troops did not happen. Shelling, similar to last year, was not there. The blockade did not bring the results that were hoped for in Kiev.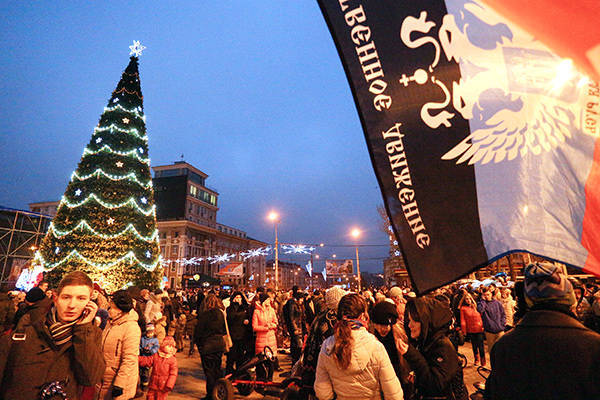 Donbass lives.
Is it good or bad, but - lives. And we hope, absolutely sincerely, that from year to year life will be better. Naturally, with our support in every sense.
In our materials this year we have been both tough and critical. But absolutely not due to the fact that we love the "hot" or frankly dirty details of events. And because we, who have left a small, but small part of our life in the land of Donbass, do not care what happens there.
Therefore forgive us sharpness in judgment. We often judge this way precisely because maybe we were a little closer to the events than we would like. But - we will never be indifferent to look at what is happening there, "behind the ribbon." Just humanly we can not.
Dear our Donetsk and Luhansk!
Dear ones, because we value the trust and frankness of people living the life they live today. Far from the most comfortable and relaxed.
Today we want to wish you on behalf of all the caring millions of Russians, above all peace and tranquility! The world for which we fought, and we will fight together and together further.
So that in the new year snow falls on your roofs, not ashes. So that raindrops, and not fragments, knock on your windows. So that the hail that hurts your gardens and gardens is a simple hail. To the sound of thunder, coming from the sky, did not force the hearts of your children to shrink.
About kids. We saw a lot in the Donbas, but wrote little about it. Probably because we are still not professionals. We want to wish the children of Novorossia to stop drawing war. We want to see boys dreaming of radio-controlled typewriters, not machines. We want to see girls who are not bandaging their dolls. We really want such changes, and we sincerely wish them to happen as soon as possible.
We wished very little on the one hand, but very much, if you think well. It is difficult to say how much time must pass, and how much more effort will have to be put in to make it all come true. But, nevertheless, we wish you all of the above.
We, Russia and Russians, were, are and will be next.
Happy New Year, Donbass!
Our Donetsk friends prepared their small congratulations. Yes, many of them, for obvious reasons, cannot openly go on the air. Therefore, on behalf of our readers, we congratulate the KSK group from Donetsk, and wish them further creative success and all the very, very, very best!
Elena, Sergey, Vadim, Vasily, "Superman", Michael! We are glad that you, although not often, work for us! Happy New Year to all your small but strong company!
And as a result, a small movie with congratulations from the residents of Donetsk. At our request, our colleagues simply went out and asked to say a few words to the first people they met. That's what happened.
Group "KSK", Donetsk, DNR, Roman Krivov
Happy New Year, Donbass, Happy New Year, Russia!