The Rosoboronexport company will begin to promote combat robots, including the Uran-9 robotic complex, to the international market, the company's press service reported.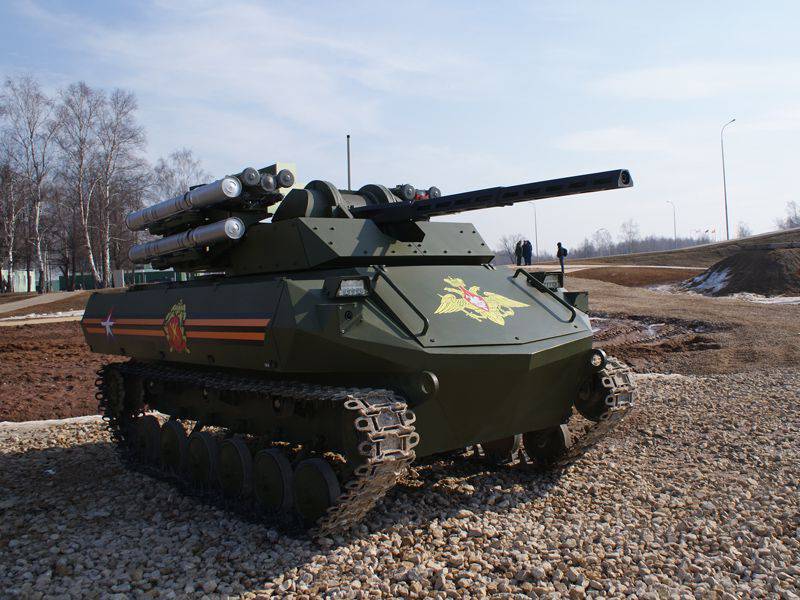 "Russian developers have all the necessary competencies for creating modern military robotics, which will be in demand on the international market. This is an actively developing segment, so Rosoboronexport will build a long-term marketing strategy to promote such samples, including as part of comprehensive security projects, "the newspaper quotes the message.
MIC
.
The "Uran-9" complex is intended for remote reconnaissance and fire support of combined-arms, reconnaissance and anti-terrorist units. It consists of two reconnaissance and fire support robots, a tractor for transporting them, and a mobile control point, "the press service explained.
According to the information, "armament of reconnaissance and fire support robots includes the 30-mm automatic gun 2А72 and the 7,62-mm machine gun coupled with it, anti-tank guided missiles" Attack "". It is noted that the composition of weapons "may vary depending on customer requirements."
According to the company, the robots "are equipped with a laser radiation warning system and equipment for detecting, recognizing and tracking targets."