At the final press conference this year, Arseniy Yatsenyuk stated that the national goal of the Ukrainian government is to restore the territorial integrity of the country, reports
RIA News
.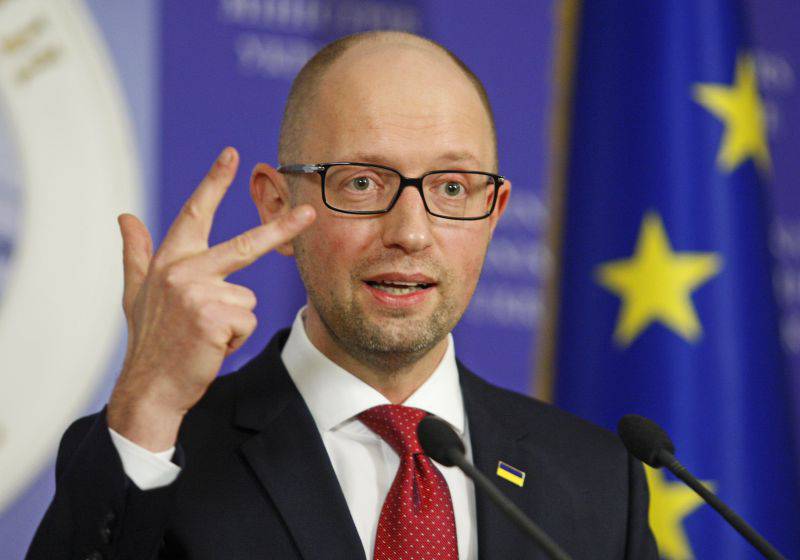 "The national goal is the restoration of the territorial integrity and sovereignty of the Ukrainian state. This means the return of Donetsk, Lugansk and the Autonomous Republic of Crimea under the full control of the Ukrainian authorities, "said the Prime Minister.
Another strategic goal of Kiev is to join the EU and NATO.
"I will start with the geopolitical and strategic goal of Ukraine, this is of course, Ukraine's membership in the European Union, and this is the aim of our entire reform program ... There is no doubt that Ukraine should become a NATO member, and this is the main goal of defense and security reform and hundreds of billions of resources go to this, "he said.
At the same time, Yatsenyuk admitted that the issue of Ukraine's membership in the alliance is not an easy one.
"You have to be complete realists about the legal membership of Ukraine in NATO, this is not a simple geopolitical decision, not so much for Ukraine, but for the members of the alliance," he said.
According to the prime minister, Ukraine must first bring its troops into full compliance with NATO standards.
"Can Ukraine become a member of NATO?" Of course, maybe this is our perspective, but what needs to be done for this? Before legal membership in NATO, we need to make the actual membership in the alliance, this is full compliance of Ukrainian Armed Forces to NATO standards, starting with training, logistics and ending in the language of communication, this is the shortest way to Ukraine's membership in the alliance. "
As for the debt of Russia, the moratorium on its payment will be valid until Kiev's debt obligations are not restructured.
"The Ukrainian government introduced a moratorium on the payment of 3 billion (dollars) of debts of the Russian Federation, Russia refused to take part in the restructuring of debt obligations, Russia refused to accept the conditions that all adequate creditors in the world accepted. And that is why the government decided to impose a moratorium and stop paying any Russian debt until Russia accepts Ukraine's position and re-debts, "Yatsenyuk said.
According to him, the restructuring conditions will remain unchanged.
"Negotiations have already been held, the government has specialized legal advisers, we are in full ammunition for a legal war against the Russian Federation on 3 billions of dollars, the budget provides funds for the financing of legal advisers," he said.