The separate motorized rifle arctic brigade of the North continues to be equipped with modern technology.
fleet
RF The press service of the Northern Fleet reports that in December 2015 30 new tracked all-terrain vehicles DT-10MP Vityaz were delivered to the brigade. The undoubted advantages of this equipment include the fact that it (each such machine) is capable of transporting up to 10 tons of various cargoes with the complete absence of roads, on low holding ground.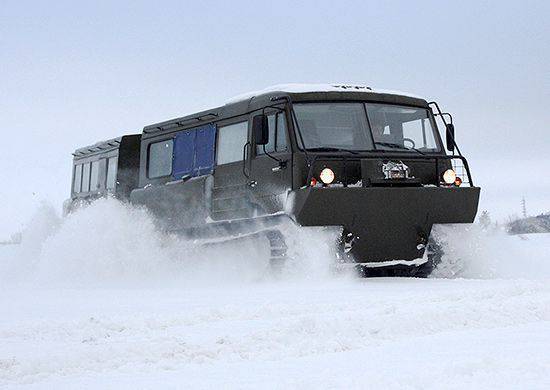 From the message
press service of the Federation Council of the Russian Federation
:
Arctic motorized infantry also received a snowmobile A-1. At the beginning of the year two-link tracked floating snow and swamp-going vehicles of high cross-country TTM-4902PS-10 and army ATVs AM-1 were delivered to the brigade.
All received equipment is specially prepared for operation in the Far North. Snowmobiles have heated steering wheel and seats, special brackets for mounting
weapons
.
The TTM-4902PS-10 all-terrain vehicles and the AM-1 army ATVs successfully passed a test while the squadron of the warships of the Volga Fleet carried out the tasks of the march in the subarctic maritime zone in 2015. As part of a hike on the Taimyr Peninsula, on the Kotelny Island and on Novaya Zemlya, exercises were conducted with units of the Arctic brigade, during which new equipment was tested.
It should be noted that the Ministry of Defense is implementing a large-scale plan for the restoration of the Arctic military infrastructure. One of the points of the plan is the creation of a fully-fledged military camp on the Island of Kotel.