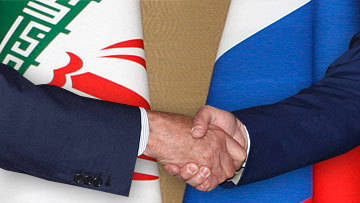 In the previous materials we tried to give an assessment of the so-called "Middle Eastern scenario." And, on the eve of the New Year, we will try to give some analysis of the process, which today originated in the Middle East, and next year will begin, as they say, to get up on its feet.
Since the Middle East is practically in varying degrees in a state of war, we will not talk about who is fighting with whom and for what. More interesting is the question of who is against whom is friends.
While Turkey with an enviable stubbornness deprives itself of the Russian market, Iran, by contrast, is ready to put its roots in Russia even deeper. And not only in Russia, but with our partners in the EAEU. The EEU and Iran are creating a free trade zone, while the duties on Iranian agricultural products will be reduced next year. And this is only one side of cooperation.
Iran is actively trying to gain a foothold in the Russian market in the light of the food embargo imposed by Russia for Western countries, as well as for Turkey. Earlier, Iran had the opportunity to export fish and seafood to Russia. Famous Iranian premium shrimps from the Persian Gulf were the first to enter the Russian market in January of this year, followed by Iranian lobsters, as well as delicious trout, which are bred in fish farms near Tehran. This year, Iran planned to supply 20 thousand tons of high-quality trout and 5 thousand tons of shrimp and seafood to Russia, as well as black caviar and valuable fish varieties.
Delicacies, of course, are wonderful, but not a lobster is a man full of food.
This year, work was also actively conducted on the accreditation of the Iranian poultry meat and dairy producers by the Rosselkhoznadzor. And after January 20, 2016 from Iran will begin deliveries of poultry, and after February 15, dairy products (including cheeses) will begin, the head of the Rosselkhoznadzor, Sergey Dankvert, said on Wednesday. After that, the EAEU can expand the list of Iranian enterprises supplying poultry meat and dairy products, he assured.
Earlier, Iran stated that it was ready to supply at least 10 thousand tons of poultry meat per month, or 120 thousand tons per year, and even more if necessary. At the same time, Russia is almost completely self-sufficient in poultry meat. Chicken imports are only about 200 th. Tons per year. Iran aims to completely take this piece of cake from Belarus and Brazil. Iran is also going to supply an incubation egg to Russia for breeding purposes - and then it will be able to press off American suppliers, which is very welcome.
The only thing that bothers the Rosselkhoznadzor is that Turkish agricultural producers will try to deliver their goods to Russia through Iran after the Georgian corridor has been closed. Dankvert warned Iranian colleagues about the unacceptability of such a corridor.
Imports of agricultural and seafood products are good only when something goes in the opposite direction. That is, when every ruble spent on Iranian products returns a ruble (or better than two) spent by Iran on the purchase of something Russian.
2,2 billion dollars is the amount of financing contracts for the construction of power plants and the electrification of railways in Iran. These contracts have already been signed during the visit of Russian President Vladimir Putin.
2,3 billion dollars worth the construction of eight units for nuclear power plants, the contract for the construction of which was signed in 2014 year.
We don't even talk about expanding the export of Russian military equipment: Russia is already supplying air defense and radio electronics to Iran, and today the Iranian army really needs to be modernized. Years of isolation, of course, brought no improvement.
On the armed forces of Iran should talk separately. Now we note that the Armed Forces of Iran is an open field for interaction with Russia. There would be, as they say, money. And they, apparently, Iran will be. 16% of global gas reserves and 10% of oil guarantee this.
Yes, Iran's sanctioning disconnection from the international payment system dealt a severe blow to the country's economy. However, this is the answer - work in national currencies through a joint bank. This could be Temp Bank, which, by the way, is precisely for cooperation with Iran, which is under US sanctions from 2014, or World Business Bank, which is a subsidiary of Iran Bank Melli Iran. BMI is by far the largest retail bank in Iran, an analogue of Sberbank.
And after the promised cancellation of Western sanctions, Iran will quickly regain its former strength. When Iran starts exporting oil, it will have money to build infrastructure and purchase imports. Iran will become an important trading partner. The Iranian market, especially the energy market (despite the oil and gas reserves in Iran, the constant shortage of electricity) will become a very tasty morsel.
In the light of this situation, all the efforts of our Foreign Ministry, aimed at the de-blockade of Iran, look very reasonable. Yes, it was a very difficult battle, but it is quite possible that this time the victory will be ours. Both in foreign policy and in the economy.
And what about Turkey? Turkey - economy №1 in the region. But Iran is #2. And the potential is clearly greater, since the Turks do not have such natural reserves. And if you still remember the religious aspect (and you should always remember about it in the Middle East), then Turkey and Iran are at opposite poles. From here comes a different approach to the Syrian issue, for example.
It turns out that we are trying to be friends with the first competitor of our non-friends of the Turks. Well, it may well turn out. If, indeed, we succeed in making friends with Iran in the development of Iran and the weakening of Turkey, this can bring good dividends in the future. The coming year will show it.