Turkish President Erdogan, who the other day "saved a person from suicide," again acted as a kind of Turkish counterpart of Santa Claus. This time Erdogan decided to declare, no less than nothing, about the concept of fighting terrorism in the Middle East. This is against the backdrop of receiving wounded militants for treatment in Turkish clinics ... Erdogan called the need to create a "security zone" in Syria as the main point of the "concept". The statement of the Turkish leader leads
TASS
:
At the first stage, the zone will stretch along the border at 98 km and will be removed inland (Syrian territory) at 45 km, while we can expand it. It will be a terror free zone, and internally displaced persons and those who are in camps in Turkey will be able to live there.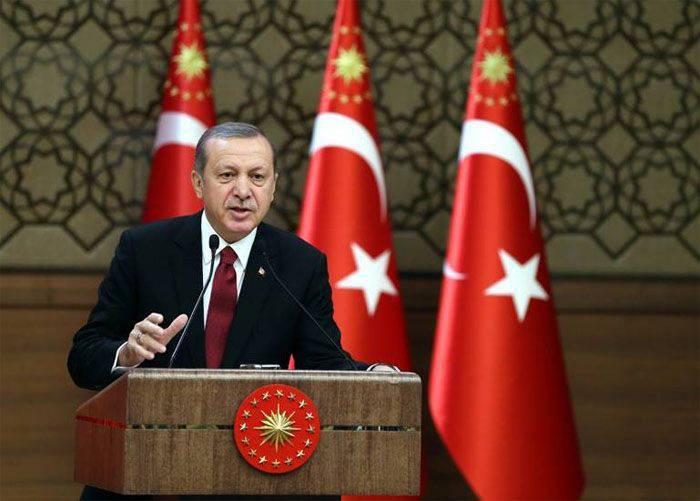 In other words, the Turkish president, under the slogans of fighting terrorism, is actually trying to justify (legitimize) Ankara's desired occupation of a part of Syrian territory. At the same time, Erdogan adds that he is going to start a campaign to raise funds for the implementation of this project.
Moreover, Erdogan is going to launch to the north of Syria and Turkish construction companies in order to be able to earn more on the occupation:
This area (construction) is highly developed in Turkey, we can build housing in accordance with the needs of Syria and thus partially satisfy the need for it.
The question arises: did Sydia herself ever ask Erdogan about something like that, or does he think that his presidency automatically extends beyond the borders of Turkish territory? And one more question: did Mr. Erdogan think that the aircraft of the Russian Aerospace Forces and air defense systems could somewhat hinder his plans for the occupation of Syrian territory? ..