The Ministry of Information Policy of Ukraine has its own official symbol. The new symbol was approved by the President of Ukraine himself, Mr. Poroshenko. From the official description of the logo
agencies
which is called "the Ministry of Truth" by the most "independent":
The emblem of the Ministry of Information Policy of Ukraine is the blue equilateral extended cross, in the center of which a blue circle with the Golden Badge of the Princely State of Vladimir the Great is imposed. From under the circle between the sides of the cross go blue cables with gold connectors.

For Ukrainian users, the new emblem "Minstetsya" (after the name of the manager) with USB cords has become the reason for numerous jokes on the network. In the Ukrainian segment of the Internet appeared "fotozhaby" on the new symbol of the ministry. Here are some user work in a single collage: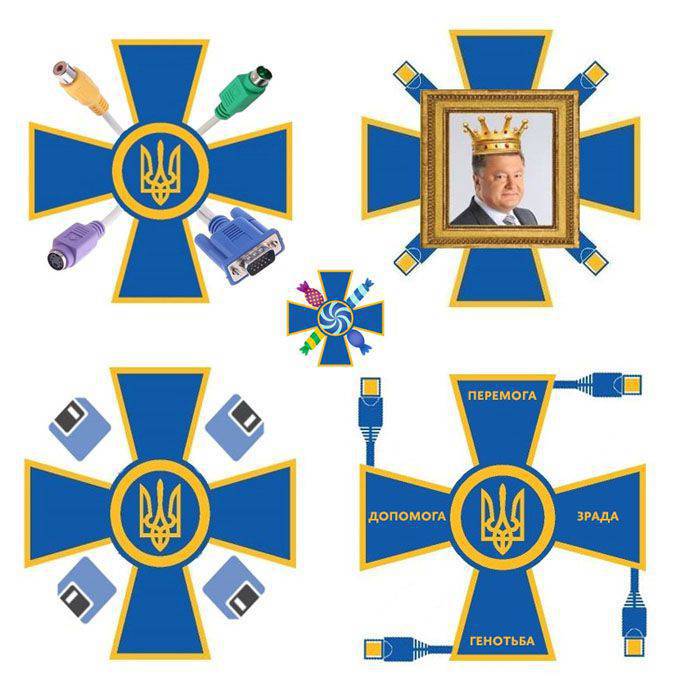 It should be recalled that the head of the department, Yuri Stets, on December 8, stated that he had written a statement asking him to release him from his post. According to Stets, he promised to leave his post a year ago, stating that he would fulfill several "main points" in his post, and then give the post to another. The Verkhovna Rada, apparently impressed with the activity of the minister, has not yet accepted his resignation ...