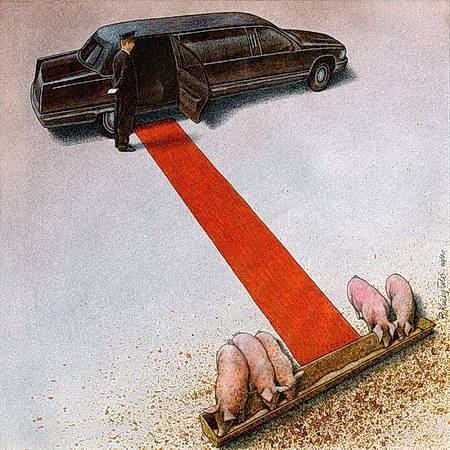 Greetings to friends and foes! Someone was waiting for me to finally slap my life with the stern heel of the Ukrainian special services. Someone hoped not to slam. Both are right. Heel got a little, but twisted, and again with you. Cockroaches are not as simple as other insects. It is difficult to crush us.
Long thought how to begin this my solemn appeal to readers. Still, the last publication of this year. And you have a holiday on your snub-nosed, straight, crooked noses. In the sense that the New Year is coming soon. Honestly, I wanted to push it so that it came out no worse ... Well, you understood, no worse than anyone. Only somehow it is not about cockroach.
In short, so. Dear readers. Everything. Anywhere in the world, and maybe the universe. All those who are interested in the thoughts of an ancient insect, whose ancestors lived long before the appearance of man, and the descendants will live long after him, the man disappearing. On behalf of us, and everyone else who knows a lot, who sees a lot, who knows how to think, I congratulate you on the upcoming New Year!
Of course, I wish you something, but then. As your one noticed
historical
character. For everything has its time.
And now, with what results we come to the end of 2015 of the year. We are Ukraine, not cockroaches of Ukraine. Whatever happens, no matter how ugly, but this land is ours. This country is ours. These people are ours.
Political results
The main political event of the year is the local elections. They should have been the final stage of the formation of a new power structure of Ukraine. They seem to have fulfilled the main task. The opposition in the country is not just dead. She even rotten and spreads the corresponding smell.
However, those who seem to have won, too, do not celebrate the victory too much. The contradictions between the groups of winners are so great that we can't talk about any stability.
I don't know whether to relate to victory or to defeat the fact that the question of early elections to the Rada was completely removed. The results of the local elections showed that there is simply no one to form a new ruling coalition. No union will repeat the election results of the 2014 of the year. So, politics really ended in Ukraine. Darkness in the 40 millionth country.
It's generally easy to write about foreign policy. The only result of the activities of our Foreign Ministry can be considered the appearance of phenomenal abilities in President Poroshenko. Today he is the only one who can become invisible. Well, at least in this we are ahead of the rest.
Military Results
Of the many operations announced and carried out in the media, our military in reality carried out only one. Although from my point of view, it would be better if they did not. This is the conclusion of the Debaltsevskaya group of the Armed Forces of Ukraine from the boiler. I will not describe the results. It is a shame for our "Caesars" and "Macedonian". Yes, and the mothers of the victims can kill all the MOs after my words.
The military-political operation can be called the signing of the Minsk agreements. Indeed, the implementation, or rather the opposition to the implementation of these agreements, was subordinated to all the activities of our government. No matter how we managed to get out, the Minsk agreements were in our minds of our prime minister and other members of the government in solving any problems.
It's just some kind of mysticism. Like the shadow of your President Putin, which is present everywhere in the heads of most Ukrainians. In any hole plug. Probably, even when the sun goes out, we will blame your president for this. So basically, it's good that we have your Putin!
And we have been successful. None of the clauses of the Agreement has been implemented. No one! We did everything like that ... not completely, and in the end we didn't do anything! As it was, in fact, conceived.
Financial results
There is no money in Ukraine. But there is money in Ukraine. Like this.
This is probably the most paradoxical phenomenon of our time. But to you, dear readers, I will keep the heads. So that the brain does not melt. I am writing about the loans that we are given. The IMF for Ukraine went to great lengths. We will give loans even in case of default. But you yourself know it. But you do not know what and how they think and understand about it.
There is such a quote about the fact that "the mind does not understand Russia." Yes, Russia is sometimes a very difficult country to understand. But if we speak for Ukraine in the same vein, then I'm even afraid to think about how to understand Ukraine.
It is clear that the default will be. Only for us it is not scary. Purely technical moment without any consequences. Neither economic nor legal. Charged with Russia, will be a long and uncertain result. And we will still give money. Including Russia. The CTA is ours ... And the EU will not allow it to be destroyed. Your shirt is closer to the body.
So basically, we wanted to spit on this default. We already live almost everything in it today.
International position of Ukraine
Here only tragic notes sound. As one movie hero said, "the old woman died." What is translated into understandable to all Russian means: Ukraine is completely deprived of legal personality. We are completely under external control. No one even doubts that all our "superiors" are just puppets. And the country is managed from the overseas center. Yes, and hide it is useless. That no one is hiding.
I will never believe that, for example, the blockade of the Crimea was carried out without a direct order or at least coordination with Sikorsky Street. All these Crimean Tatars, pravoseki and other pseudo-patriotic tinsel operated independently only for boys and girls from the Internet party. Normal people understood that such an event should be well paid.
If someone does not understand, where does the street of the great aircraft designer Sikorsky, here I will explain. It is there that the embassy of the true owners of Ukraine.
Economic results
The fall in GDP is about 11%. For those who do not want to watch previous falls, this is the 1995 indicator of the year. In general, there are no industries in Ukraine today that would not fall. Everything falls like fences in a hurricane.
Agriculture today is probably the most resistant to falling. Total 5% drop. Industry stumbled much stronger. The fall in industrial production is about 30%.
Ukraine's exports fell by 32%. Exports to Russia fell by 70%, and to EU countries by 35%.
At the same time, inflation exceeded 45%.
You can still give a lot of numbers in any industry. But I do not want more. Very scary. Where are we going? But one figure still give. Very little figure of the inhabitant. But from my point of view, the main figure. The main indicator of all these economic frills. Retail sales in Ukraine fell 28% this year.
Think about it. People began to buy almost a third less than ever. What is this talking about? But only that how many government officials will not lie about our achievements will not increase the money in the pockets of the common man. Ukrainians began to save. And do not just save. They began to save on the essentials.
Here I am writing now, but the thought turns in my head. Why in other countries, even not very rich, presidents and other chiefs want people to live better, and the country grew richer? Why ours do not understand that the leader of a rich and strong country is always a respected person, and a beggar beggar is always an outcast. Perhaps the cockroach does not understand this.
Okay. I will return to the theme of the New Year. This year, the main Christmas tree of our country was opened not by Santa Claus, but by St. Nicholas. I have absolutely nothing against this saint. Moreover, I respect and honor his deeds. And I have his icon. Only now somehow uncomfortable to me. Already accustomed to the good old Frost. Since childhood, waiting for him. And it is he who is a holiday for me. And my parents always gave me presents under the tree, and not in some kind of stockings. And I believed. I believed in a miracle.
And this year the miracle was brazenly taken from me. Out of the soul with dirty fingers.
So even if you, dear readers, and your children, you will find your little miracle in the morning under the New Year tree. Let the first day of the new year be associated with an unexpected gift. With a miracle.
And as you celebrate the New Year, so you will live it. I did not say. Some kind of smart man before me. But I fully agree with this statement. So you wonders in the new year! Happiness, interest in life, friends and victories!
We lived another difficult year, the year when we all chatted from side to side. Difficult year. You, on the other side, had both ups and downs, and we, on your ... also had something like that. I really don't recall any ups. But the flight was. More precisely, as in the old cartoon, about a falling plane. It was so. Here, almost 365 series skated. But if you look at this business optimistically, then once "booms!" It did not sound, it means that we still live.
So, there is still hope. And, if absolutely conscientious, then the hope that sooner or later we will still fuss. And then the fun begins. Establish, restore, build. And in general, there is a sense for it even that ... let the toast be weird.
After all, build-restore, which is not the first time. So, we will live! I embrace all of you in advance with all my paws, I wish you every success in your (albeit odd) day life, understanding, peace of mind and a good New Year!
And until the next meeting. And they will be, if I were not the Colorado Cockroach!