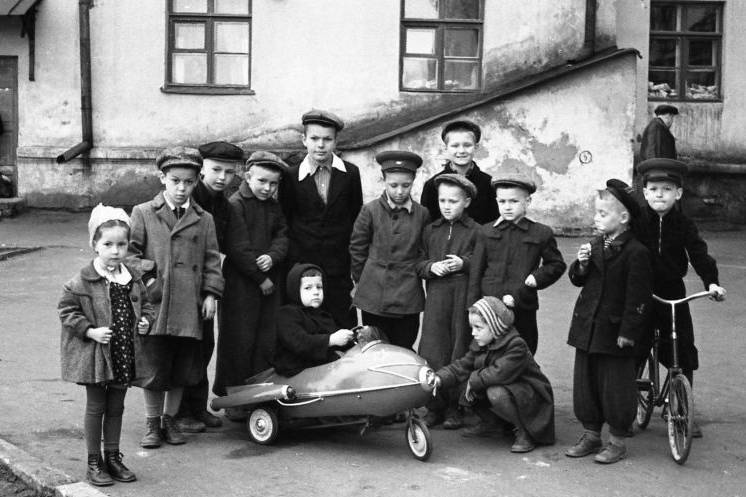 "Children of our court,
Your wings are strong
And yesterday's game
Tomorrow will be true. "
Samuel Marshak
Yard Boyhood brotherhood. The basics of honor. Soviet childhood would have been unthinkable without courtyard friendship and special rules of behavior. At one time, I noticed one entertaining detail - quite a lot (although not all!) Liberal figures declared their hatred for "soviet friendship", for yard kids, who were just waiting to kick a good violin boy (or book). Like, even then began mutual alienation. The division into "smart" and - "cattle", despite the fact that small snobs always turned out to be divided, while the proletarian shoots found 1001 a reason to rally. It was annoying. It is annoying so far.
The opposition gentlemen are hardly exaggerating when they say that their elemental and childish anti-Sovietism originated at a tender age, in the sandbox, in the process of ill-fated socialization. Alas, they already had the reputation of strangers - they were not accepted by that very Leningrad street. Or Moscow, Voronezh, Tyumen ... Of course, no one thrashed anyone for points and a violin, for school fives and a love for slinging. The hatred of the court fell upon the arrogant and mean. On those who betrayed and betrayed. Those who complained to the mother or grandmother, who always sat near the entrance.
Look - all our youth literature devoted to Soviet beingness, one way or another, concerned the courtyard, street environment. Even if they were fairy tales, like "Old Man Hottabych." This is exactly the story, the story of Nikolay Nosov, Yuri Nagibin, Vladislav Krapivin, the verses of Agnia Barto, Sergey Mikhalkov and Samuel Marshak, but since we started talking about St. Petersburg boys, Radiy Pogodin with his Keshka, Mishka, Tolik and " Brick Islands. And now a closed, arrogant - seemingly - boy who always wanders past moves into their house. He is amused. Then - becomes the object of hatred. And now - the moment of truth. "- Before the first blood or the whole force? "With all my strength," said Sima, not too loudly, but very strongly. This meant that he agreed to fight until the end, while his hands were raised, while his fingers clenched into a fist. It doesn't matter here whether you are bleeding from your nose or not. Defeated is the one who says: stop, give up ... ". Further we learn that Sima-Semaphore is not at all a coward, and not a rag, but a worthy boy. Own Accepted.
Approximately the same situation is created by Vladislav Krapivin in "Pigeon in Yellow Glade". So, we have a baby musician in front of us, a baby gift. Bunny goody. He is cited as an example to all unlucky and playful children: "Such boys, probably, exist on purpose in nature to please aunts and grandmothers. He strides a clean one, drags a violin in a case, looks at his feet so that he does not scratch his lacquered shoes. Combed, in a yellow suit, on the neck even a bow is also bright yellow, with black peas. The arrows are pressed on the trousers ... "And this time the young intellectual showed himself - he showed that he is not afraid of a fight. If Pogodin painted precisely Petersburg children, then Krapivin is the singer of the Russian province with its original, ancient towns. But, as we see, the conflict is still the same.
Moscow writer Yuri Nagibin in his "Chistoprudnom" cycle displays the image of Pavlik - a noble friend. In their company, he always played the role of Athos: "I did not feel in myself that nobility that constitutes the main feature of Athos, which my friend Pavlik fully possessed". Playing musketeers, the boys eventually defeat the local rowdy who terrorized the whole quarter. And, as it should be, they beat the first: "My first blow again opened the locks in his snub nose. Another blow - and, kalyabaya hands on the cobblestone, Lyalik spun round on the pavement. " In 1941, all these boys — bad and glorious, obedient and mischievous — went to the front. "Seryozhka with Malaya Bronnaya and Vitka with Mokhovaya". They learned to be loyal and brave still there, in the courtyard, when they had to fight "wall to wall" with the local punks. At one time, I happened to hear the phrase that yesterday's high school student won a war graduate of the 1930 school of Stalin. All this is true, however, teachers and pioneers - this is half the battle. They taught theories, but the "practice" was comprehended in street battles and yard companies. There did not forgive pettiness and lies. Because in the near future it was this and it was read, it was felt: "Ah, the war, what did you do, mean: our yards became quiet, our boys raised their heads - they matured until then ..."
Marshak has the following lines: "Children of our yard, you are its owners, / Chapaev's cavalry is playing in the yard". The meaning of the verses is simple - today we play, and tomorrow we will fight and build. "The children of our yard, sailors, pilots, / And the time of military work will come for you." By the way, this thing of Marshak is significant and noteworthy from the point of view.
historical
, social point of view. Firstly, we are shown children from the elite quarter. The author immediately brings us up to date: "Many heroes live in the yard. / But the guys recognize the rule as follows: / You are proud of your father, a noble citizen, / But be a good fellow yourself, And not just your son. " However, in almost any "privileged" house, besides heroes and big bosses, ordinary people also lived - though the latter lived in communal apartments, while the "Stalinist Falcons", of course, had a separate living space.
But the community partnership was based on different criteria - few people were worried about family status. Material values ​​- even more so. To be the son of a military commander is not so much an honor as an additional duty, and if you are a scumbag, a snitch and a rokhla, you will be beaten. Or - humiliatingly ignore. The time of pompous "majors" with their clothes, "wheelbarrows" and father's merit has not yet come, and the guys were friends with those who were brave, inventive, and interesting in communication. Curiously, what are the kids from the "cool" house doing? Besides the fact that they are playing Chapaev's cavalry ... "Who built a bridge across the ditch in the courtyard, / Bridge on the Volga, on the Dnieper, will build for glory. You are preparing to build Dneprostroi in the game. / You grow up in the yard where the heroes live. " That is, the yard itself is the starting point, and not just a place for playing, fighting, hustling and climbing roofs. "Children of our yard, Chkalovsky house, / Yesterday you flew away from the airfield." Young heroes of our books never played just like that - they either learned something, or opposed the evil in the face of a juvenile urki, or - they plotted something ambitious, like escaping to the North Pole.
Authors of children's stories, portraying courtyard customs, taught life. Here, for example, the famous story of Nikolai Nosov "Fantazery". At first it seems that the thing is about nothing: the boys are fooling around and inventing fables. But the moment of truth comes when the third appears. This one is "reasonable", does not like to compose and does not know how, which is typical. Everything about the case. Why wander into the void when you can lie with profit? "And here. Last night, mom and dad left, and Ira and I stayed at home. Ira went to bed, and I climbed into the buffet and ate half a jar of jam. Then I think: no matter how I get it. Took Irka lips jam smeared. Mom came: "Who ate the jam?" I say: "Ira." Mom looked, and she has all her lips in jam. This morning she got from her mother, and my mother gave me more jam. That's good. " Summary: "Go away! We don't want to sit on the bench with you. " And then the guys meet that very tearful Ira and treat her with ice cream. The moral is straightforward: you can't even sit next to the scoundrels, not to listen to their stories. The trick was condemned. The word "profit" sounded like a curse. Benefit was considered comme il fot only in one case - when it was nationwide.
Yard rejected and mama's sons. In the stories of Yuri Sotnik this motif is often played up. The protagonist is a purely homely boy who is cared for and courted by parents. He is not a moral monster and not a snitch. He just hasn't tried to be independent yet. The boy's suffering is further aggravated by the fact that the girl Aglaia, his impossible dream, despises his penny. "Aglaya was right there in the yard. She jumped on one leg, pushing a pebble in front of her, heard the whole humiliating conversation between my father and my mother and inserted from time to time, without addressing anyone: - Do! Since six years I have been alone at home, and that's nothing! "
Tellingly, the courtyard - already as a meeting place, fellowship and meeting - was often depicted in youth fiction. A typical example is the early things of Vasily Aksyonov. "Under the window is whistling. A friend and classmate of my Dima, Alik Kramer, is walking around the yard. I can see from above his hair, separated from the side by a string of parting, glasses, a festival shawl around his neck and bony shoulders covered with a jumper. Dimka appears. He is wearing an evening suit and bow tie. Dressed in the same way, the bruiser-basketball player Yurka Popov, the son of our house manager, fits. The company smokes. I remember very well how pleasant it is to smoke when you finally win this right. And the guys, you see, enjoy lighting a cigarette in front of the whole house. But they are very restrained, not verbose, like true dandies. " Aksenovsky boys are yesterday's boys from the poems of Marshak and the stories of Nosov. They matured, as, incidentally, their funny classmates prettier, turning from girls with pigtails into spectacular young ladies: "Galina Bodrova, the charming girl of modern design, fits on heels with pinks. I really like Galinka. Everything brightens around when it appears. In my opinion, even Dimkin's physiognomy brightens when Galya appears. Once they fought here, under these windows. " The place of yesterday's games, fights and children's meanings turns into a starting point - they leave from here to return by another person. The yard becomes cramped. And the first love - also come from here. "He will grow up, will become famous, he will leave his penats. / It will be a tight street for this huge love. " Yaroslav Smelyakov created the inimitable type of the Soviet 'girl next door', which accompanied all our love lyrics, and in fact the very cultural tradition. From the poem to the song, and from the song to the film, the many-faced but recognizable "good girls of Lida" wandered. And here I recall these lines of Lev Oshanin: "And we have one girl in the courtyard, / She is inconspicuous between noisy friends. / None of the guys inconspicuous it. / I look after her: "there is nothing in her" But! "But I'm still looking, I'm not taking my eyes off ..." But over time, the yard community was a thing of the past - people moved to separate apartments, to new buildings of the same type, and there was already a completely different life.
... By the 1970-1980 years, the yard, as the focus of child socialization, lost its meaning, which, however, coincided with the total disconnection of the population. Evgeny Gabrilovich, creating in 1985-1986 the documentary "The Yards of Our Childhood" documentary emphasized that this is a bygone nature. That which will never be. Nostalgia of fifty-year-old romantics for children's games and youthful dreams. Retro-images - under the forgotten gramophone rhythms. It was then that a popular song was made to the poems of Larisa Rubalskaya: "I remember all the time / Our old yards, / Where the golden balls blossomed in autumn." It was said that once, in those yards, there was a slow and very correct life: "Everyone returned from work, / There was no need for a telephone. / There were common concerns / And one gramophone. " Sad motive and feeling of autumn life. Although there is an attempt to smile: "From the yard lay the beginning / Love, fate, roads."
Of course, the courtyard is our bright past, but there is no reason to try to barren nostalgic. It was just and it is beautiful. At the same time, yard unity did not come to replace ... nothing. What will the future functionary say? "Computer Shooting Game" World
tanks
"Taught me to be brave and mobile?" Okay, if the World of Tanks. Everything is good, but after all - solid social networks. And what can VKontakte or, for example, Facebook teach? To be rude and show off? But precisely for this they beat in the yard ...