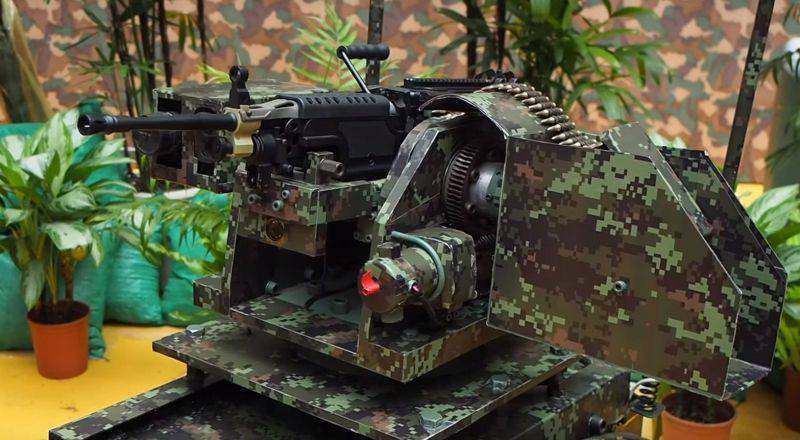 The RCLCV combat version can take on various weapons, including machine guns and anti-tank missiles. Low thermal and acoustic signs of visibility in combination with digital camouflage make the system unobtrusive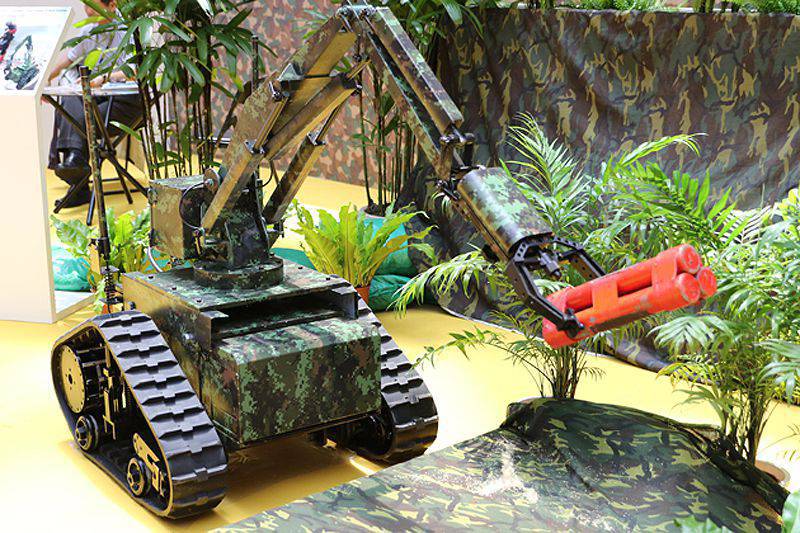 You can also install various special tools on the universal version, including a hand manipulator for neutralizing explosive items and clearing obstacles.
At the TADTE (Taipei Aerospace & Defense Technology Exhibition), the Taiwan Ministry of Defense presented a new remotely controlled vehicle (RMS) designed to increase the survivability and firepower of the Taiwanese army.
The RCLCV (Remote-Controlled Light Combat Vehicle) light remote-controlled combat vehicle prototype, developed by the 209 military plant in collaboration with Cheng Shu University, is designed to provide support for units in combat operations and can be deployed as part of a motorized infantry unit from the CM-32 Cloud armored personnel carrier Leopard.
The developers presented two different options, based on the tracked all-terrain vehicle chassis weighing 200 kg. The first is an armament platform to support near fires, and the second is designed to perform dangerous combat missions, for example, neutralizing explosive objects, detecting mines and evacuating casualties.
The fire support option has a stabilized support that can take on a variety of weapons, including the 5,56-mm light machine gun M249, the local-made 7,62-mm machine gun T74, and the 12,7-mm heavy machine gun QCB. To combat vehicles, you can install a light anti-tank grenade launcher M72 or a French lightweight APILAS grenade launcher on a DUM.
In addition to the main armament, the fire support machine is also equipped with a built-in day / night camera system and a laser rangefinder, which transmit live video and tactical data to the operator console.
In order to increase survivability in combat, this remote-controlled vehicle has some level of reservation from small arms fire.
weapons
and splinters. In addition, it was specially created with low thermal and acoustic signatures (signs of visibility), as well as with digital camouflage in order to reduce the probability of detection.
Also at TADTE 2015, a versatile version was presented, which is usually equipped with an electromechanical drive arm capable of grabbing and lifting objects weighing up to 20 kg in an extended position or weighing up to 35 kg in a folded position. This model is designed to carry out tasks to save lives and high-risk operations, such as the disposal of explosive objects, extinguishing fires and evacuating the wounded.
However, the arm can be replaced with other tools in accordance with the task being performed. For example, a subsurface radar can be installed on a machine to detect mines, as well as specialized equipment for RCB reconnaissance.
Both options have a working time of three hours, the maximum distance from the control console when wirelessly controlled in built-up areas is 300 meters, although it is clear that the control distance in open areas may exceed 800 meters. For guaranteed operations in a space with strong electromagnetic interference, a cable-controlled version is also available.
The head of the assembly shop of the 209 military plant reported that the RCLCV was developed entirely by local forces with a significant proportion of commercial components in order to reduce the purchase price and operating costs, as well as to improve the ease of operation.
While the machines shown at TADTE 2015 are advanced prototypes, representing the fourth generation of the system developed by the 209 plant and the Cheng Shu University, the plant representative said that the army was already receiving new models with great firepower and an encrypted control system.
"The RCLCV robotic complex will increase the combat effectiveness of our units, especially in urban environments, where the terrain is extremely difficult. The machine can climb stairs and enter potentially dangerous zones ahead of the soldiers in order to increase the level of control of the situation and reduce the risk of running into an ambush. "
Materials used:
www.tadte.com.tw
www.armyrecognition.com
www.shephardmedia.com
www.wikipedia.org