The Russian-Indian agreement on the supply and co-production of weapons reached by 24 December shows that Moscow remains one of the main partners of India, according to an article published in the Washington Post.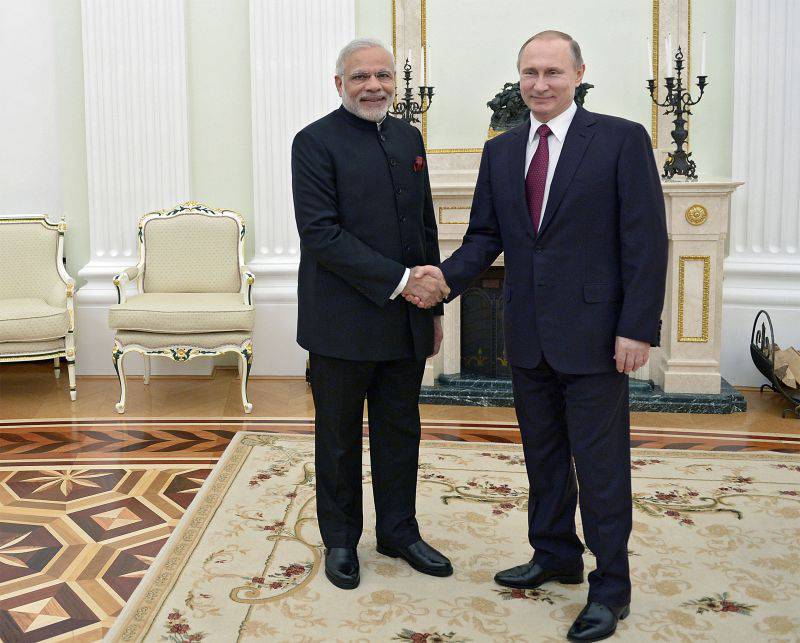 The leaders of both countries said that they would "simplify the visa regime, start cooperation within the framework of a joint venture for the production of military helicopters in India, and also continue to build nuclear reactors in the country," the newspaper said.
The author points out that the Indian arms market is "becoming increasingly attractive for other major players."
"In recent years, the United States has entered into competition with Russia, which is striving to become the main supplier
weapons
to India. They mainly supply military planes and helicopters there, "- quotes the publication
RIA News
.
According to the newspaper, "Moscow understands Delhi's desire to diversify arms supplies, but at the same time does not lose its share of the arms market of this Asian country."
And although the parties have not yet confirmed the information about Delhi's intention to buy Russian C-400 air defense systems, this deal, according to the author, is the most anticipated one. At least, "this is not removed from the agenda," he writes.
"The Indian weapons company Reliance Defense announced on Thursday that it has signed an agreement with the Russian corporation Almaz-Antey, worth $ 6 billion on production and repair. It is known that Almaz-Antey is engaged in the manufacture of C-400 air defense systems, "the newspaper notes.
WP, points to the fact that "the export of Russian weapons in the world only grows every year," and India has always been one of Russia's main partners.