Turkish newspaper
Hurriyet
with reference to the Ministry of Internal Affairs of Turkey reports that because of the clashes between security forces and Kurds in the east of the country, citizens are forced to leave their homes. Recall that the official Ankara announced that it is leaving the agreement on a truce with the Kurds, accusing the PKK (Workers Party of Kurdistan) of committing terrorist acts in Turkish territory. The main clashes are currently taking place in the area of ​​the city of Diyarbakir, where, by the way, is the NATO air base.
The streets of the city turned into the arena of the real battles. Ankara uses armored vehicles and army special forces to attack the Kurdish population. In response, the PKK, which is banned in Turkey, arranges directional explosions and blocks the road to armored vehicles with numerous ditches and barricades.
In addition to Diyarbakir, hostilities take place in settlements of Dargechite, Nusaybin, Silopi, etc. Thousands of civilians leave their homes in order to save their lives. The so-called "anti-terrorist operation" in eastern Turkey has already involved more than 10 thousands of Turkish security officials, dozens of armored vehicles of the army and police.
Kurdish sources report that in the last week of clashes in the eastern provinces of Turkey, more than a hundred civilians have died, which Ankara has recorded as "terrorists". In the reports of the Ministry of Internal Affairs of Turkey means "liquidation of 168 militants".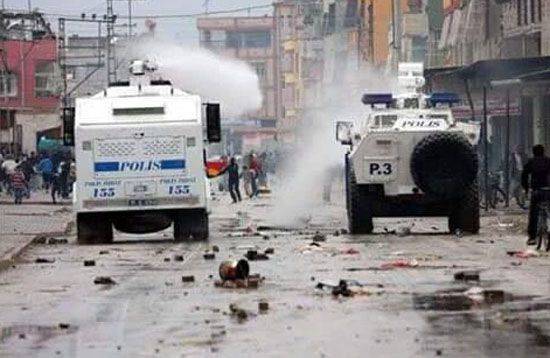 Photos are distributed on social networks, which show that the Turkish police do not stand on ceremony with anyone, including children on the streets, against whom tear gas is being used.