The Russian Ministry of Defense reported on the next stage of the counter-terrorist operation in Syria. According to the official representative of the Ministry of Defense of the Russian Federation, Major General Igor Konashenkov, the aircraft of the VKS of the Russian Federation made 302 combat sorties, attacking the 1082 targets of terrorist groups. Igor Konashenkov:
Over the past five days, from 18 to 23 in December, aircraft of the Russian air group in the Syrian Arab Republic carried out 302 combat sorties on 1093 objects in the provinces of Aleppo, Idlib, Deir-ez-Zor, Hama, Homs.
Thus, in the province of Homs, the Su-24 bomber struck at the accumulation of military equipment of terrorists.
Igor Konashenkov:
According to the objective control of unmanned aerial vehicles, six all-terrain vehicles with large-caliber machine guns and three militant trucks were destroyed.
Aleppo Province Confirms Direct Command Hit Destruction
aviation
the bombs. It is noted that Russian planes destroyed the terrorist training base, to which militants and instructors arrived across the Turkish border from different countries of the world, including the CIS countries.
Press Service of the Ministry of Defense
cites the statement of Igor Konashenkov:
In the province of Idlib, the Su-34 bomber destroyed a large training camp of terrorists, where there were a large number of instructors who arrived from neighboring countries of Syria. Information about this camp, where among the terrorists who arrived from the territory of Turkey, a significant proportion were citizens of the CIS countries, came from the patriotic Syrian opposition.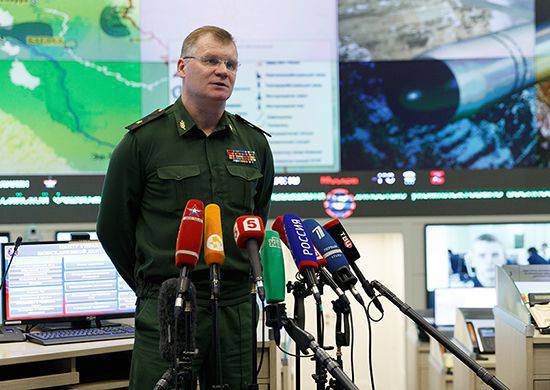 General Konashenkov noted that the data on the terrorist training camp were repeatedly checked, after which an air strike was struck at the site.
A spokesman for the Defense Ministry said that the number of fakes in the Western media and so-called international human rights organizations regarding the Russian operation in Syria is multiplying. According to Konashenkov, the report
Amnesty International
about the deaths of civilians in Syria, allegedly as a result of strikes by Russian aviation, consists of continuous dies. The representative of the Defense Ministry of Russia called such charges unsubstantiated.
Igor Konashenkov commented on the situation with the strike of Turkish fighters on the Russian bomber, which killed the pilot and subsequently the marine, who participated in the rescue operation. According to Igor Konashenkov, the Turks knew exactly the time and area of ​​the combat mission performance by the Su-24 crew.
Igor Konashenkov:
Thus, 24 November, when the Turkish fighter treacherously attacked our bomber Su-24 with a rocket, the Turkish General Staff was well aware of the time and in which area a pair of Russian bomber would perform the combat mission.