During his visit to Israel, the Ukrainian president again gave rise to the appearance of numerous ironic statements in the press, including the Israeli too. During his speech in the Knesset, Poroshenko announced that the Jews were directly involved in the creation of a state called Ukraine. In addition, Poroshenko said that Israel and Ukraine have much in common in the sense that Israel "is an outpost of democracy in the Middle East, and Ukraine is an outpost of democracy in Europe."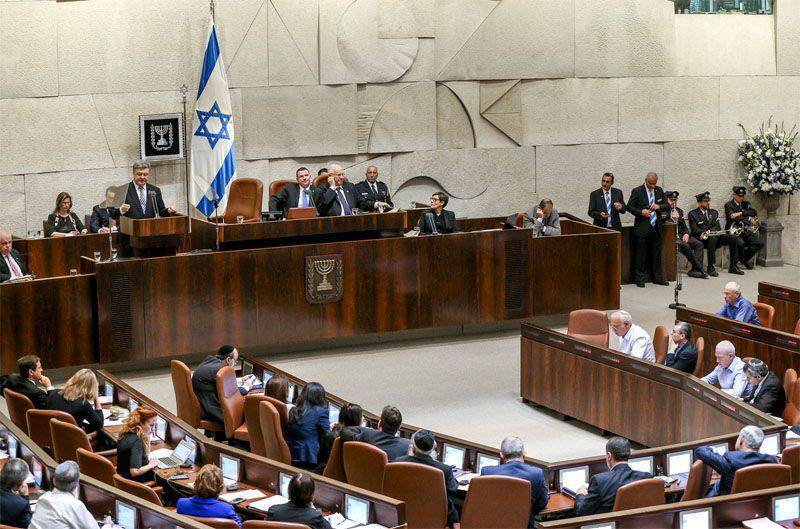 Poroshenko told Israeli parliamentarians how Ukraine "fights against terrorists" and how it will "fight for peace" in 2016-2017 when it is in the UN Security Council.
From the speech Poroshenko (published on his page in
Facebook
):
Like Israel, Ukraine has a neighbor who denies our very right to exist. The Kremlin regime supports and finances terrorist activities in the conflict zone. Russia is experiencing these methods, including in the Middle East. Most of all Ukraine is committed to peace! I believe in the world!
At the same time, Poroshenko did not tell the Israeli parliamentarians why "Ukraine's striving for peace" comes down to killing thousands of civilians in the Donbas and turning hundreds of thousands of Ukrainians into refugees. Poroshenko did not tell how the "desire for peace" prompts him to continue the economic blockade against the people of Ukraine living in the Donetsk and Lugansk regions. He did not tell how the transfer to the Donbass of hundreds of foreign mercenaries in the form of the Armed Forces of Ukraine and dozens of units of armored vehicles and MLRS aimed at the quarters of Donetsk and Gorlovka fit in with the desire for peace.