Deputy Prime Minister Sergei Ivanov on November 24, during a meeting of the military-industrial commission, announced the volume of state defense order financing in Russia for 2012 – 2014. "The project has already been formed, and it proceeds from the parameters set by the federal budget, and also takes into account the loan funds attracted by organizations of the military-industrial complex under state guarantees," said Sergey Ivanov. December 4 The draft government decree on the approval of state defense orders should be submitted to the signature of Prime Minister Vladimir Putin. Immediately after that, the parties will be able to start entering into contracts.
Russian state defense order, trillion rubles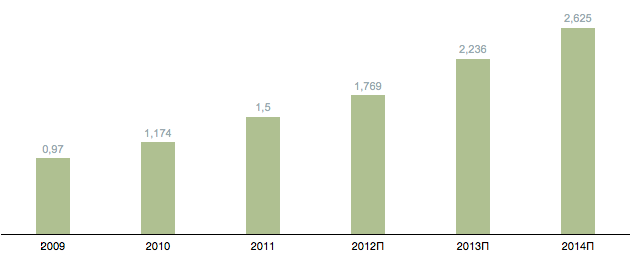 Source: open data, plan for 2012 – 2014 years, announced by Deputy Prime Minister Sergei Ivanov
Sergei Ivanov called the "cost increase very substantial." Still: one and a half times the level of 2009 year. Then Russia was in seventh place in the world in defense spending, demonstrating their nominal increase of 268% compared to 2002 year. Only China showed comparable rates in the top ten countries. "We have an army - 1 million people, including 220 000 officers, who will have their salaries increased by a factor of 2012 – 2,5 since January 3. The number of contract servicemen will also increase - the maximum number is defined in 425 000 people (the rest are conscripts), says Igor Korotchenko, editor-in-chief of the magazine National Defense. "The most difficult problem is the low level of staffing with new military equipment, currently its share does not exceed 10 – 15%, the task is to bring this figure to 70% by 2020 in the framework of the state armament program with a volume of 20 trillion rubles."
Top 10 countries in defense spending in 2009 year, $ billion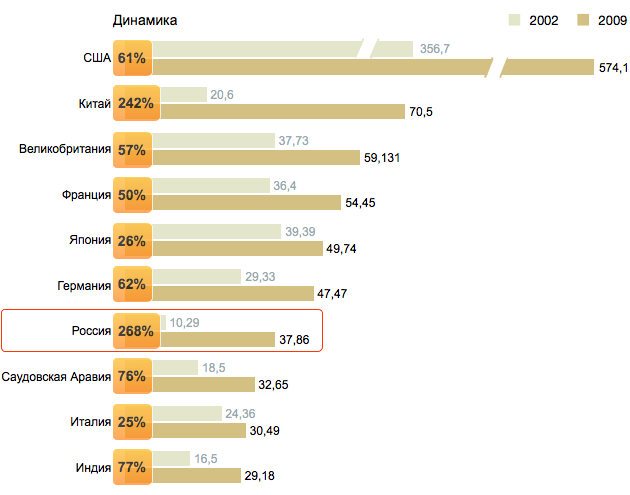 Source: World Trade Analysis Center weapons
Does Russia really come out third in the world in defense spending? With other things being equal it is not necessary to doubt it. The countries that are now from 6 to 3 are ranked in the TSAMTO rankings, are experiencing serious difficulties and are unlikely to increase their spending on the army: they are more likely to reduce. For example, the UK, which is now firmly in third place, will cut costs somewhat compared to the current level and in 2013 will spend approximately $ 67,5 billion on defense. And Russia is more than $ 70 billion. Another thing is that it is impossible to predict the behavior of the ruble exchange rate, the euro , yen and pound sterling to the dollar in three years. And much depends on it. For example, in the 2009 year, due to the devaluation of the ruble, despite the increase in ruble spending on Russian defense, in dollar terms there was a decrease of 6%.