Sergei Shoigu discussed in Moscow with the head of the French Defense Ministry Le Drian the prospects for coordinating actions in Syria aimed at combating terrorist groups, reports
RIA News
message of the Ministry of Defense of the Russian Federation.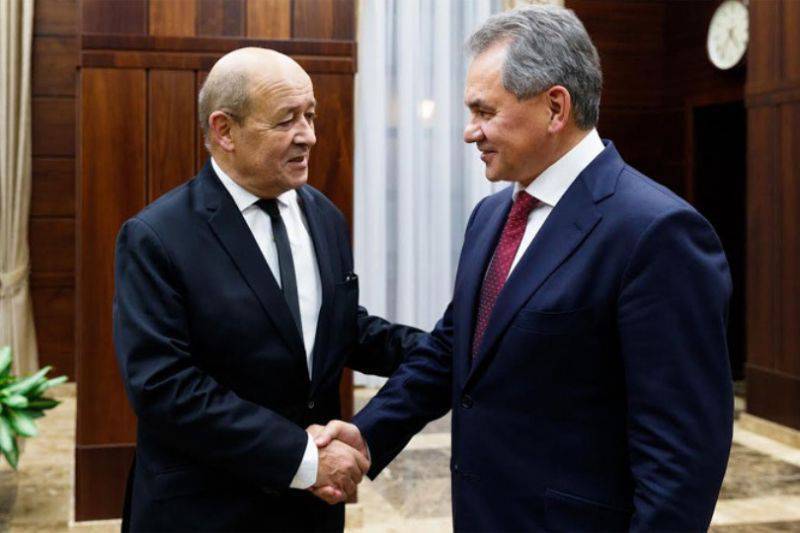 "Pursuant to the agreements reached on November 26 between the presidents of Russia and France during their meeting in Moscow, Shoigu received Le Drian's 21 December on a working visit," the release said.
"During the one and a half hour conversation, which was held in a businesslike and frank manner, the main attention was paid to the prospects for coordinating the efforts of the military departments of the two countries in the fight against international terrorism," the press service said.
It is noted that "the parties ascertained the presence of a common enemy in the face of the terrorist group" Islamic State "(DAISH) and confirmed their readiness to jointly counter it."
"Only by combining the efforts of all interested countries can you eliminate the terrorist threats to the residents of Paris, Moscow, London and other European cities," the Russian minister said.
"The parties exchanged detailed assessments of the current situation in Syria and Iraq. The French military delegation was acquainted with the main results of the air operation conducted by the Russian Aerospace Forces in Syria, "the statement reads.
According to the press service, Pierre de Villiers, Chief of Staff of the French Armed Forces, will also visit Moscow in the near future.
"An agreement was reached on the continuation of contacts at the level of the general staffs of the armed forces of Russia and France. To this end, Army Chief General P. de Villiers, Chief of Staff of the French Armed Forces, will visit Moscow in the near future, "the military department said.